Prineta is all about helping you
Looking for an ATM or need help with a payment problem?  Need to find a unique or specific payment solution?  You've come to the right place.  At Prineta.com, we have over 140 pages of practical and useful payment industry related content that ranges from information about our products and services to posts about new payment innovations and technologies.  Simply stated, this blogsite is dedicated to helping merchants and payment professionals find answers to payment related questions and the best payment solutions for their needs.
Everything we do is focused on finding solutions to payment needs.
What makes Prineta unique?
First and foremost, we are a boutique international payment consulting firm; a group of senior level industry-insider independent payment consultants, account executives, private banking professionals, and payment solution engineers dedicated to helping clients with all their payment needs.  We are problem solvers, innovators, thought leaders and professional advisers.  Benefit from our knowledge, experience and connections to find proven solutions.
Prineta is best known for prepaid malls and bill payment centers for retailers
Of all the products and services offered, the two most popular are our programs for retailers to sell prepaid cards and open a bill payment center but we also offer a wide range of professional and advisory services from bankcard processing placement, both domestic and international, to ATMs and custom payment system development services.
Prineta is all about helping you
Prineta has the solutions you need. We work with dozens of best-of-breed payment providers, over 42 at last count both direct and through partners, to place merchants with providers that will best serve their needs.  And if the industry doesn't currently offer a solution that meets all of your requirements, we can discuss a custom payment system development project or scope of work engagement.  We strive to take the complex world of electronic payments and make it more simple for clients.  Over the years we have worked with hundreds of clients and most likely understand what you need and how to help you get what you need.  Just ask.
We can help with just about any payment need
Sell prepaid wireless and Visa reloadable debit cards retail
Open a bill payment center where customers can pay utility and telecom bills in cash at your store
Accept multiple currencies with international e-commerce credit card processing
Establish merchant accounts on First Data, Global Payments, TSYS, Chase Paymentech, and several others platforms with support for nearly all point-of-sale systems out there
Reduce net effective rate processing costs by switching merchant account providers for both card present retail and e-commerce merchants
Integrate payments into your point-of-sale system or e-commerce shopping cart
Develop a custom payment terminal application
Get approved for a high risk prohibited merchant type merchant account
Become an affiliate associate through our ISO Agent program
Working with Prineta is like going to the doctor
When you go to the medical doctor, there is a short interview and a diagnosis, which is then followed up by an appropriate treatment to remedy the aliment.  We follow a similar diagnostic model that consists of interviewing clients to understand the symptoms, using diagnostics if required, and writing prescriptions for the most appropriate treatment.  For example, if you need a referral to a specialist, we can introduce you.  You expect your doctor to be educated, experienced, and knowledgeable about the latest studies and treatments.  You can expect the same from Prineta.  Recommendations you can trust.
Working with Prineta is like getting a custom suit tailored
When you want to have a custom suit made, the tailor will ask you about what you would like, show you some different fabric and color options, and take your measurements before actually beginning the work of making the suit.  We follow a similar custom tailored model that consists of understanding what our client is seeking or needs, showing them the different providers that might be a good fit for what is needed, and making recommendations based on cumulative merchant satisfaction feedback and other metrics. One size does not fit all.   Enjoy appropriately tailored services.  
Working with Prineta is similar to working with an insurance broker
Similar to how an insurance broker works with multiple insurance companies based on the different types of policies each provider accepts, Prineta helps merchants find the best provider for their unique payment needs.  We seek to understand your situation and recommend providers that maintain a proven track record of merchant satisfaction.  We do the work finding the best providers so you can enjoy the savings and good experiences.  For retail, restaurant, and card-present merchants we know that the per transaction cost is most important and typically recommend First Data for the lowest interchange plus rates and next day funding.  For e-commerce merchants that sell international and need multiple currency accounts, we have providers that specialize in multinational e-commerce and high risk.  For prepaid and bill pay, we use a different partner.  We do the research and keep up on all the latest innovations and technologies.  We are your trusted adviser for payment solutions and providers.  We score providers by product quality, pricing, level of service, and several other factors to determine the best-of-breed provider in as many different types of payment niches as possible. Benefit from our connections and relationships. 
Prineta is one of the most popular payment related websites globally
With over 140 pages of relevant and authoritative content and growing social proof, Prineta.com averages over 4000 page views per month, which translates into approximately 2000 unique visitors a month.  250 page views in a single day is common and can reach over 700 during campaigns.  The average visitor views 1.85 pages per visit and stays on the site just under 2 minutes (1:54).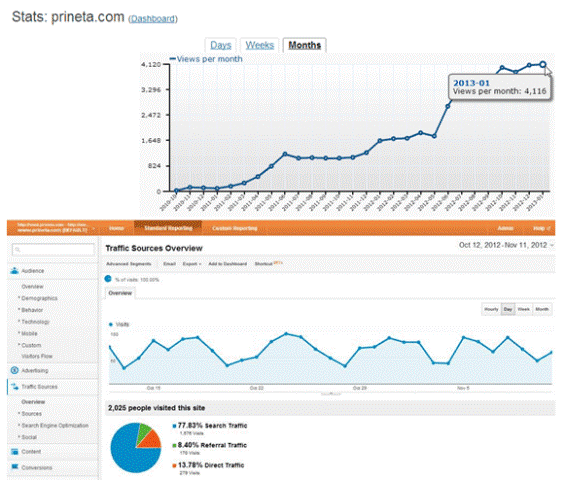 As of December 2012, Prineta.com is ranked 2,318,479 in the world out of over 30 million domains on Alexa, which puts Prineta.com in the Top 7.5%.

Prineta clients are diverse but have one thing in common
Almost all Prineta clients value knowledge and hands-on experience.  Clients from across the payments ecosystem, inclusive of payment service providers and merchants of all shapes and sizes, are all after the same thing; a solution that meets the need and translates into measurable business outcomes.  We understand this and know precisely how to help.
Recent Clients and Past Work
We regularly help multinational e-commerce clients establish multiple currency merchant accounts that settle in the top global currencies, support dynamic currency conversion (DCC),  and can get approved for high risk (travel, e-gaming, and others) with private banking placement for multiple accounts in multiple countries.  Prineta partners with with a registered Payment Institution with Financial Services Authority in the United Kingdom and other acquiring banks from the United States, UK, Germany, Iceland, Bulgaria, Belize, and many others.
We recently completed a Verifone Verix-V based payment terminal application development project worth over $60,000 USD for a large multinational closed loop payment processing provider
We have placed over 250 different wireless dealers, c-stores, and other retailers with the very best prepaid mall and bill payment center program available; all in the only the last 9 months
We have helped dozens of "A-Paper" retail merchants save hundreds of dollars every month with less expensive credit card merchant accounts with the lowest interchange plus wholesale processing rates and count large hotel chains, busy restaurants, independent gas stations, liquor stores, nail salons and many more as clients
We advised a start-up international "Groupon-like" mobile couponing and e-commerce company on point-of-sale payment terminal integration for coupon redemption at retail locations
We have development projects in the works with several point-of-sale system and shopping cart developers that want to differentiate themselves from competitors
We do ATM placement, sales and service and process ATM transactions for locations in Kansas, Missouri, Colorado, Iowa, California, Nevada, Texas, Florida, Georgia, Virginia, New York and nationwide
We have been hired several times for speaking engagements at industry association conferences
We are a trusted adviser most interested in offering valuable service and developing long term relationships.  When our clients are happy, we are happy.
But enough about us—let's talk about you
How can we be of service?