This is a Nurit 8020 user guide summary cheat sheet based on the manual for Nurit 8020 cellular credit card machines, or wireless terminals, whichever you like to call them.  If your not the type to sit down and read a user guide operating manual then this post is for you.  We have simplified the manual and given you everything you need to use your Nurit 8020 GPRS credit card machine all in an easy to use format.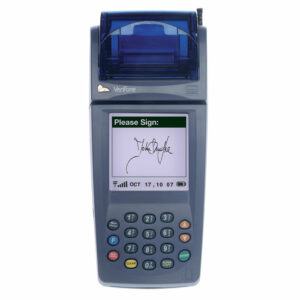 Please read each carefully at least once.  These machines are user friendly, ESPECIALLY if they are placed in BATTERY SAVER OFF MODE.  See below.
Password
The password is always the CURRENT DATE MM/DD/YEAR so on July 3rd 2011 it is 07032011
Battery Saver Mode – TURN IT OFF!
If you are using your terminal in a high volume setting like a fireworks stand or trade show booth you will want to turn off the battery saver mode.  This will keep the machine always connected to the cellular network.  This must be done every time after the machine turns off.  It's best to do this every morning.
To DISABLE BATTERY SAVER:
Press the RED MENU Button
Enter the password then press enter (today's date ),
MENU SCREEN press 3 (Merch. Optios)
Press 5 (Battery Saver)
Press 1 (off)
Press Red Menu/Cancel button TWICE to get back to the sale screen.
The lower left says RAD FAIL/NO NET
If this happens that means that the cellular radio has shut down, probably because battery saver was enabled.  To get the radio back on:
Press Menu/Cancel
Password (Date) enter
Press 6 Diagnostics
Press 1 Radio Params, it will say "Please Wait"
Press 1 Radio Tests
Once complete the SIM ID will print and you should have at least 3 bars in the lower left hand corner.
Turn Battery Saver Mode OFF, see above.
I see a screen that says GPRS Providers
Press 2, default providers.
The lower left hand corner probably says No Net.  See steps above.
PLACE IN BATTERY SAVER OFF MODE.  (see above)
I typed in the wrong password too many times and now it says terminal locked.
Option 1 is to wait 20 minutes for the unit to unlock
Option 2 is an immediate fix
Turn the unit off (press the blue F button and On/Off simultaneously)
Hold down 1 5 9 Green enter button and press on/off.  This is a bit tricky, on purpose.
An initialization screen will appear then the 8020 Loader menu will appear
PRESS 5 BACK TO NOS
The unit will self test, the version will appear, and then the GPRS menu will appear, PRESS 2, the nurit screen may appear, PRESS Enter
Accepting credit sale
The machine should ALWAYS be on the screen saying:
CREDIT……..SALE
ACCOUNT       ->
Swipe card
Enter total sale amount
The machine will print the

merchant copy first

for the customer to sign.  Tear this off, hand for signature and KEEP in a safe place (under the cash drawer or in a folder).
Press enter to print off customer receipt.
End of Day Batch
Typically we recommend setting up auto batch to run nightly at 11:45, however if you want to batch manually you can.  You need to batch nightly for obvious reasons.
Press the BLUE F (Function) Button
Press 2 Batch
Keep batch report with the days signed copies.  You are required to keep these, as a company, for 2 years.  Fortunately, your batch details can also be retrieved online with most processors.
Store and Forward
If for whatever reason you are out of coverage or the network goes down and wont come back up using the Radio Test (see above), then you need to put the machine in "Store and Forward" mode.  This will store credit transactions, however this will not actually authorize them meaning if someone has a bad credit card you're screwed.  If this happens, CHECK ID ON ALL CARDS.
If you have tried these steps but still need help, you may contact our Nurit 8020 help desk support.
Appreciate our content?  The best way to thank us is through social media likes and links.