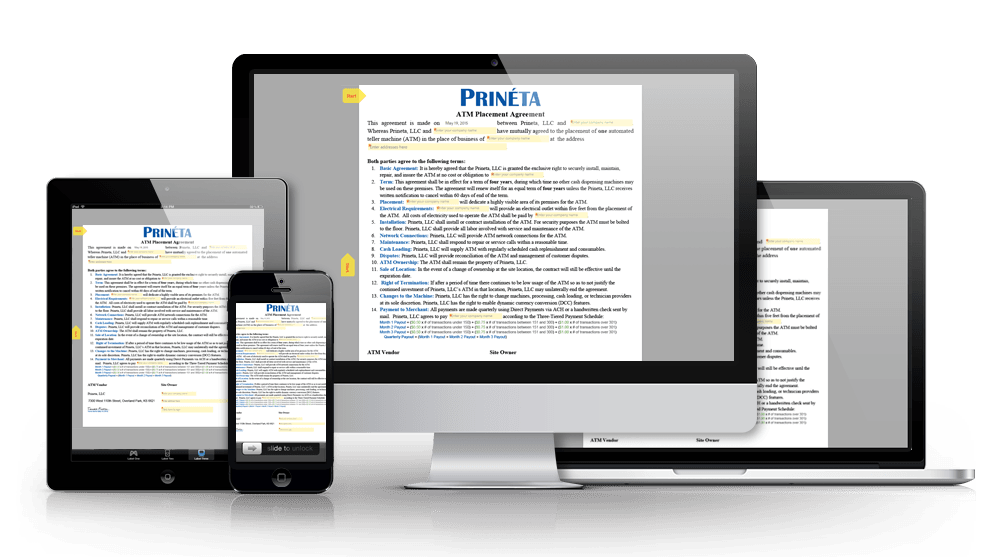 Yes, a contract is required. In rare cases we have placed ATMs without a contract, but signing one is the standard operating procedure.
We have an easy to understand contract that clearly defines the responsibilities and expectation of both parties.
Lengthy and complicated contracts are in neither of our best interests. We prefer to keep things simple and use a one-page agreement which, among other things, will outline the services provided by Prineta.
The business owner or manager will sign the contract electronically using Adobe Document Cloud eSign services (formerly known as Adobe EchoSign).
Signing electronically is easy. An email will be sent from Prineta to the signer, letting them know the contract is ready. With a few clicks, the signer can open, review, sign, and send the file back — all from the convenience of a web browser or mobile device. Both parties will be automatically sent a certified PDF of the executed contract.
We can execute it the old-fashioned way using paper and pen. Either way is fine, just let us know your preference.
The contract is typically signed before the ATM is installed. In some cases, such as same-day and next-day installs, the ATM will be installed before the contract is signed.
Depending on the location, it can take up to four years to get the return on investment for the ATM we purchased and placed in your business. Therefore, we typically have the business owner commit to keeping the ATM at their location for four years.
Shorter contracts are negotiable but it's mostly depending on the location's estimated transaction volume and/or surcharge fee. High-traffic, high-surcharge locations are more likely to pay off the ATM within one or two years.