ATM Services Company in South Carolina
Are you looking for an ATM machine company in the state of South Carolina? Then you have come to the right place.
To request a proposal for ATM services, please fill out the form at the bottom of the page, or call us.
---
Our ATM Services in South Carolina
ATM Placement
Get an ATM machine for your business in South Carolina by taking advantage of our Free ATM placement program: we will place one of our new ATMs in your business, take care of everything, and pay you a commission every time someone uses the ATM.
prineta.com/atm-placement
ATM Partnership
If you can load the the cash in the ATM we will share a larger portion of the surcharge revenue with you every month. Typically if the merchant loads the cash we split the surcharge 50-50. Our ATM Partnership model is a great way to increase revenue for your business. 
prineta.com/atm-partnership
ATM Purchase
We have new ATM machines for sale in South Carolina with free shipping statewide. We sell our ATMs at wholesale cost. If you are looking to buy an ATM in South Carolina be sure to contact Prineta for a price quote first. We have some of the most competitive prices for new, EMV-capable ATM machines available.
prineta.com/atm-purchase
ATM Cash Loading
If you already have an ATM and just need someone to load it, we can do that also. We have private local courier cash loading available in the entire state of South Carolina. For busy locations we can offer armored truck delivery.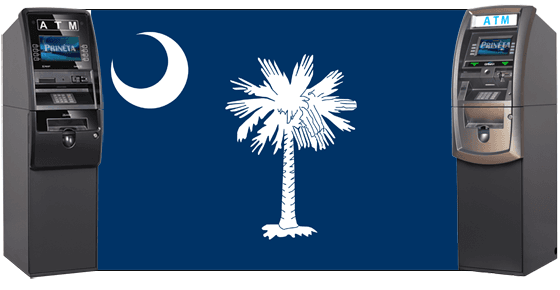 Establishments we Service
Prineta specializes in ATM services for the hospitality industry, but we also service a wide variety of other establishments, such as: restaurants, beach resorts, laundromats, hospitals, liquor stores, bowling alleys, university dorms, lounges, convenience stores, pool halls, pawn shops, zoos, casinos, airports,stadiums, grocery stores, nightclubs, high-rise condos, amusement parks, shopping malls, convention centers, gentlemen's clubs, speedways, gas stations, event facilities, country clubs, movie theaters, aquariums, bars, truck stops, retail stores, supermarkets, and many others.

---
We provide ATM services for the following areas:
Charleston
Charleston Airport – We provide ATM services for hotels and other locations in the vicinity of the Charleston International Airport (CHS) and the area of North Charleston.
Charleston Historic District South – We service locations in the Historic District near White Point Gardens, aka 'The Battery'.
Charleston Historic District North – We provide ATMs for businesses around the Historic District north of Cumberland Street near the City Market.
Mount Pleasant – Prineta is an ATM vendor servicing businesses in the area of Mount Pleasant, across the Cooper River and east of the Historic District.
Greater Charleston and Surrounding Communities – We install ATMs for businesses outside of the charleston city limits including the areas of Johns Island, Walterboro and Summerville.
Myrtle Beach
Downtown Myrtle Beach – Prineta installs and manages ATM machines for locations in the the downtown Myrtle Beach area.
Myrtle Beach North – We place ATMs in shops, restaurants and many other establishments in North Myrtle Beach.
Garden City – South of the City Center we provide ATM services for locations such as Pawleys Island, Murrells Inlet, and the beach areas of Surfside, Litchfield and Garden City .
Myrtle Beach Airport – Prineta provides ATM services for the hospitality industry near the Myrtle Beach International Airport (MYR).
Myrtle Beach Amusement Parks – Prineta provides ATM services for establishments near the Myrtle Beach Pavilion and Family Kingdom's Amusement Park and oceanfront Water Park.
Broadway at the Beach – Our company installs ATMs for specialty shops, theaters, restaurants, and nightlife establishments.
Surrounding Communities – Prineta also services the communities surrounding the Greater Myrtle Beach area, including Florence, Dillon, Lake City, Marion, Mullins and many others.
Conway – We have local ATM service representatives based in Conway South Carolina.
Columbia
Downtown Columbia – Prineta supplies ATM machines for locations near the Capitol Building, downtown area and the University of South Carolina.
West Columbia – We manage ATMs in West Columbia near the Columbia Metropolitan Airport (CAE).
Greater Columbia and Surrounding Communities – Prineta services many locations outside of the Columbia city limits including in Camden, Sumter, Orangeburg, and Santee.
Hilton Head and Savannah
Hilton Head Island Airport – Prineta places ATMs for hotels near the Hilton Head Island Airport (HHH).
Oceanfront – We manage ATMs for locations along the Atlantic Ocean beach area.
Beaufort – North of Hilton Head Island, Prineta deploys ATMs in the city of Beaufort.
Savannah Metro – Prineta also operates in the Savannah Metro area.
Western South Carolina
Greenville and Spartanburg – Looking for an ATM vendor out west in Greenville or Spartanburg? We operate in both of these cities for qualifying locations.
Surrounding Communities – We handle ATM machines for businesses in the towns of the western part of South Carolina such as Clemson, Gaffney, Greenwood, Anderson, Easley and Landrum.
Augusta, GA
Greater Augusta – Prineta's South Carolina ATM market stretches into the greater Augusta area.
Aiken, South Carolina – Across the state line in Aiken we deploy ATMs and also in other nearby cities.
Surrounding Communities – We provide ATMs for various nearby cities including Sylvania, Thomson and Waynesboro.

Our service area covers approximately 112,000 square miles in South Carolina, Eastern Georgia, and Southern North Carolina. 
If your location is not within the service area shown above, we may still be able to help,
please just contact us and ask
!
---
Local ATM Company in Conway South Carolina.
We have a local office in Charleston South Carolina with ATM service reps in Conway South Carolina and the Myrtle Beach area. We service the entire state of South Caroline. If you would like to meet with one of our ATM service reps please contact us and we can arrange a meeting.
Request a Proposal
If you are interested in getting an ATM for your business(es) in South Carolina please contact us by filling out the form below and tell us what exactly you are looking for or just call our office at 1-800-951-9533 for more information.