Looking for a Dinerware POS authorized dealer that can offer restaurant POS hardware, software licenses, integrated credit card processing, and 24/7/365 help desk with remote support all in one bundle? You've come to the right place.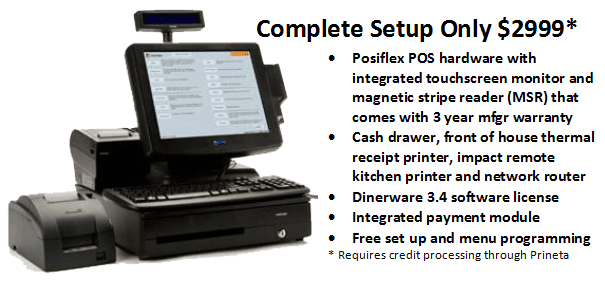 Learn More About Dinerware


As you probably already heard from a trusted referral or picked up on from online research, the Dinerware claim to fame is ease of use, stability, and lower total cost of ownership.  It supports everything you absolutely must have but doesn't include obscure features you don't need.
Dinerware is perfect for independently-owned bar/restaurants that need 1-4 stations and want to get started with something affordable yet easy to use and reliable.
For a restaurant POS system to be effective, it has to be easy to use and learn.  That is critical.  Dinerware is super easy – so easy in fact – many of our restaurant merchants can set it up themselves with a sample menu database that just needs to be edited and hardly ever call in for support.  It is perfect of the "do it yourselfer" out there that is fine figuring it out and watching the online "how to" videos.
Of all the restaurant POS systems we support, we get the fewest number of help calls from Dinerware merchants.  It just works – it is a very solid stable product that doesn't crash.  Dinerware uses SQL Server, one of the most stable and field proven databases out there.
Dinerware Restaurant POS Hardware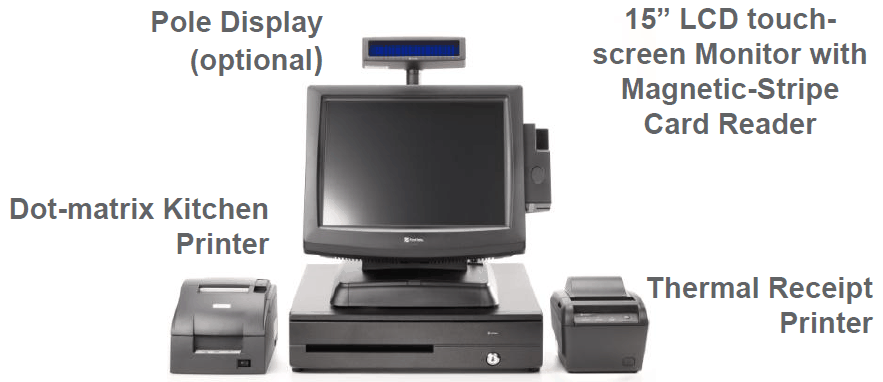 For the smaller bar and grill type restaurant, Dinerware is probably the lowest total cost of ownership over a five year time period of any restaurant management system out there.
Much less expensive than Digital Dining, Micros, or Aloha
Much less expensive than the lease into perpetuity, rent forever, $99/mo deals
Whatever you do, don't go for the cheap tablet and the $99/mo deal.  It will likely be buggy and not support a bunch of features you wish you had, and worse, it will cost you nearly $6000 over 5 years!  That is double the price of the much better all-around Dinerware option.
What's not to like about Dinerware?
Proven –  Serving restaurateurs since the year 2000
Simple – Easy to use and not over-complicated
Affordable – Less expensive than most restaurant POS systems
Good Reviews – Very few problems reported
Widely Deployed – Over 10,000 restaurants globally on 5 continents
Dinerware can be found in upscale restaurants, cafes, nightclubs, bar and grills, fast casual restaurants, counter service establishments, quick serve restaurants, pizza shops and ice cream parlors, and bars in hotels, casinos, golf courses and wineries.
In version 3.1, Dinerware enhanced the "Bar Tab" functionality so customer credit cards can be pre-authorized for a merchant-determined amount; allowing the customer to "open a tab" and still retain their card without having to re-swipe it to close the ticket. This provides an additional level of protection from walkouts, while maintaining compliance with Card Association rules. The threshold for credit card signature suppression is variable and can be adjusted.
Notable Dinerware Features
Very affordable price tag
Super easy to update menu items, split tabs, transfer tables and train new servers
Nice "bar tab" functionality
Integrated credit card processing
Robust and flexible reporting with sales tracking by item
Online ordering for your website
Delivery and customer history module
Quickbooks integration
Supports a scale if you need one for yoghurt or meat by the pound
Supports gift and loyalty programs
Doesn't require a complicated and expensive back office server (which can cost over $1700 by itself)
With Dinerware, your staff is able to focus on the most important aspect of your restaurant – taking care of your customers.
Dinerware Target Market
Independently owned bars and restaurants with 1-4 workstations at a single location
Table Service: Fine or Casual Dining
Quick Service: Counter Service or Fast Casual
Bar, Lounge, Nightclub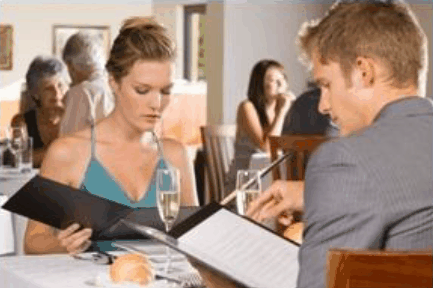 Help Desk Tech Support Options
Fortunately with Dinerware, you can do pretty much everything remotely.  Per incident support and annual support contracts are both available nationwide in the United States.
Per incident support available during business hours (M-F 8-5 CDT) at $75/hr billed in 15 minute increments.
After hours emergency support billed at time and a half for nights, weekends, and holidays
Annual support contracts available for $950 and include after hours support
Call 888-773-4742 for Dinerware support.
Plan for a Successful Installation
An electrical outlet must be available at each POS station as well as each kitchen printer location with proper surge protection
You must have high speed internet available and CAT5 Ethernet cabling to each POS station and kitchen printer location
Have your menu complete before it is time to set up your POS
Other Important Thinks to Know
Licenses for additional server stations are only $995
POSIFLEX hardware has a great warranty program (3yr standard with option 5yr upgrade extra $400)
On-site hardware maintenance/replacement is only available with NCR and IBM hardware but the price goes up considerably but you have the option
Free remote software install and menu programming is only available through this exclusive offer from Prineta when you also sign up for credit card processing
New accounts can be set up in a couple days and your equipment will arrive within 5 days
The Dinerware Payments Engine is a Validated Payment Application Acceptable for New Deployments
The DinerwareRestaurantPOS bundle from Prineta will save you up to $1415 compared to other deals out there because there are no payment software costs or support costs for menu setup and training
Watch a Video Demo on Opening/Closing Tickets
This short training video will give you the basics on how Dinerware works.

Watch a Video Demo on Operations Management
This short tutorial video explains some of the reporting features.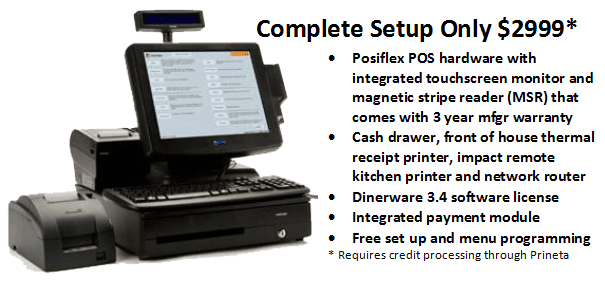 We Only Accept Phone Orders
So we can customize the order to what you need and answer any remaining questions.
Request a Follow Up Call