Custom Branded Visa® and MasterCard® Prepaid Cards
Looking for a custom, turnkey Visa®/MasterCard® prepaid debit card program branded with your logo?  We can help.  At Prineta, we experienced payment consultants and can help find you the best customized Visa or MasterCard prepaid debit program for your needs and consult with you on vendor selection and program planning.  We work with all major types of prepaid programs from instant issue general purpose reloadable (GPR) to corporate load programs to international programs.

GET STARTED TODAY
[ut_button color="theme-btn" target="_self" link="https://prineta.com/prepaid/prepaid-card-program-proposal-request/" size="large"]APPLY NOW[/ut_button]
Prineta is not a program manager or payment service provider; instead we help clients launch successful prepaid debit card programs – we can help you define your requirements, understand the options available, and solicit proposals from multiple program managers, processors, and sponsor banks that specialize in what you need.  Since we have relationships with more than a dozen players on the issuing-side of the payments industry, we basically help our clients issue formal or informal RFPs and contract with the best provider for their needs.  Depending on the type of program needed, we can typically get our clients at least three proposals from best-in-class program managers.  We do instant issue and personalized general purpose reloadable prepaid debit card programs, employer mandated payroll "paycard" programs, corporate load award and incentive card programs, campus card programs for higher education, "tip out prepaid cards" for hospitality businesses,  international payout programs that support prepaid Visa cards that can be issued worldwide, virtual wallet and virtual prepaid debit cards that can be generated on-demand, and more.
With years of experience in prepaid card issuing, we make launching your own prepaid card program much easier.  We have the insight, technology and partners to help your program take root and succeed; and the experience to guide you smoothly into the prepaid world.
Tailored Services Include
Program Definition and Requirements
Risk and Fraud Prevention Recommendations
Regulatory Compliance (including "Compliance as a Service")
Processor API Integration Options
Issuing Bank Sponsorship
Operational Support Models
Our job is to help clients work out all the details and put them a position to launch successfully and avoid regulatory compliance issues.
General Purpose Reloadable Debit Cards
GPR cards as they are called in the industry, can be either instant-issue or personalized.  Instant issue prepaid debit cards are basically anonymous because they do not have a name on the card and can only be loaded with a maximum of $500 one-time.  In order to be able to reload the card, it must be registered and a personalized card mailed to the cardholder's address.  Cards are typically registered with the cardholder's legal name, DOB, SSN and address and verified according to KYC regulations.   Both instant issue and personalized/registered prepaid debit cards can branded with custom or private label / white label GPR programs.
Options for both Visa and MasterCard available. 

We mostly do US-based programs but also have access to one of the only international GPR programs in the world that can issue both plastic and virtual cards to people in 170 countries (issued out of Europe under worldwide license with MasterCard).
We have consulted with literally hundreds of clients regarding prepaid debit card programs and have a keen understanding of the key requirements of many different business types and which providers can meet those requirements. We are experienced with convenience stores, Bitcoin-related programs, online marketing specialists, loyalty-rebate-reward programs, check cashing companies, consumer lenders, payroll service providers, community banks and credit unions, tax preparers, membership/industry organizations, gaming establishments or online winnings, affinity groups, programs for US immigrants in Spanish, French, Chinese, Filipino, and other languages, licensed money service businesses, and more.
All US-issued GPR cards from both Visa and MasterCard come with an ACH account number and routing number for direct deposit from employers or government agencies, support bank-to-card transfers from nearly any US bank, and can be reloaded at tens-of-thousands-of locations conveniently close to where people live, work or shop. 

Cardholders can instantly add money to eligible Visa or MasterCard prepaid cards at participating reload locations.  Visa prepaid cards can be reloaded at ReadyLink and Money Gram locations.  MasterCard prepaid cards andbe reloaded at RePower and Green Dot Money Pak locaitons.  Money is available immediately for the cardholder to spend anywhere Visa and MasterCard are accepted.
Want to be a reload location so people can come to your store to reload their prepaid debit card?  We can help you with that; one of the programs we work with has a master money transmitter license and agent program that enables independent merchants to become reload centers.
General purpose prepaid cards are rapidly gaining favor with consumers as an alternative to checking accounts with monthly fees and overdraft charges.  Often times, a prepaid card is more cost effective than a traditional bank when there is direct deposit.  There are 50 million unbanked and under-served consumers in the United States. Unbanked consumers, those without a bank deposit or credit account, represent an untapped market opportunity for GPR prepaid cards. This product is meant to be a replacement for a bank account and typically comes with monthly fees so it is important cardholders use the service regularly for the product to make sense.
There is much involved with launching a new GPR program, with even organized and well resourced clients needing 90-120 days to work through all the detail and prepare the paperwork with the issuing bank and the card association.
Prepaid Payroll Card Programs for Employers
Fast, safe, and reliable payment automation.  When it comes to payroll cards, employers essentially have two options: 1) "recommended" 3rd party GPR prepaid cards that support direct deposit, or 2) "mandated" payroll cards that are regulated as to what the fees to cardholder can be charged.
1) GPR Cards that Support Direct Deposit – Employers can partner with 3rd party prepaid debit card program managers to promote GPR cards that support direct deposit and earn revenue sharing based on the number of active cardholders and their average monthly cardholder activity (in terms of load amounts, average number of ATM withdrawals, etc).  Based on our experience, employers that promote 3rd party GPR prepaid cards generally see enrollment rates less than 10% of employees because the majority already have accounts that support direct deposit.   We have one GPR prepaid program that features free cards and no monthly fees for cardholders that enroll in direct deposit.
2) Payroll Cards – Employers can mandate direct deposit and give employees the choice between receiving direct deposit to an account of their choice or receiving pay on the company payroll card.  Enrolled employees or independent contractors get paid via direct deposit onto the card and funds are available immediately on payday — similar to direct deposit – but no bank account needed – no credit check required.  Prepaid Payroll Cards can be both an innovative way to distribute earned wages to employees and a smart alternative to issuing payroll checks. Simply by posting employees' salaries to an account tied to their personal prepaid payroll cards each payday can increase cost-efficiency while delivering a whole new array of benefits to workers, including greater security, convenience, and control.  Paycards will help you streamline the distribution of payroll and achieve 100% direct deposit enrollment rates.
Mobile App(s) Available to Cardholders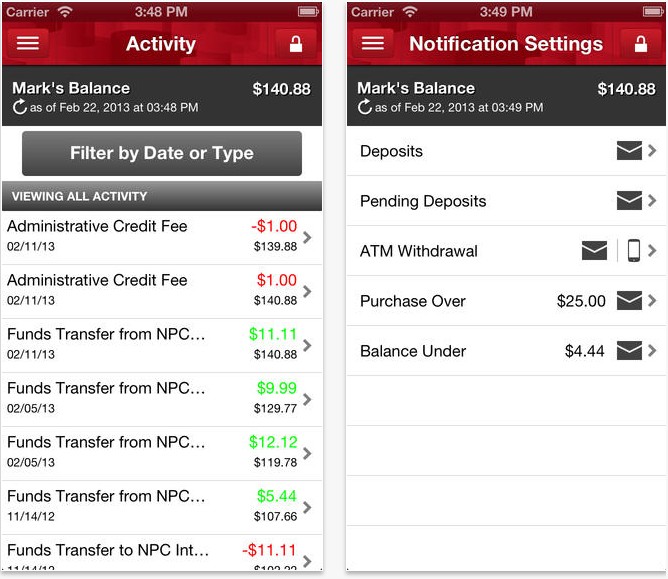 3 Payroll Card Providers Available 
We have relationships with 3 program managers that specialize in payroll cards; one of the the providers has over 4,000+ employers implemented.
Corporate Load Reloadable Prepaid Cards
Corporate load programs are for businesses and cards can only be loaded by the corporation (in other words, the cards cannot be independently loaded by the cardholder.  We have instant issue reloadable prepaid debit cards and personalized/registered cards.  We work with one program manager that specializes in corporate load award, incentive, and loyalty programs and another one that specializes in instant issue GPR cards that can be branded with your logo.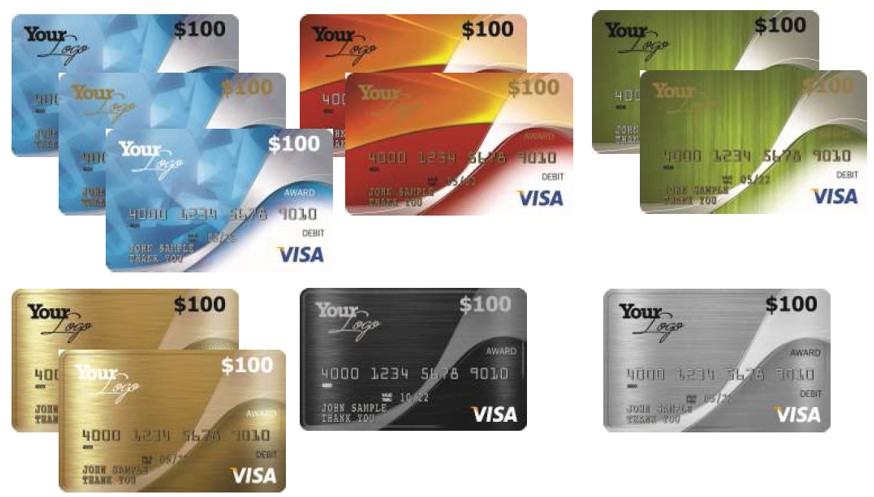 Campus Cards for Higher Education
We have an "all-in-one" prepaid card for higher education institutions (universities, colleges, and trade/tech schools) that supports direct deposit from parents or financial aid, book vouchers, student work-study payroll, financial management tools (including smartphone app), and has two mag stripes for both closed loop secure ID card on-campus and an Visa payment card that can be used anywhere off campus. Fully compliant with the Department of Education's Title IV financial aid disbursement requirements.
Tipout Prepaid Cards for Hospitality Businesses
We have a prepaid program that allows restaurants and bars, gaming establishments, haircut and beauty salons, and other hospitality businesses with employees to instantly and immediately pay out tips to employees without the hassles of cash.  Web-based system makes automating the tip payment process easy. Automatically calculates and reports data for tipping transactions to make it easier for businesses in the hospitality industry to comply with TRDA/TRAC and for gaming companies to comply with similar GITCA regulations.
International Payout Cards
For clients that need to pay employees, independent contractors, suppliers, vendors, and other beneficiaries from all over the world, we can help with global prepaid Visa payout cards that can be issued to residents of 170+ countries. More information available at the Prineta International website (prineta.co.uk).
GPR Programs for Regional Banks and Credit Unions
Even small banks and credit unions need help launching a GPR prepaid debit card program.  We can help.
GPR Programs for Money Services Businesses
Ask us about virtual wallet and virtual card programs that are popular with MSBs.  GPR prepaid card programs that come with a "companion card" are also very popular with immigrants because many do not have transfer fees to move money from one card to another.  It is common for immigrants to mail the companion card home so family can use it for purchases or ATM withdrawals.  With a custom program, you can set the international ATM fees to the point where it is less expensive than alternatives but you still make good money.  Anti-Money Laundering (AML) compliant options available. Great for check cashing and currency exchange type places. Instant issue and personalized/registered card options available.
How much does it cost to launch a custom prepaid program?
Prineta offers consulting services on a scope of work or hourly basis but there is no cost for referrals to endorsed program managers.  Often times, the program manager can take care of everything for you so the only cost is the cost of the custom or private label program.  Depending on the scope, most custom GPR programs require an initial upfront investment of around $30,000 for program design and development and the proper registrations but some are lower, as low as $7,500 for low risk clients.  International/global cash card programmes are more while co-brand and private label ("sub-BIN") programs are less expensive.  GPR programs always cost more than branded payroll card and money network programs.  Some of the payroll card programs for employers are only a couple hundred dollars to get your logo on the cards.
If you don't have the money to launch your own custom prepaid program but you have retail store locations, you might want to consider selling prepaid debit cards retail — but you only make money on the reloads (since it is someone else's program) or just reselling/promoting established programs and earn a commission.
How much money can a custom prepaid program generate?
Profitability on prepaid card programs varies depending on the type of program and how it is used.
For most custom GPR programs with a unique BIN there is an initial upfront start up cost of between $7,500 and $40,000.  For the initial investment, you get a program branded with your likeness and the opportunity to make income on fees and interchange (basically, a percentage of aggregate spending on the card).  Interchange revenue on prepaid debit cards is 1.15% + $0.15 per transaction for Card Present Retail and 1.75% + $0.20 for Card Not Present (e-commerce for example).  If you have your own custom prepaid program, you can a percentage of the interchange fees paid to the issuing bank in revenue sharing depending on volumes.  The more your cardholders make purchases for goods and services, the more money you will make.  The more cardholders you have, the more money you will make.  The revenue and profits are largely based on your ability to bring distribution and reach to the unbanked and underbanked demographic.  As part of our scope of services, we can help you estimate the number of cardholders with conversation rate assumptions, average spending per cardholder, and all the inputs to develop the business case.  Across multiple clients, the average revenue per card holder for GPR appears to be around $8/mo with some closer to $25/mo — it just depends on how much is spent on the card and your fee structure.  If you do this right, this can be a good business that makes good money.  The key to sustainable profitability is having a channel into the demographic that prefers and uses GPR debit cards and the ability to keep cardholders using your card instead of throwing it away or using a different account.
Customizeable Fee Structure
With US-based GPR programs, you can decide if and how you want to charge fees.  Payroll cards are different; they are regulated and the fees that can be charged are regulated.  We can help you compare to what competitors charge and provide guidance on buy rates so you know how to best set your fees.
Activation Fee
Monthly Fee
ATM Whithdrawl Fee
In-Network ATMs and ATM Surcharge Fees
Reload Fees
Customer Service Fees
Cancellation & Inactivity Fees
Direct Deposit
Online Bill Pay
Able to Add Money by Check
Maximum Balance
We can help you get pricing below the big players in the prepaid industry so you can match fees and still make good money.
MasterCard® Interchange Fees for Prepaid Debit
You make a percentage of cardholder spending paid in interchange.  We can help you understand how much different program managers are paying these days.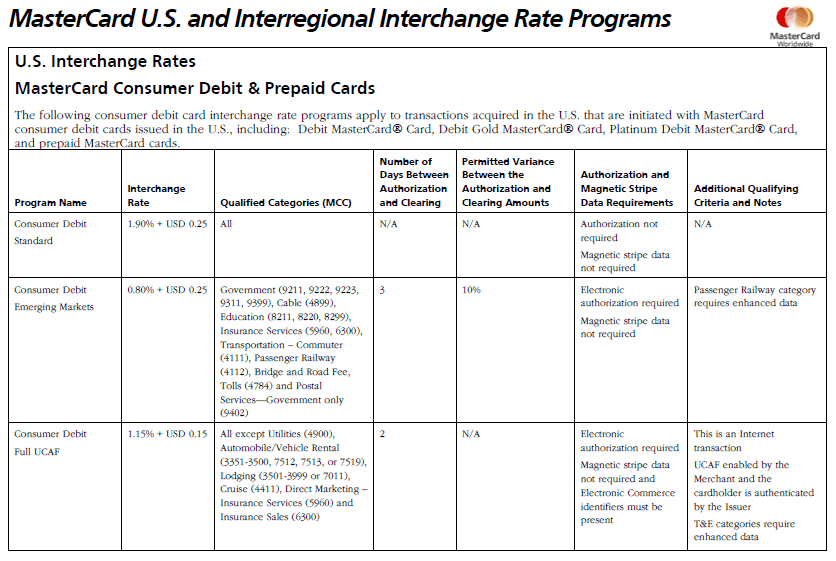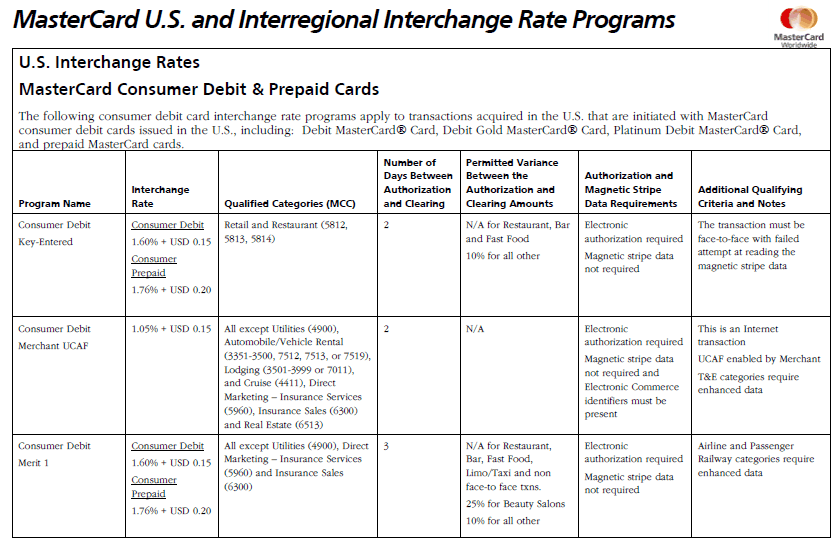 Ask us about our ISO reseller agent program.
Programs available for independent sales organizations interested in reseller agent and payment facilitator programs.  Just ask.
Want to launch your own prepaid debit card program?
We can help.  Just tell us what you are looking for and how we can be of service in the contact form then we will follow up with you via email and/or phone.
GET STARTED TODAY
[ut_button color="theme-btn" target="_self" link="https://prineta.com/prepaid/prepaid-card-program-proposal-request/" size="large"]APPLY NOW[/ut_button]
Prineta is a prepaid debit card consultant and market partner several prepaid debit card program managers and issuing related service providers.  If you are interested in any of the other programs presented, you would contract directly with the provider you select.  Basically, we help you evaluate different programs and find the best program for you and your needs.  There is no cost for this service; Prineta is paid a small commission from the program managers similar to how the insurance industry works.  And you will get the same deal through our referrals than you would if you tried to contact the program managers directly.  We just make the process easier for you.