Interested in launching your own open loop prepaid debit card program with your brand but not sure if you should go with private label co-branded card program or a custom registered card program?  Then this page is for you.
Prineta is a prepaid consultant and market partner for the most innovative and experienced prepaid program managers payment service providers in the industry that promotes three primary types of open loop general purpose reloadable (GPR) debit card programs.
Co-Branded Private Label Programs  
Retail Packaged Prepaid Visa® Cards for Convenience Stores

We also offer customized closed loop stored value programs as well but that is a different subject.  This page is mostly about the differences between the private label and custom open loop program.
Private Label Prepaid Debit Cards
For co-branded private label cards, typically you can put your logo/branding on the card as the primary brand and the program sponsor will be the sub-brand.  This program is a significantly less expensive way to start a prepaid debit card business.  The startup costs are affordable and there are no long term commitments, no monthly minimums, and no monthly management fees.
Clients are responsible for marketing and direct selling of their branded cards and get paid basis points over interchange on the spending of cardholders enrolled in the program. Most private label GPR programs in the issuing industry do not share revenue on fees though. The program manager/sponsor will provide everything else; program administration, bank relationship, association relationship, customer care, back office systems, and distribution.
Some private label programs support cash back rewards and loyalty features while others do not. Both types of programs can support companion cards so immigrants can send companion cards back home to family in Mexico or elsewhere and avoid transfer fees.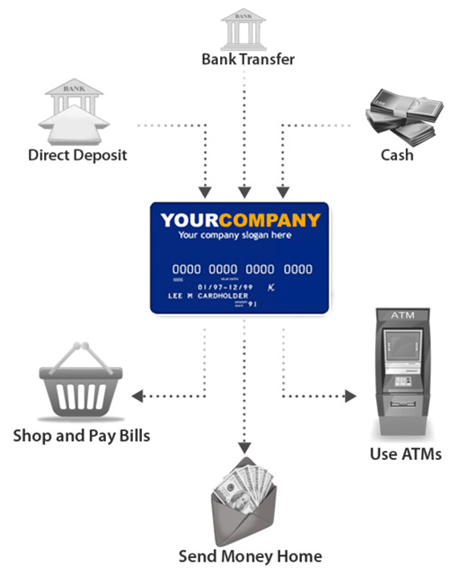 We frequently get asked about the differences between co-branded prepaid card programs and registered custom programs so we put together some frequently asked questions.
1)       What are the primary differences between a private label co-branded program and the fully custom program?
Typically there are no large upfront fees, no monthly minimums, and no monthly management fees with a private label card program.  However, there is generally no revenue sharing on cardholder fees, only interchange revenue.
By their nature, private label programs are not as customizeable/flexible; you do not get to determine the cardholder fees (monthly fee, reload fee, ATM fee, etc) and you do not get access to any backend APIs.
By their nature, custom programs are very flexible and can support "instant issue" and "corporate load".  Corporate load, where only the registered program loads funds onto cards, can be even more profitable because these cards qualify for a higher issuing bank interchange category.
What would you get out of a fully custom program that you would not get out of private label co-branded program?
With your own custom program…..
Your program is registered with the card association (Visa® or Mastercard®) and the sponsor bank
You get a share of the issuing bank interchange revenue from cardholder spending
You set all cardholder fees and keep 100% of the revenue over cost
You carry the liability (but the good programs have excellent fraud mitigation)
You're responsible for a reserve at the bank (based on cardholder volume)
You have your own branded cardholder website and/or Android/iOS mobile app, card carrier and terms and conditions
You get an XML API so you can integrate the cardholder website features/functions into your own branded website or mobile app
What are the limitations?
With a private label program, you are only limited to the features of the sponsoring program.  In other words, you do not get to define the terms and conditions.  The program sponsor sets the cardholder fee schedule.
2) Can there be a fully custom design on the front and back of the card?
You can customize private label cards to the same extent as you can a custom program. The one difference is on the front of the card it will read "Powered by <Sponsor Program>" in the upper right corner of the card. All designs must be reviewed and approved by the sponsoring bank and card network association.
3) Can you get full API access to your customers' cards with the private label program so you can include balance and transaction history on your website?
No. With the private label program you will not get API's to plug into your website; it is prohibited by industry regulations. Only registered programs can have access to the developer API.
With the private label program, cardholders will have access to the sponsoring program's mobile app and cardholder website where they can see all of their data real time; it just can't be on your website. Some programs will allow co-branded cardholder websites and/or Android/iOS mobile apps for additional development costs.
4) What are the fees for our customers?
With a custom program, you set the fees and make 100% over cost.  You can choose to waive fees to incentivize use if you want.  You can make reloads, transfers and spending free but charge for ATM withdrawals for example if you want to.
With the private label program, the program sponsor sets all the fees.  When comparing programs, ask for the cardholder fee schedule.  Some have higher fees than others.  Generally, it is better to sell cards with lower fees.  It can be difficult to sell cards with high fees.  Discounts on card set up fees are commonly available based on quantity commitment.
5) What is the rev-share plan?
With a custom program, our clients make a rev share on issuing bank interchange revenue AND 100% of fee income above costs (and the good programs with economies of scale can offer some very low costs on new accounts and transactions).
With a private label program, there is a rev share on issuing bank interchange revenue but typically no income from fees.  Even though there is no income from fees, the rev share on interchange can sometimes be higher.
Keep in mind…
Each program is different so you will need to inquire with the program sponsor for details.  We can help you with this process though.  We are knowledgeable about most prepaid program managers are offering and can help guide you through the process of selecting a partner.
Be careful out there; many programs not set up or managed properly can be shut down by industry regulators.  If you are going to get into the prepaid debit card business, you are going to want an experienced expert in your corner ensuring you program is successful and compliant with Patriot Act regulations for anti-money laundering (AML) and complying with all federal, state, association and bank regulations.
Corporate Load Programs
Custom "Corporate-Load" programs are available to address the growing needs of companies paying independent and commissioned employees, agents, reps, affiliates and others worldwide.  Cards can be issued on-demand, eliminating minimum inventory and volume requirements. When loaded, funds are instantly available without the need to "transfer" funds or pay fees; perfect for commission payments to independent international sales agents.  Learn more about corporate-load prepaid Visa debit cards, both predominated one-time load gift cards and reloadable cards for awards and incentives.
Who is Prineta?
Prineta is a consultant active in both the issuing and acquiring sides of the payment industry.  We can help you find a proven program manager with a good reputation for successful programs.  Tell us about your vision and we will try to help make it come true.  We listen to what you need and will introduce you an endorsed program manager with a track record of success.
Our partners' offer turnkey prepaid card solutions that include everything needed to launch a successful card program; consulting/planning, bank and association relationships, account set up and management, card production and personalization, inventory management and customized distribution solutions, transaction processing, fraud detection and prevention, funds settlement, call center and IVR/VRU customer service, dispute processing, detailed reporting, to Web hosting services.
Prineta works with a diverse range of clients including financial institutions like credit unions, mobile payment innovators interested in secure NFC stickers, international markets frequented by immigrants, adult arcades (electronic poker type places), barter currencies, convenience store chains, tax return preparers, pay day loan companies, check cashing places, universities, study abroad programs, travel agencies, insurance companies (for paying claims onto cards), churches, and more.
New custom program can be launched in 90-120 days.  Private label programs can often launch in less than 60 days.
Request more information about launching your own branded prepaid debit card program.
To get started, please click the link below and fill out the form.
GET STARTED TODAY
APPLY NOW co-branded prepaid card, custom prepaid debit card, launch prepaid debit card, prepaid card with my brand, prepaid card with my logo, prepaid consultant, prepaid program for credit union, private label prepaid debit card program, start prepaid debit card business