Looking for a merchant cash advance for your c-store?  We are the only known source to offer a cash advance product to this vertical.  We offer short-term business loans and working capital financing for c-stores up to $20,000 for new contracts and $30,000 for renewals.  Find out if you qualify and get help running the numbers.
The fastest growing prepaid sales company for the c-store industry.  At Prineta, we are a consulting company and work with vetted and tested best-of-breed service provider partners that specialize in the convenience store industry and have a proven record of merchant satisfaction.
How does it work?
Basically, one of our cash advance partners will review your application and offer a short term business loan that will be repaid back by future credit card sales.  Some providers will buy up to 100% of future monthly credit card sales at a discount .  These products are designed for merchants who need cash for any reason. Those reasons could range from upgrades to their business, new equipment, opening a new location or marketing.  The reason why money is needed is not questioned.   Credit scores over 575 are required.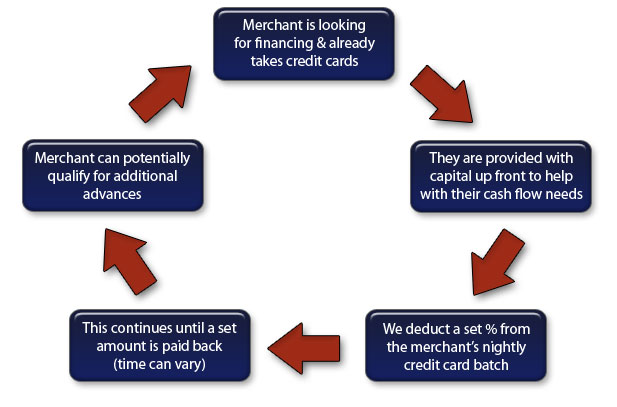 Tell me more…
Prineta cash advances for convenience stores provide fast access to working capital as an alternative to traditional bank loans. Features to our working capital advance include:
Funding provided in 7-10 business days after close
Less than perfect credit 

is not 

a "deal breaker" if the business is performing well
The amount of an advance is primarily based on a merchant's monthly credit card processing volume
The amount paid back daily is a fixed percentage of credit card deposits
The more you sell, the faster the loan gets paid back; the less you sell, the slower the rate of repayment
Payback ebbs and flows with business receivables
How a business owner uses the funds is his or her prerogative
 Cash Advance Program Requirements for C-Stores
Maximum Funding Amount:  $20,000 New Contracts; $30,000 Renewals
Minimum Funding Amount:  $4,000
Min. Visa/MC/Discover:  $10,000 per month processing (petroleum sales are not eligible).
Time in Business:  Three (3) years or more
Rent or Business Mortgage:  Current – no exceptions
Personal & Business Credit:  Relatively clean – minor credit issues only
Bankruptcy:   None active or discharged within 18 months
What's Required to Obtain a Cash Advance for your C-Store
Merchant Provides:
Six most recent bankcard processing statements
One complete, most recent bank statement
Copy of business license (Liquor, sales tax permit, etc)
Copy of owner's driver's license
Merchant's voided check
Most recent business mortgage statement or rental statement with payment history
Paperwork:
Administrative Form
Signed Merchant Cash Advance Agreement
Signed Processing Agreement
A popular move for c-store owners is to take out a cash advance on future bankcard sales then use the money to buy ATMs for each location then quickly pay off the loan and use the ATMs to generate additional income.  That's a very popular investment strategy for smart and savvy business owners.
GET STARTED TODAY
[ut_button color="theme-btn" target="_self" link="https://prineta.com/apply/" size="large"]APPLY NOW[/ut_button]
Get Set Up to Sell Prepaid Cards for Free