Effective January 27, 2013, merchants in the U.S. (excluding merchants within California, Florida, Texas, New York, Massachusetts, Connecticut, Colorado, Kansas, Maine and Oklahoma) can start charging surcharge fees.  If you are in these states, you are not allowed to charge a surcharge fee.
Which States allow merchants to charge surcharge fees on credit card transactions and which States prohibit merchants from adding surcharges?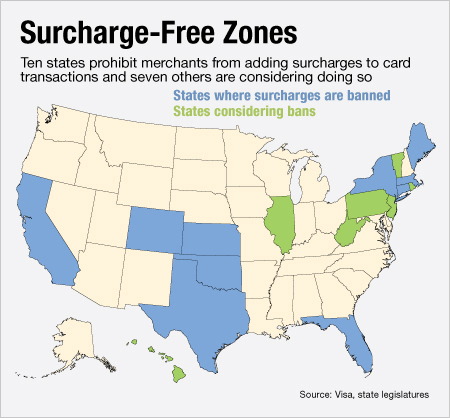 However, if a merchant intends to take advantage of a surcharge, they must notify Visa, MasterCard and their bankcard processing company (as their merchant acquirer) thirty  days prior to implementation. To register with Visa and MasterCard, merchants should visit www.mastercardmerchant.com and www.visa.com/merchantsurcharging.com.
In July of 2011, a federal judge approved a proposed settlement between the Department of Justice, seventeen states, and Visa and MasterCard regarding the interchange structure. With this settlement, VISA and MasterCard are removing the rule that prohibited merchants from charging a fee to accept a credit card. Based upon this settlement, Visa and MasterCard have announced new guidelines to allow your merchants the option of adding a surcharge to certain credit card transactions.
Special new point of sale terminal software applications is required to report the surcharges separately from sales and  surcharges can only be added to credit card transactions and CANNOT be charged on PIN debit or Pre-paid cards
Surcharge amounts must not exceed the merchant's average cost of accepting credit cards, capped at 4%. If merchants decide to add surcharges to customer purchases, they must clearly disclose the charges at the point of sale as well as display the dollar amount on the receipt (which is why a new software application is needed).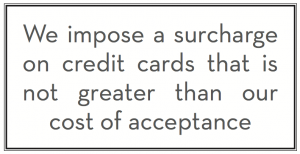 For more Frequently Asked Questions and more details on what you need to know, full disclosure examples, and more information please visit www.mastercardmerchant.com or www.visa.com/merchantsurcharging.
Instead of implementing the 4% surcharge on credit card purchases, some merchants prefer to just raise prices 4% on everybody and gives discounts to those who use cash.  This doesn't need to be approved by Visa and Mastercard and is an option available to all merchants in the United States.
If you have any questions about this announcement, please leave a comment below and we will try to respond.