Ask your customers or any consumer and they will tell you; no signature required for small transactions is definitely the preferred method compared to signing every time.  The program is now available to 98% of all merchants.  All you need is the right processing partner and merchant account.  Call 800-951-9533 for details.



Under the new program expansions planned for the summer of 2011, retailers can accept bankcard purchases without requiring signature to speed up the point of sale process and enhance customer satisfaction.
These small ticket no signature programs are enormously popular in busy retail environments like quick service restaurants, coffee shops, liquor stores, and convenience stores.
According to surveys, people often cite either convenience or speed as a primary reason for patronage and loyalty.  Americans hate waiting in line.  If two stores are even in most ways but one has fast checkouts and the other has slow checkouts, which do you think will make more money in the long-term?  Fast transactions build loyalty.  Slow transactions create dissatisfaction.
This is just the first step on the road to expanded use of contactless payments.  For contactless to be succesfull, no signature required is mandatory.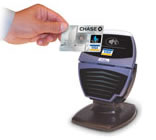 Prior to July, only 26 merchant categories were eligible for No Signature Required in the U.S. They include: auto parking lots and garages; bakeries; book stores; bus lines; candy, nut and confectionary stores; car washes; dairy stores; drug stores and pharmacies; dry cleaners; fast food restaurants; laundries; local commuter transport; miscellaneous food stores; motion picture theaters; news dealers and newsstands; quick copy services; restaurants; service stations; taxicabs and limousines; tolls and bridges and video rental stores.
The new program will allow department stores, hair salons, electronics stores and sporting goods shops to also participate in the popular program.
Now the no signature required program is available to up to 98% of merchants according to Visa.  MasterCard has also expanded there Quick Payment Service program.
At Prineta, we are consistently looking at offering merchants payment options or combinations of options that help them meet their business objectives, best fit their payments environment and meet customer needs.  Call 800-951-9533 for a free consultation.
We provide service nationwide but are based in Overland Park, KS (a suburb of Kansas City) and provide local, on-site service in Kansas City and the surrounding areas.  Within Kansas City we serve Overland Park, Leawood, Prairie Village, Olathe, Lenexa, Shawnee, KCK, Leavenworth, KCMO, Lee's Summit, Blue Springs, Independence, Liberty, Parkville, across the Northland and everywhere in between.  We are willing to drive up to 4 hours for the right opportunity.  With this radius, we can serve Columbia, Springfield and St. Louis MO, Des Moines IA, Omaha and Lincoln NE, Lawrence, Topeka, Manhattan, Salina, and Wichita KS, and Tulsa OK.