Times have changed.  Merchants need security.  Breaches are expensive; new terminals are not.  Better chargeback protection.  Qualify at the best interchange levels.  Works with Microsoft Dynamics RMS.  Supports NFC contactless.  Call 800-951-9533 for information.  We provide service nationwide through partners.

Stories abound about compromised systems.  Breaches are bad.  Peace of mind is good.
There are very reasonable hardware and software costs to get started.  Optional maintenance is available.
We offer the industry leading retail terminal for Microsoft Dynamics RMS that provides PCI certified end-to-end encryption of transactions that includes electronic signature capture and PIN Debit.
Plus, it accepts the newest form of payment, NFC contactless mobile payments.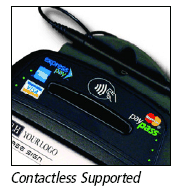 The ability to accept the Mastercard PayPass and ExpressPay NFC mobile payments from AMEX means you will be ready when people begin wanting to pay with fancy new mobile phones with Google Android Gingerbread like the Sprint Nexus S.  Be the cool merchant.
The RMS system stores the signatures and simplifies chargeback disputes.
It is the best all around terminal for the 2011 retail merchant that uses Dynamics RMS.
Call 800-951-9533 for details.
We are based in Overland Park, KS (a suburb of Kansas City) and provide local, on-site service in Kansas City and the surrounding areas.  Within Kansas City we serve Overland Park, Leawood, Prairie Village, Olathe, Lenexa, Shawnee, KCK, Leavenworth, KCMO, Lee's Summit, Blue Springs, Independence, Liberty, Parkville, across the Northland and everywhere in between.  We are willing to drive up to 4 hours for the right opportunity.  With this radius, we can serve Columbia, Springfield and St. Louis MO, Des Moines IA, Omaha and Lincoln NE, Lawrence, Topeka, Manhattan, Salina, and Wichita KS, and Tulsa OK.