If you are looking for a full-service ATM company in South Florida (the Miami–Fort Lauderdale–West Palm Beach metropolitan area), then you have come to the right place.
This is the page on our website dedicated to 'The Magic City', 'The Venice of America' and surrounding communities.
Our ATM Services
ATM placement – If you want to get an ATM machine for your business in Miami you can take advantage of our Free ATM placement program: we place an ATM in your business for free, take care of everything, and pay you for it. This service is for qualified locations only. If you're business is busy, with a lot of foot traffic, you'll likely qualify.
ATM Partnership – Similar to the ATM Placement, with our ATM Partnership you can load the ATM and we'll share more of the ATM surcharge with you. We usually split the surcharge revenue 50/50.
ATM Purchase – If you want to buy an ATM machine in Miami. We offer free ATM shipping anywhere in Florida. One of our ATM technicians in Miami will help you install and program it. You keep 100% of the surcharge.
Mobile ATM – We are one of the few ATM companies in Miami that can offer an ATM machine for a temporary event. If you have a concert, festival, or other large public event we can place one of our wireless ATMs at your event. We typically don't do events with less than 2000 people and usually only those who agree to hire us as the provider for their event next year.
ATM Cash Loading – We can refill the ATM cash for ATMs in Miami or anywhere in Florida. We have access to virtually unlimited vault cash so you can be sure your ATM will never run out. We have private ATM cash loaders or an armored car option for high-volume locations.
Establishments We Service
We specialize in ATM placements for hotels but we also service many other businesses and establishments such as: aquariums, restaurants, laundromats, stadiums, gas stations, airports, country clubs, zoos, grocery stores, high-rise condos, retail stores, supermarkets, nightclubs, convention centers, convenience stores, shopping malls, movie theaters, casinos, bowling alleys, bars, event facilities, liquor stores, pool halls, resorts, university dorms, lounges, amusement parks, truck stops, hospitals, gentlemen's clubs, speedways, and many more.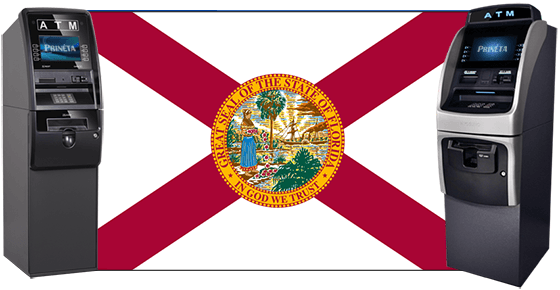 We service the following areas:
Miami Metro ('The Magic City')
Miami Beach – We provide ATM services for shopping venues, hotels and other businesses in the Miami Beach area including Bal Harbour and Surfside.
Miami Airport – We do ATM placements for establishments near Miami International Airport (MIA), including Doral to the west and Miami Springs to the north
Downtown Miami – We service businesses in the heart of the city including Little Havana, the bustling Brickell key and Brickell Hammock area and the Design district to the south.
Coconut Grove / Key Biscayne – Establishments in Coconut Grove and across Biscayne Bay at Key Biscayne, near the Miami Seaquarium and Crandon Park including restaurants and shops of CocoWalk and Streets of Mayfair.
Coral Gables – Businesses including upscale dining establishments and shops in the community of Coral Gables, and the area around the University of Miami.
South Beach (SoBe)  – Prineta places ATMs in South Beach, aka the Art Deco District, for restaurants, nightclubs, hotels and other establishments along the Ocean Drive.
South Miami-Dade  – Our service area includes the area from the southern end of Miami – Dade County, between Miami and the entrance to the Florida Keys. We provide ATM services for the shopping districts in the communities of Cutler Ridge, Homestead, Florida City, Kendall, Naranja and Pinecrest.
Northeast Miami-Dade – We provide ATM management for the upscale shopping and recreation venues of Aventura, Miami Shores, North Miami Beach and other beach communities just south of the Broward County line near the Atlantic coast.
North/Northwest Miami-Dade – Our company installs ATMs for businesses to the northwest of Miami in the communities of Miami Lakes, Hialeah, Hialheah Gardens, Palm Springs North, Carol City and Opa Locka.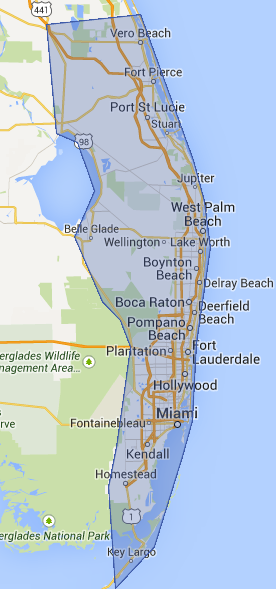 Our South Florida ATM Service area covers approximately 6,000 square miles.
Fort Lauderdale Metro ('The Venice of America')
Downtown Fort Lauderdale – We install ATMs for businesses in downtown Fort Lauderdale, Wilton Manors and Oakland Park including the fine restaurants and cafes on Las Olas Boulevard and boat-accessible hotels, restaurants and nightclubs along the Intracoastal Waterway.
Fort Lauderdale Beach – We manage ATMs for locations on the Intracoastal and along A1A such as cafes, shops and hotels.
West Broward – We service businesses such as restaurants, hotels, shops and malls in the center of the county, including Sunrise, Plantation, Lauderhill, Davie and Weston.
Southwest Broward – We operate ATMs in the southwest section of the county in the shopping centers of Bonaventure, Cooper City, Miramar and Pembroke Pines
Hollywood Beach – We and ATMs in Hollywood, Dania and Hallandale between the Intracoastal and the Atlantic.
Hollywood – Dania – Around the Hollywood, Hallandale, Pembroke Park, Dania and Dania Beach areas we operate ATMs for shops, entertainment venues and cafes around Young Circle.
Fort Lauderdale Airport – We provide ATM Service for hotels and other businesses in the area near the rapidly growing Fort Lauderdale – Hollywood International Airport (FLL).
North Broward – We deploy ATMs in North Broward including the communities of Deerfield Beach, Hillsboro Beach, Lighthouse Point, Pompano Beach and others.
Northwest Broward – We install ATMs in Northwest Broward including the inland communities of Coconut Creek, Coral Springs, Margate, Parkland Tamarac and others.
Palm Beaches Metro
South Palm Beaches – Prineta works with businesses in Palm Beach County south of Boynton Beach such as Boca Raton and Delray Beach.
Central Palm Beaches – Organizations in downtown West Palm Beach, airport area, Lake Worth and Palm Beach.
North Palm Beaches – Our service area also includes Palm Beach County north of Riviera Beach, including North Palm Beach, Juno Beach, Palm Beach Gardens, and Jupiter areas.
Lake Okeechobee South – Prineta manages ATMs in communities around the south end of Lake Okechobee, in western Palm Beach County and eastern Hendry County, including Belle Glade, Clewiston and others.
Treasure Coast Metro
Vero Beach – Our Miami ATM service area extends as far north as Vero Beach for businesses and hotels on the mainland and along the Atlantic Ocean shoreline.
Port St. Lucie – We manage ATMs in the city of Port St. Lucie around the junction of I-95 and the Florida Turnpike.
Fort Pierce – Prineta handles ATMs in and around Fort Pierce, the center of St. Lucie County.
Treasure Coast Beaches – We install ATMs for establishments along the Atlantic Ocean in areas such as Hutchinson Island and Jensen Beach.
Stuart – We place ATMs in Stuart and all along that East Coast area.
Surrounding Communities – Our service area includes communities such as Indiantown and Okeechobee.