Free Merchant-Loaded ATM Placement Services
[ut_one_half]
Minimal Hands-On Program, No Financial Commitment
For qualified merchants who would like to earn more of the surcharge revenue and don't mind using their own cash and replacing receipt paper, our Merchant-Loaded ATM Placement Program may be right for you.
This is a popular program for independently owned and operated businesses that don't want to purchase and maintain an ATM but don't mind loading the cash.
If you like making money with little effort and can bring some cash to the table, then this is the deal for you.
[/ut_one_half]
[ut_one_half_last]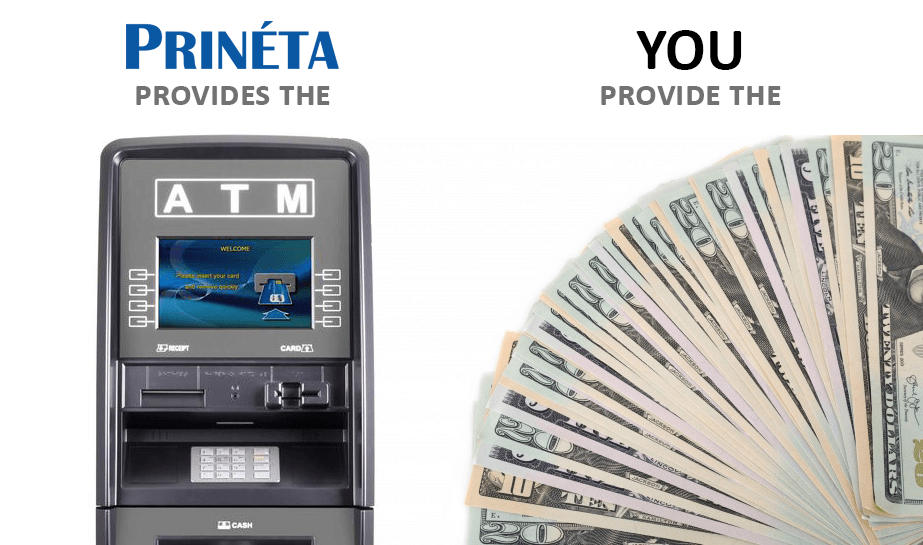 [/ut_one_half_last]
[ut_one_third]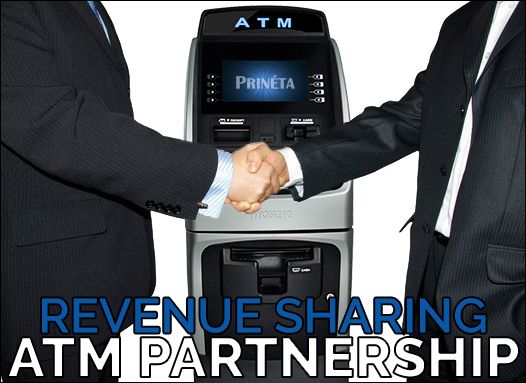 [/ut_one_third]
[ut_one_third]
Prineta Provides:
The ATM

(bought and owned by Prineta)
ATM installation & programming.
Transaction processing.
2nd-line maintenance (big repairs, parts etc.)
Monthly transactions & earning reports.
24-hour monitoring & web reporting
Regulatory compliance
ATM network connections
Monthly surcharge deposits
Communications (We handle any customer disputes)
ATM Supplies (receipt paper, signage)
All at no cost to you.
Merchant Provides:
Space for the ATM (only 3 sq.ft.)
Electricity (standard power outlet)
Cash replenishment
Receipt paper replenishment
First line maintenance (basic fixes, toll-free maintenance hotline)
[/ut_one_third]
[ut_one_third_last]
Partnership FAQ
[ut_togglegroup] [ut_toggle title="How much revenue will Prineta share if I load the ATM?"]
In most cases, the surcharge revenue is split 50/50. Splitting it down the middle is often the easiest option for both parties.
In some instances in which higher surcharges are tolerated by the ATM customers we do have a deal available whereby Prineta keeps a base-rate amount of the surcharge per transaction and anything over that amount is kept by the merchant. For example, if you have a location in which customers will pay a $5.00 surcharge fee (e.g. casinos, luxury hotels etc…) we think it only makes sense for Prineta to keep $2.00 (or whatever is enough to justify our investment in the ATM) and the business owner to keep the larger $3.00 cut instead. If at any time you want to raise the surcharge to $6.00, for example, you could do that and keep $4.00 per transaction and so on.
[/ut_toggle]
[ut_toggle title="How do I load an ATM?"]
Loading is actually pretty easy. The process goes like this:
Go through all the bills you want to load in the ATM and make sure there are no torn bills (a tear on a bill can cause a bill-jams) or brand new bills back-to-back (these can sometimes stick to one another so it's best to 'shuffle the deck') Note: Some people consider this step unnecessary, but here at Prineta we like to do our best to make sure the ATM operates smoothly at all times. Certain banks can go through the money ahead of time for you, thus eliminating this step.
Count the number of bills in the stack you're ready to load. Note: you don't have to count dollar amounts, only the number of bills.
Open up the ATM vault using your key and password.
Open up the bill cassette.
Place the stack of bills into the bill cassette.
Close and lock the cassette,
Close the safe and make sure it is locked securely
On the ATM's screen go through some menu options and then enter the number of bills you loaded into the ATM's journal.
That's it!
It sounds like a lot, but it really only takes 10 minutes, maybe less once you get good at it.
[/ut_toggle]
[ut_toggle title="How much cash will I need?"]
It all depends on the number of transactions and the average withdrawal amount. For hotels, the average withdrawal is around $70, so if you have 500 transactions in a month, then you will need around $1000 per day. But since it takes 48 hours for vault funds to be re-deposited back into your account, the minimum you will need is about $4000 in cash total if you load every 4 days and choose daily deposits.
If you have more transactions or the average transaction size is larger, then you will need a little more. If you don't want to load every 4 days, then you need to calculate the average daily withdrawal amount and multiply it by the number of days in between loadings. So keeping with your example, if you want to load weekly instead of every 4 days, then you would need around $7000 in cash on hand. Weekly deposits are also an option instead of daily; the daily deposits can be a bookkeeping nightmare.
If you don't have that kind of money, don't worry… the free ATM placement program is always an option where we take care of the load cash. If you have some cash to work with, the partnership program is probably your best bet.
Some days, especially weekends, will require more cash than others but it averages out. And to make life easier, we offer automatic notifications when the cash levels run low so you don't have to keep checking it all the time or wait for a guest to tell you the machine is out of cash.
[/ut_toggle]
[ut_toggle title="When, and how, do I get my money back after it's withdrawn from the ATM?"]
Your cash that has been dispensed out of the ATM (the withdrawn vault funds) will be automatically re-deposited back into the bank account of your choice via the Federal Reserve within 48 hours.
How?
Each ATM has a terminal ID and a bank routing number. When someone takes money out of your ATM, the banking networks know which machine did the transaction through these numbers. That's how the banking networks also know where to put the money back the next day, through the routing number.
When someone uses your ATM, they are accessing their debit or credit card account to get an overnight loan from your ATM. Most ATM owners set a surcharge fee for this convenience.
How long will it take to get my money back?
All ATMs settle on banking days at 4:00 pm EST.
Any funds withdrawn during regular business hours, Monday through Thursday, will be re-deposited back into your account within 24 hours from the time it was withdrawn from the ATM. Money taken out of the ATM before 4:00 pm EST on these days will appear back in your bank account the next morning. Any money taken out after 4:00 pm will appear the day after.
All weekend transactions which include Friday, Saturday and Sunday, will be deposited the following Monday morning. Saturdays and Sundays are not banking days so any money taken out after 4:00 pm EST on a Friday will not show up in your bank account until Monday morning.
For example:
Funds withdrawn on Tuesday before 4:00 pm EST will be in your account on Wednesday morning.
Funds withdrawn on Tuesday after 4:00 pm EST will be in your account on Thursday morning.
Funds withdrawn any time on Friday, Saturday or Sunday will be in your account on Monday morning.
Funds withdrawn on Monday before 4:00 pm EST will be in your account on Tuesday morning.
Then simply withdraw the same funds from your bank account and start the process of refilling the ATM with cash all over again.
[/ut_toggle]
[ut_toggle title="When will I get the surcharge money?"]
Prineta will electronically deposit a quarterly (or sometimes monthly) commission check via ACH. For some locations we deliver a handwritten check by mail.
[/ut_toggle]
[ut_toggle title="What happens if there's a problem with the ATM?"]
1st-Line Maintenance:
Under this model if there is ever any problem which requires a basic fix (bill-jams, machine resets, card stuck in a card reader etc…) the merchant can call our 24/7 maintenance hotline. Since the merchant already has internal access to the ATM we usually try to diagnose the problem and walk them through the repair right then and there over the phone. Most ATM problems are simple fixes which can be solved in a few minutes over the phone, saving everyone time and money.
2nd-Line Maintenance:
If anything major ever happens, we will send a service technician to fix the problem. Under this model Prineta will handle 2nd line maintenance at no expense to the merchant.
[/ut_toggle]
[/ut_togglegroup]
[/ut_one_third_last]