Prineta is one of the largest master dealers/distributors of GenMega and Hyosung ATMs in North America. We sell new ATMs at
wholesale cost
, offering the most competitive prices in the country. All ATMs come equipped with EMV chip card readerand an electronic lock. All ATMs are configured and programmed before shipping —
our pre-programmed ATMs are ready for operation right out of the box
. All ATM purchases include
free transaction processing service
— there's absolutely no cost at any time, no processing contract and no hidden fees or monthly minimums and the best part –
you keep 100% of the surcharge revenue.
Prices updated monthly — call
1-800-951-9533
or contact us
via our website contact form
to get an accurate price quote.
We are an authorized Hyosung and GenMega nationwide master dealer and distributor.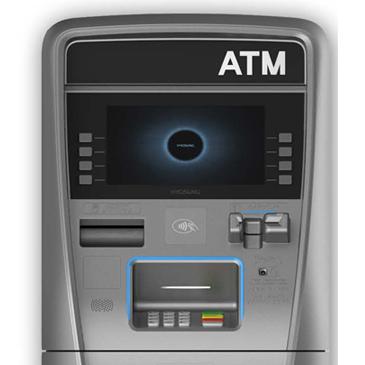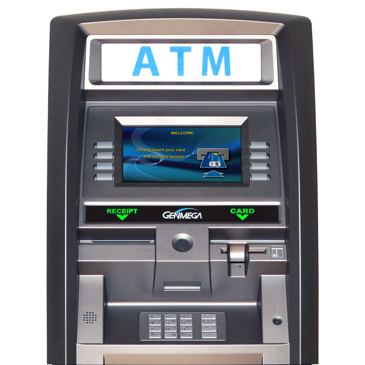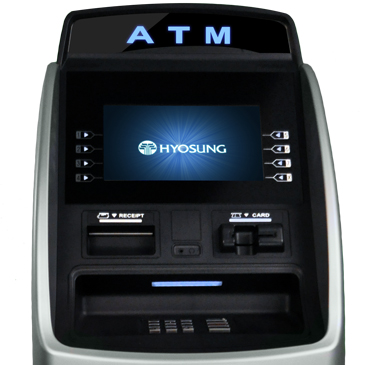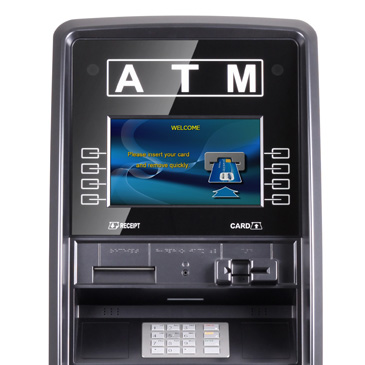 ATM Purchase FAQ
How much does a basic ATM cost?
The standalone ATMs you see on this page cost anywhere from $1900-$2600 for the basic setup, listed above. Prices are updated monthly so prices vary, please contact us via our contact form or at 1-800-951-9533 to get an accurate price quote.
For those wanting upgraded features such as: larger cash cassette (2000, 4000, 6000 or 8000 note cassette), bigger screen (up to 12″ and touchscreen features), upgraded Kaba Mas lock, lighted topper, video topper etc.. the cost of the ATM can rise up to $7,000.
What all is included with the basic ATM setup?
The basic ATM setup includes:
Pre-programmed
Free transaction processing
1000-note removable cash cassette
Electronic lock
EMV card reader
While this is the "basic" setup, it really isn't basic at all as many of these features listed are upgraded features.
Is shipping included?
Yes. All of the ATMs we sell include express shipping with lift-gate service at no additional cost. Many companies do not include shipping in the price, and for those that do, many of them require you to get the machine off the truck.
How long does the ATM take to ship?
The ATM usually takes 5-10 business days to ship, but there are some variables to consider:
Payment with ACH takes 1-2 days for electronic funds transfer to take place.
Payment with check will require waiting for check to arrive in mail and check to clear.
Customer must complete a few documents so we can set them up as a new ATM operator and so we have the information we need to program the ATM. It usually takes customers a day or two (sometimes up to a week) to complete these documents.
5-10 business days to ship.
What kind of warranty is included?
All ATMs come with a one year manufacturer's parts warranty. GenMega ATMs come with two-year parts warranty. If a part ever breaks or needs replacing, you can send the part back to the manufacturer and get a replacement part at no cost.
What happens if the ATM stops working and is still under warranty?
While it is exceedingly rare to have problems with new machines, problems nevertheless do occur. If this happens the first thing to do call Prineta immediately and explain the problem including any error codes on the ATM's screen. We may be able to fix the problem over the phone by walking you through the resetting process. If the problem requires more than a simple fix a technician will need to be dispatched to correct the issue. All parts are covered for 1 year. In some cases the technicians service fees may not be covered under the warranty.
How is the ATM installed?
Keep in mind that the installation of the ATM is separate from the programming. Prineta will program/configure the ATM before it is even shipped out, so the hard part is over and it's ready for operation right when it arrives. The "installation" refers to the bolting/securing of the ATM to the floor. It's basically just putting four anchor bolts in the ground, like securing a safe. Prineta used to include installation with all ATM purchases, adding-in the cost involved with having our technician bolt the machine down. After having continuous requests from customers to 'opt-out' of the install and do it themselves for a lower cost, we decided to lower the cost and leave the install up to the customer.
So here are your options:
Do It Yourself (Free)
No Installation (Free)
Hire a Contractor/Handyman
Hire a Prineta ATM Technician
How much does it cost to have Prineta install the ATM?
To have one of Prineta's certified ATM technicians do the install, it typically costs anywhere from $75-$250. The installation cost varies so widely mainly because of two main variables: (1) How far the site is from the city and (2) the local ATM technician's rates. All technicians have different rates and some factor in driving time so installs in rural areas almost alway cost more than ones where the technician doesn't have to drive as far.
The business owner can pay the installation fee the day of the installation via cash or check, directly to the technician.
If you'd like to hire a contractor or handyman to bolt the ATM for you, they can usually do it for anywhere between $50-$150 if you can find one in your local area.
How do I install the ATM myself?
Many handy merchants we sell ATMs to choose to install ATM themselves and save money. Others have the ATM installed by one of their staff, maintenance personnel or a friend.
For detailed instructions for the physical installation of the ATM and to get an idea if it's something you can do, check out our ATM Installation Guide.
What do I do if I'm having problems with the ATM?
All Prineta ATM customers have access to 24/7 technical phone support. You can simply call our tech hotline and troubleshoot with a certified ATM technician over the phone. With newer ATMs, many of the problems you would encounter are simple fixes.
What if the ATM needs on-site maintenance or repair?
Rates vary by technician, but generally a technician charges hourly, around $100 per hour. Some charge a service charge also. A standard service charge is $50 per visit. We also have ATM service packages available in which Prineta would receive a small portion of the surcharge revenue per transaction in exchange for maintenance coverage. With this ATM Maintenance Program you'll be able to call the local technician directly and get on-site support at no additional cost. For more information about this ATM maintenance/service package, contact us.
How will I know how to operate the ATM?
Most customers read through our ATM cash loading guide which explains how to operate and replenish cash in the ATM. Aside from this, just simply call our support hotline while you're on-site with the ATM and a technician can briefly walk you through every step of the process for maintaining your ATM including replenishing your cash and navigating the user menus. There is no separate additional charge for the training.
Who do you recommend ATM purchases for?
We highly recommend an ATM purchase for smaller, individually owned 'mom-and-pop' businesses.
If you have a very busy/high-traffic establishment, we are happy to sell you an ATM, but be forewarned that maintaining the ATM will take quite a bit of cash and dedication. It is like having a pet; it needs food and water regularly. Loading it all the time can sometimes be an inconvenience for those who are regularly very busy at work. That is why many of the larger businesses prefer the free ATM placement option or the 50-50 deal, but the choice is yours.
How much money can you make if you own and load the ATM?
With an ATM purchase, you make 100% of the surcharge fee paid by the ATM users and you can set the surcharge fee to whatever you want.
Your monthly revenue will depend on 2 factors:
What the ATM surcharge fee is set at.
How many people will use the ATM every month.
If you set the surcharge to $3.25 (the average for the hotel and lodging industry) and process 300 transactions per month, then you would earn about $1000 per month in surcharge revenue. Most good locations can make their original investment back in three to six months. Not a bad investment if you are willing to put in the time loading the cash.
Why should I buy an ATM from Prineta?
Reason #1: Proven Reputation of Customer Satisfaction
We're a Recommended ATM Vendor/Provider
Prineta has been selected as the recommended ATM provider by Fit Small Business, an independent organization which does rigorous market research and evaluation sales and services companies in the US for the benefit of small business owners.
Better Business Bureau
Prineta maintains the prestigious A+ rating with the Better Business Bureau.
Positive Online Customer Reviews
Prineta has a number of positive reviews and feedback from ATM purchase customers online, see our reviews on Google or read them here.
Reason #2: We Don't Cut Corners
To put it briefly, many other ATM companies cut corners. When buying an ATM most people just focus on the upfront price, and try to get the lowest cost machine out there. Therefore many companies respond by selling ATMs to the customer with the bare minimum and most basic features — ones they wouldn't even want themselves if they were the ones using, refilling, repairing and operating the ATM. We look at it this way:
We sell you the ATM we would want to buy.  
Cash Cassette
All Prineta ATMs come default with 1000-note removable cash cassette. Many other companies will still sell the ATM with the downgraded non-removable cassette which is fixed in the dispenser making it more difficult to load cash in. On top of this, they'll also often sell the ATM with a 800-note cash cassette, holding fewer bills and limiting the customer if they want to load more bills in the ATM.
Electronic Lock
Another example is how ATMs sold by Prineta always come with an electronic "e-lock". This is a feature which makes it easy getting in the ATM, just entering a 6-digit combo. It also makes it easier changing the vault password if needed because of employee changes for example. Many other companies will include a basic dial lock which is troublesome, takes longer to open and difficult to change the combination on.
Reason #3: EMV Certified and Trusted
Another extreme example is how some companies will even still sell an ATM without an EMV chip card reader even though the EMV liability shift has already taken place. While ATMs are not technically required to have an EMV card reader, the ATM operator usually understands that their cash in the ATM is at risk if any fraudulent transactions from non-EMV cards occur.  The unsuspecting customer doesn't realize they are liable to pay for fraudulent transactions until it's too late. Some other companies will sell the customer an ATM with an EMV card reader but then set up the merchant with processing that isn't even EMV certified, thus incapable of processing cards with EMV chip cards (regardless of having an EMV card reader on the ATM or not).
Reason #4 :Contract-Free Transaction Processing
The transaction processing provided by other companies is also inadequate a lot of times. Many companies will sell the ATM at a lower price but require the merchant to sign a lengthy 5-10 year ATM processing contract, locking them in, no matter how bad the service.
Reason #5 : You Keep 100% of the Surcharge Revenue
Other companies who sell ATMs with processing often keep $0.50 of the surcharge fee per transaction for "network access" or other bogus reasons without offering anything of value in return. Some may not keep a portion of the surcharge but require that the ATM perform a certain number of transactions every month or they get charged a monthly minimum fee. With Prineta, there are no extra charges, no hidden fees, and you keep the entire surcharge revenue.
Some restrictions may apply, if your location is exceptionally low-volume (under 100 transactions per month) we may need to keep a portion of the surcharge in order to continue funding our dedicated tech support and customer service costs for your account. This would be discussed after a 3 month period of transactions and every customer starts our receiving 100% of the surcharge revenue.
Reason #6: Our Technician Network
Prineta has the most extensive nationwide networks of ATM technicians of any ATM company out there. We likely employ an ATM technician who lives or services the area where the ATM will be placed. If you ever need the ATM serviced you can rest assured you selected a company that has you covered. Not only maintenance or repair, but we have cash loaders who can service your area also. If you ever get tired of refilling the ATM and want to have someone else do it for you, Prineta can assign a cash loader to your ATM.
Reason #7: We're Members of Important ATM Industry Organizations
Prineta representatives attend ATM industry conferences such as ATMIA and National ATM Council (NAC) every year to ensure we're up to date on all the important news and latest updates concerning the ATM industry. Don't get stuck with an ATM company that's out of the loop.