Full-Service ATM Placement Reviews
ATM Purchase & Processing Reviews
Joe Hartley
VFW Post 1988
We had a great experience working with Prineta. They are definitely one stop shopping. We purchased the ATM, they programmed it, provided the processor, offered free delivery, and had everything ready in a matter of DAYS. We were in a crunch to get our ATM operational in a very short time frame, The Prineta team went above and beyond to meet our needs and I had my ATM on site and operational in a matter of days. I made an inquiry on their web site on a Monday and got am immediate response from their sales team, by Saturday the ATM was operational in our VFW Post Canteen in Florida. Purchasing our own ATM was a no brainer as we now keep 100% of the ATM Fees and we pay no fees for the ATM processing. This ATM will pay for itself in a matter of months. Thanks to the Prineta Team
Lily Hong
Village Convenience Store
I purchased an ATM with processing with Prineta, and I am so glad I chose this company for my store in Boston. My previous ATM provider was so unreliable that I decided to switch. Prineta made the process so easy, and most importantly, kept in communication with me the whole time. Since this is my first time operating and purchasing a brand new ATM, they really made sure to answer all of my questions. I would definitely recommend Prineta to any business owner.
Dat Nguyen
Amazing service and responsiveness by the team. I have worked with several other ATM companies and none were as upfront or responsive as this one.
Richard GuzInski
Ocean City Camping
I spent six months looking for an ATM, when I found Prineta they responded immediately to all my questions, the ATM arrived with all software installed, plug and play ready!! When I had questions, Conner, responded with the right answers immediately!!! The machine looks and works GREAT!! 5 stars to Prineta and their staff!!!
Brad Lofland
Prineta has been a great company to work with. Conner walked me through the purchase of my first ATM and has provided excellent customer service. I look forward to my next ATM purchases and continued processing with this company.
Woody DeBenedictis
Staff is very responsive and has been very helpful in my first ATM purchase and providing processing for the ATM. I highly recommend using them.
Crossloader
After about week of research, I settled on four companies worth pursuing. There are definitely more out there. I felt like I could spend weeks looking up different companies so I stopped my search at six and narrowed it down from there. I narrowed my results based on what their website said the services and fees were and then tried to call to gather more information. I was looking to compare the same stats across all the companies. These stats were as follows: how much surcharge fee do I get back, if I'm able to get any of the interchange, how much are they selling the Genmega G2500 for, if there is an online/mobile reporting/accounting service, installation/training service, tech support, how responsive customer service is, contracts. The four companies I settled on were: CORD Financial services, Prineta, ATM Depot, and Kahuna ATM Solutions (the service Cardtronics uses). The reason I am writing about only these four companies and not all six is because of a personal opinion. By this, I mean that the websites of the two other companies had some things on them that made me not want to do business with them. Things like really bad grammar and sketchy reviews that look fake and were written by the same person. I will let others judge them and decide to use them if they so choose so I am not mentioning their names here. This post is only meant to outline the stats mentioned in the first paragraph. After two emails and two calls, CORD never got back to me. After two emails and one call, Kahuna never got back to me. To me, this speaks volumes on what the company's customer service is like and what I can expect of the timeliness in getting problems fixed. If were to have an issue with my ATM or processing, I would hope the company is able to respond quickly. ATM Depot offers 100% surcharge back plus .10-.15 cents back on each transaction. Pricing for the Genmega G2500 is $2,185.00 and includes 8.0 color screen, electronic lock, 1000 note removable cassette, EMV card reader, and delivery. Installation and training is $350. There is a wireless modem option for purchase at $149 plus $10/month for service or lease at $17/month. There is an online and mobile accounting and transaction reporting service offered. It seemed decent and good enough. Tech service and customer service also seemed good and reliable. A big downside for me is the contract they wanted me to sign. After reading the entire contract sent to me, I found that ATM Depot wanted a three year term. I was looking for a company that didn't require any contracts. ATM Depot also requires insurance on each machine. All in all, ATM Depot can be a solid choice. Prineta offers 100% surcharge back. If the ATM operator averages less than 50 transactions per machine per month, then there is a .50c/transaction fee. So basically just make sure your machine is averaging more than 50 transactions per month. Pricing for the Genmega G2500 is $2,199.00 and includes 8.0 color screen, electronic Lock, 1000 note removable cassette, EMV card reader, and delivery. Installation is up to the operator. Prineta has a nationwide network of technicians available to help install and train. I've found the cost of one of these technicians to be between $100-250. You could also hire a handyman to install it for $50-100 and then learn from the included manual or call Prineta for a walk through. The wireless modem option is $225 plus $10/month to purchase or $20/month to lease. They offer a good onine and mobile option for transaction reporting and accounting. They also offer text/email notifications for low cash or error codes. Their customer service is great and responsive. Tech support is free over the phone or they can call a technician for you. Prineta does not require any contracts to be signed. I hope this sheds some light on a couple companies as well as maybe condense some information in one place. I would like to see other companies listed here comparing the same stats I used. A lot of these companies have different services so it could be a good idea to mention extra services at the end of the post just so we can all compare apples to apples and then look at the whipped cream on top.
Mandi Macias
Holt Ajo Shell Gas Station
We purchased an ATM with processing from this company. The installation was fast and easy and our technician was kind and patient. All the questions we have had were answered promptly. I highly recommend this company. Holt Ajo Shell Ajo, AZ Shabaz Khan
Carniceria Garcia
Prineta is the best ATM provider around. What makes this company great are the employees. One individual in particular is Amanda Luchento! She has been amazing to work with for all of my ATM solutions. She is quick, efficient, knowledgeable, helpful, honest, and always goes above and beyond. Keep up the great work. I will continue to be a loyal customer. Thank You.
Avery Kay
Amanda is a great asset to the company her customers services is not only fast but she's super helpful I've ordered 2 atms with her and will continue to. I would highly recommend ordering with her
I spent a ton of time researching companies and couldn't be happier with Prineta! They guided me through each step of the process and made it easy to setup my own ATM with processing and email alerts! I absolutely would recommend Prineta if you are needing an ATM or any ATM services.
Max LeBras
I don't know where to start. Prineta has been absolutely amazing to work with. I started my ATM business with 0 knowledge of the industry and they were there every step of the way. Quick email responses, top quality equipment & the best value I could find! All the keys to success in a one stop shop. 10/10 would recommend.
Scott Dix
I own a business that does processing with Prineta and I've got to say I'm really happy my partner and I made the decision to go with them. I work with Tyler at their company and not only is he incredibly fast and responsive, but he's super knowledgable. Every business has its occasional hiccup but Tyler has been there to help smooth things out most every step of the way.
Terrence McDaniel
I worked with Amanda and she helped get me set up with an ATM, the process took a while on my end but she was very patient and helped me accomplish my goal, she's great an needs a pay raise. She helped with my company Green thumb and we now up an running thanks to Her and the team
Christopher Bobo
Had a great experience with Prineta ATMs , if you are just starting and want a trust worthy company I would definitely recommend them. I was personally helped by Amanda and she was nothing but professional and responsive to all my questions and I had a lot. She always responded to my emails and phone calls when I need help and made this experience easy as possible can't wait to do more business with this company. Thank you.
Matt Elling
Fantastic follow through! I run an alternative lending company and was searching for an ACH processor. After searching for the right processor on my own and getting denied everywhere, I found Prineta. They were able to find me the RIGHT processor for my business needs and most importantly APPROVED. Every step of the way they walked me through the application process and were extremely thorough. This is a GREAT company to work with. I highly recommend Prineta to any business looking for processing.
Gus Fernandez
Even being a new client, Prineta was able to turn around 800 executive black $5 predominated universal prepaid MasterCard cards in 3 business days. We did the order on Thursday and received the cards on the next Tuesday. As the marketing agency putting on SquareEspanol in Miami, Houston, Los Angeles and San Francisco, the cards were critical for the success our event and @Prineta came up huge for us.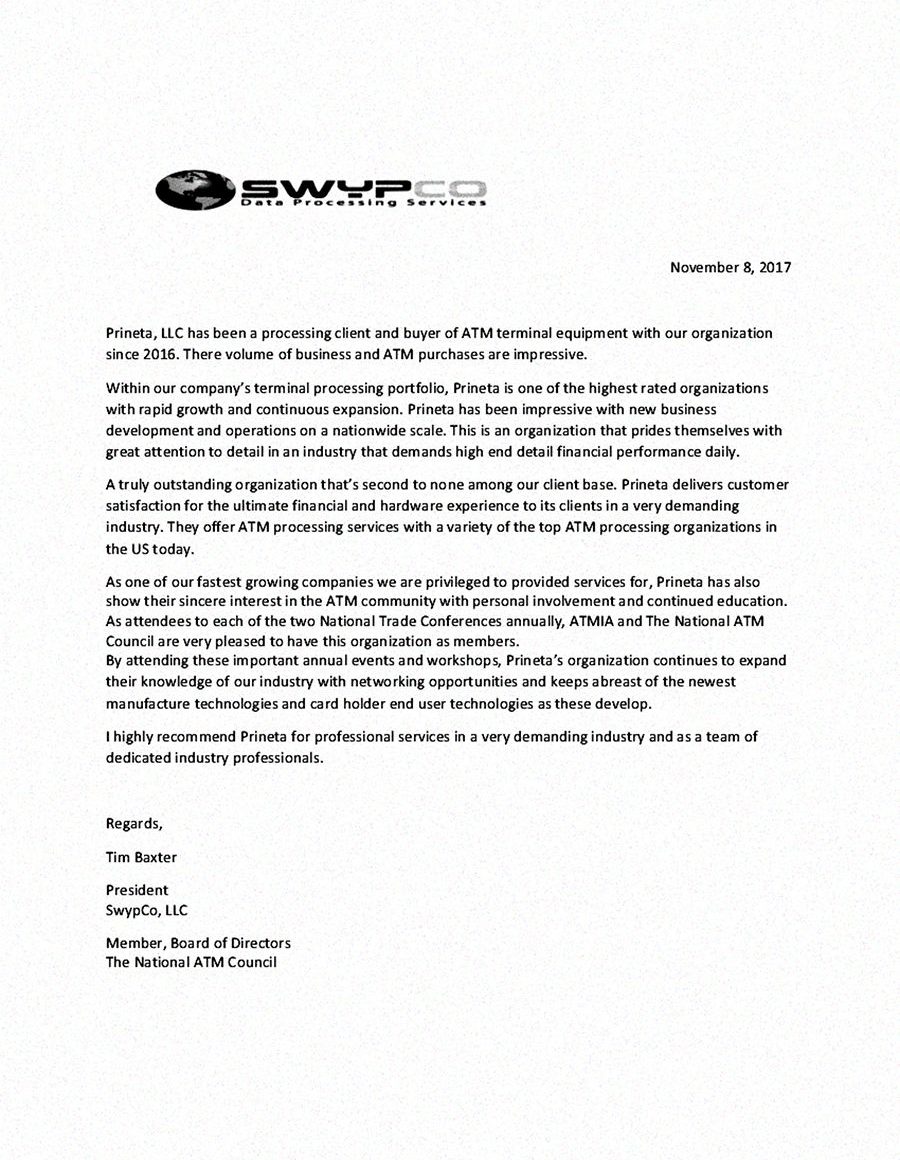 "Prineta, LLC has been a processing client and buyer of ATM terminal equipment with our organization since 2016. There volume of business and ATM purchases are impressive. 
Within our company's terminal processing portfolio, Prineta is one of the highest rated organizations with rapid growth and continuous expansion. Prineta has been impressive with new business development and operations on a nationwide scale. This is an organization that prides themselves with great attention to detail in an industry that demands high end detail financial performance daily. 

A truly outstanding organization that's second to none among our client base. Prineta delivers customer satisfaction for the ultimate financial and hardware experience to its clients in a very demanding industry. They offer ATM processing services with a variety of the top ATM processing organizations in the US today. 

As one of our fastest growing companies we are privileged to provided services for, Prineta has also show their sincere interest in the ATM community with personal involvement and continued education. As attendees to each of the two National Trade Conferences annually, ATMIA and The National ATM Council are very pleased to have this organization as members. 

By attending these important annual events and workshops, Prineta's organization continues to expand their knowledge of our industry with networking opportunities and keeps abreast of the newest manufacture technologies and card holder end user technologies as these develop. 
I highly recommend Prineta for professional services in a very demanding industry and as a team of dedicated industry professionals. "