ATM Placement Reviews
ATM Purchase and Processing Reviews
Prepaid Reviews
ACH Processing Reviews
Company Testimonials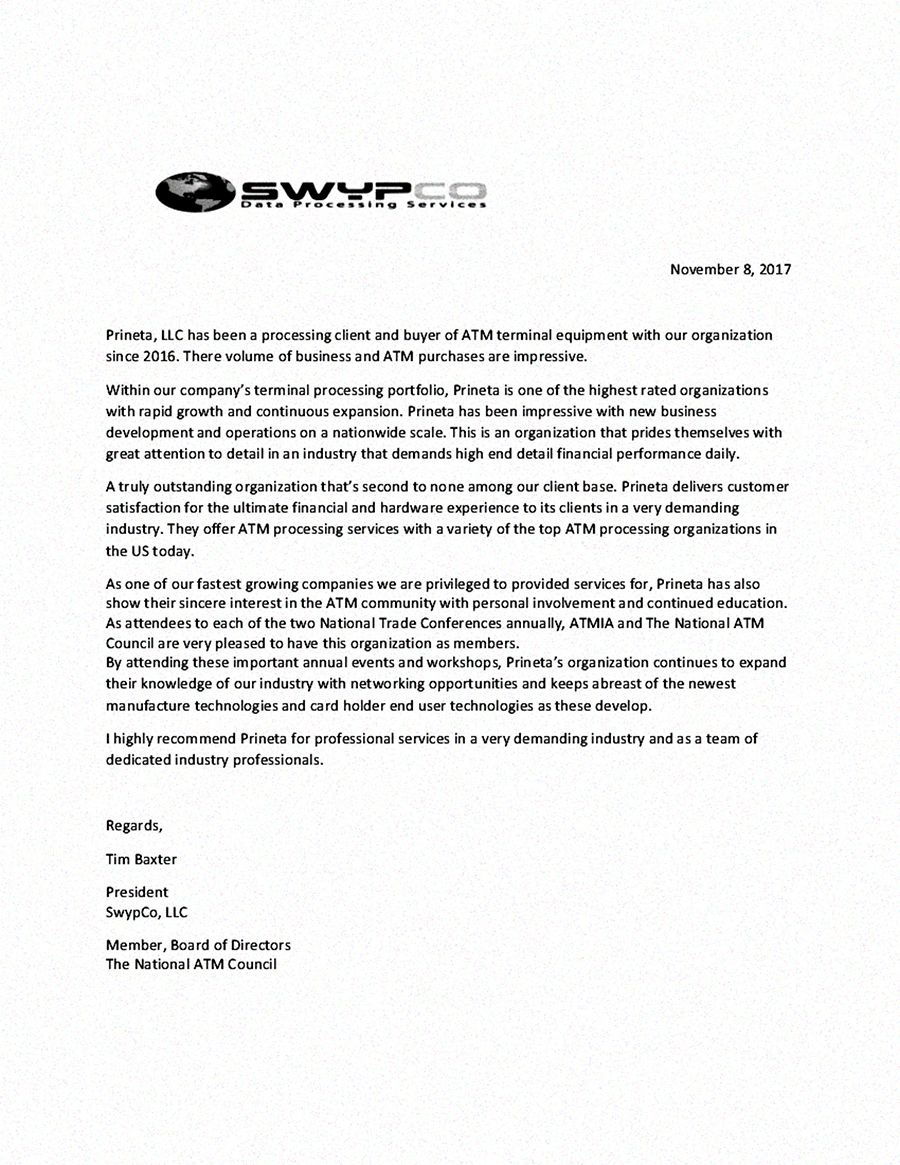 "Prineta, LLC has been a processing client and buyer of ATM terminal equipment with our organization since 2016. There volume of business and ATM purchases are impressive.
Within our company's terminal processing portfolio, Prineta is one of the highest rated organizations with rapid growth and continuous expansion. Prineta has been impressive with new business development and operations on a nationwide scale. This is an organization that prides themselves with great attention to detail in an industry that demands high end detail financial performance daily.
A truly outstanding organization that's second to none among our client base. Prineta delivers customer satisfaction for the ultimate financial and hardware experience to its clients in a very demanding industry. They offer ATM processing services with a variety of the top ATM processing organizations in the US today.
As one of our fastest growing companies we are privileged to provided services for, Prineta has also show their sincere interest in the ATM community with personal involvement and continued education. As attendees to each of the two National Trade Conferences annually, ATMIA and The National ATM Council are very pleased to have this organization as members.
By attending these important annual events and workshops, Prineta's organization continues to expand their knowledge of our industry with networking opportunities and keeps abreast of the newest manufacture technologies and card holder end user technologies as these develop.
I highly recommend Prineta for professional services in a very demanding industry and as a team of dedicated industry professionals. "
Awards
Prineta Awarded Winner And One of 25 Best Small Businesses In Kansas City Metro Area
https://prineta.com/prineta-awarded-best-25-small-business-in-kansas-city/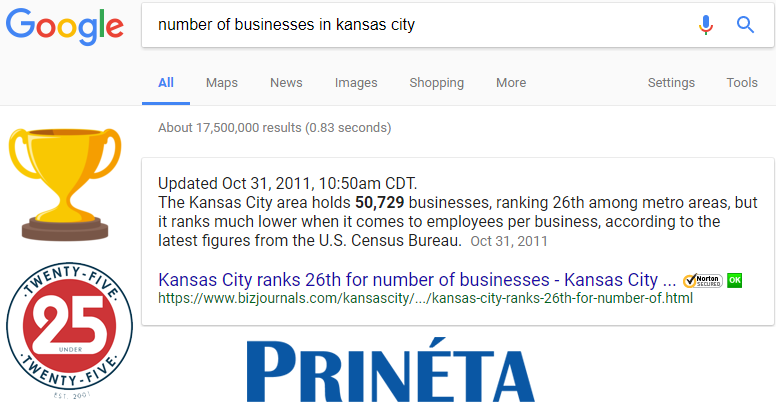 ATM Placement Reviews

"AMAZING company!! Very reliable in all ways they do and handle business. All of the employees are an absolute delight, hands down the best! We have a machine in our bar, Zoo Bar in downtown Kansas City. We are a cash only bar. If for any reason we need anything ie, more money, stuck card in wrong slot ( which is a total user error), paper jam, they always respond immediately and arrive to help. We are blessed to have such a great company provide the ATM so are patrons have access to cash in a safe secure environment. Thank you Prineta for being such a wonderful company to do business with!"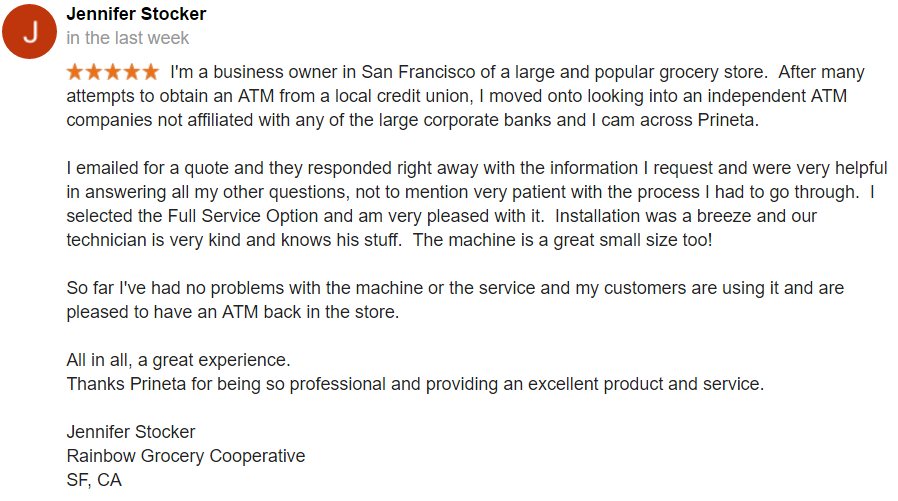 "I'm a business owner in San Francisco of a large and popular grocery store. After many attempts to obtain an ATM from a local credit union, I moved onto looking into an independent ATM companies not affiliated with any of the large corporate banks and I cam across Prineta. I emailed for a quote and they responded right away with the information I request and were very helpful in answering all my other questions, not to mention very patient with the process I had to go through. I selected the Full Service Option and am very pleased with it. Installation was a breeze and our technician is very kind and knows his stuff. The machine is a great small size too! So far I've had no problems with the machine or the service and my customers are using it and are pleased to have an ATM back in the store. All in all, a great experience. Thanks Prineta for being so professional and providing an excellent product and service. – Jennifer Stocker,  Rainbow Grocery Cooperative, SF, CA"
"As Regional Manager for Hampton Suites Green Hills in Nashville, TN, I can state from an insider position that the representatives and technicians at Prineta USA were of the highest caliber. The entire process, from planning to installation, went smoothly. Each person with whom I dealt was professional and helpful. There were some challenges in location for our ATM and they worked with us closely to solve these issues. Our full service ATM is a great amenity for our guests, most of whom are corporate travelers. I recommend this company with no hesitation to anyone wishing to add this extra touch to their customer service, no matter what the business."

"Prineta has been our ATM provider for over a year now and there as not been one single issue with anything. The machine has a 100% up time, the machine never runs out of paper, or money. The install was seemless and painless, the sales team is excellent to work with and the monthly service is perfect cash loading is perfect. When we decided on Prineta the account was super easy to get started. Our company is located in Colorado Springs Colorado and we are now wanting service in Chandler AZ and Portland OR. They have many options as far as service fees and plans. I highly recommend Prineta as your companies choice for ATM service. In my view you can't get any better, so Thanks Prineta for being world class."

"Great Customer Service and Experience working with them! They were incredibly accommodating and wonderful at answering any and all questions."

"Excellent service and professional work ethic from the techs, very happy with the service. 10/10 would recommend"

"Prineta is very easy to work with, installation was a breeze and we've had zero issues with the machine. Having an ATM that is no cost to my business, but a convenience to my guests, is the main reason we chose to have a free full-service ATM placement by Prineta. Very satisfied customer."

"Prineta, is the best ATM provider around. They are very quick at your service. Conner Morton been very helpful since the day we spoke. It only took him 3 days to have 2 ATM place at our location. Other provider would estimate of a week or two. Not only so,but we are getting paid for using Prineta ATM. Conner,Saigon Nho Cafe appreciate for your wonderful job of getting us our ATM. Thank you."

"Everyone one was extremely helpful from contracting to installation! Our customers are also very happy with ATM access in the hotel."

"I had an ATM placed at my tattoo shop. Prineta quickly and clearly explained the process to me. Their selection of plans made it easy to get exactly the level of service I wanted for my business."

"Unbeatable service. By far one of the most helpful companies I've dealt with thus far. Everyone I worked with was a pleasure to interact with. Absolutely 5 stars."

This is a great company with amazing customer service, Connor and Tanner are very helpful and good at what they do. I cannot say enough about the service we received and I will be recommending them to everyone I know.

"Prineta is outstanding for all atm installation and processing needs throughout the country. Conner and Amanda are highly professional and timely in solving all of your business needs."

"Conner & Tanner has went above and beyond helping me get placed 2 ATM's in the Kansas City Metro Area. Their equipment is top notch, and they are always willing to be at your location for a refill when the ATM gets low on cash or if a problem were to arise. I am currently in the process of using Prineta for other business locations. Why look for a company that is out of state to handle all your local needs. Thanks Prineta. You will always be my first choice on ATM placements"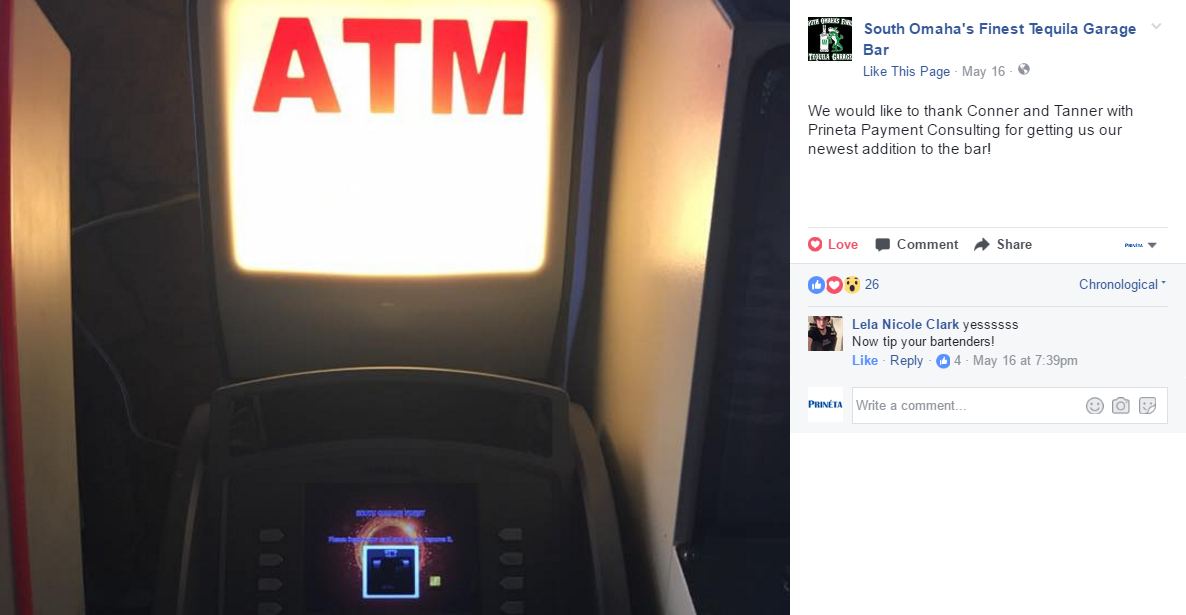 "We would like to thank Conner and Tanner with Prineta Payment Consulting for getting us our newest addition to the bar!"
ATM Purchase & Processing Reviews

"We had a great experience working with Prineta. They are definitely one stop shopping. We purchased the ATM, they programmed it, provided the processor, offered free delivery, and had everything ready in a matter of DAYS. We were in a crunch to get our ATM operational in a very short time frame, The Prineta team went above and beyond to meet our needs and I had my ATM on site and operational in a matter of days. I made an inquiry on their web site on a Monday and got am immediate response from their sales team, by Saturday the ATM was operational in our VFW Post Canteen in Florida. Purchasing our own ATM was a no brainer as we now keep 100% of the ATM Fees and we pay no fees for the ATM processing. This ATM will pay for itself in a matter of months. Thanks to the Prineta Team"

"I purchased an ATM with processing with Prineta, and I am so glad I chose this company for my store in Boston. My previous ATM provider was so unreliable that I decided to switch. Prineta made the process so easy, and most importantly, kept in communication with me the whole time. Since this is my first time operating and purchasing a brand new ATM, they really made sure to answer all of my questions. I would definitely recommend Prinea to any business owner."

(Google) "Amazing service and responsiveness by the team. I have worked with several other ATM companies and none were as upfront or responsive as this one."
(Facebook) "I've worked with several ATM companies and none were as reputable, responsive, or transparent about everything. highly recommended."

"I spent six months looking for an ATM, when I found Prineta they responded immediately to all my questions, the ATM arrived with all software installed, plug and play ready!! When I had questions, Conner, responded with the right answers immediately!!! The machine looks and works GREAT!! 5 stars to Prineta and their staff!!!"

Prineta has been a great company to work with. Conner walked me through the purchase of my first ATM and has provided excellent customer service. I look forward to my next ATM purchases and continued processing with this company.
Prepaid Services Reviews
"Even being a new client, Prineta was able to turn around 800 executive black $5 predominated universal prepaid MasterCard cards in 3 business days. We did the order on Thursday and received the cards on the next Tuesday. As the marketing agency putting on #SquareEspanol in #Miami, #Houston, #LosAngeles and #SanFrancisco, the cards were critical for the success our event and @Prineta came up huge for us."
ACH Processing Reviews

"Fantastic follow through! I run an alternative lending company and was searching for an ACH processor. After searching for the right processor on my own and getting denied everywhere, I found Prineta. They were able to find me the RIGHT processor for my business needs and most importantly APPROVED. Every step of the way they walked me through the application process and were extremely thorough. This is a GREAT company to work with. I highly recommend Prineta to any business looking for processing."