Full-Service ATM Placement Reviews
ATM Purchase & Processing Reviews
Matt Elling
Fantastic follow through! I run an alternative lending company and was searching for an ACH processor. After searching for the right processor on my own and getting denied everywhere, I found Prineta. They were able to find me the RIGHT processor for my business needs and most importantly APPROVED. Every step of the way they walked me through the application process and were extremely thorough. This is a GREAT company to work with. I highly recommend Prineta to any business looking for processing.
Gus Fernandez
Even being a new client, Prineta was able to turn around 800 executive black $5 predominated universal prepaid MasterCard cards in 3 business days. We did the order on Thursday and received the cards on the next Tuesday. As the marketing agency putting on SquareEspanol in Miami, Houston, Los Angeles and San Francisco, the cards were critical for the success our event and @Prineta came up huge for us.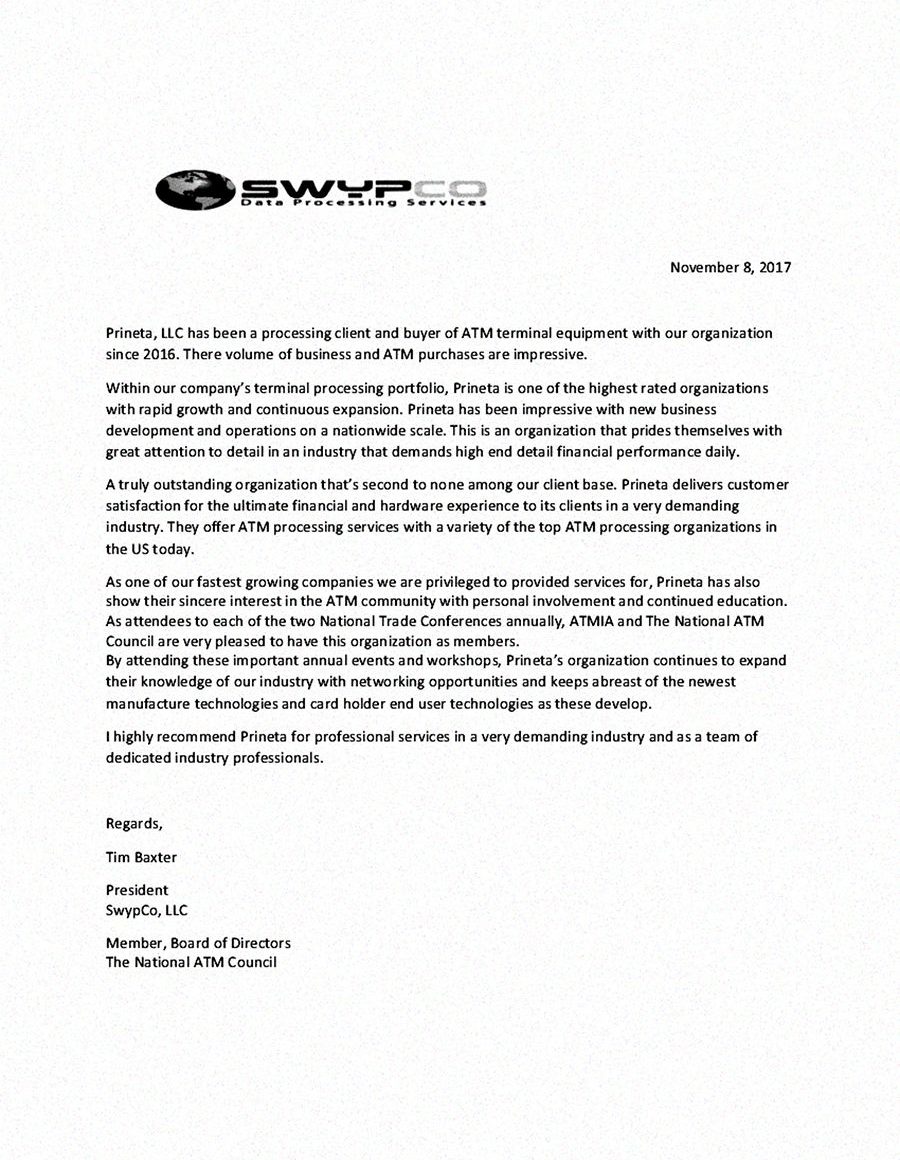 "Prineta, LLC has been a processing client and buyer of ATM terminal equipment with our organization since 2016. There volume of business and ATM purchases are impressive. 
Within our company's terminal processing portfolio, Prineta is one of the highest rated organizations with rapid growth and continuous expansion. Prineta has been impressive with new business development and operations on a nationwide scale. This is an organization that prides themselves with great attention to detail in an industry that demands high end detail financial performance daily. 

A truly outstanding organization that's second to none among our client base. Prineta delivers customer satisfaction for the ultimate financial and hardware experience to its clients in a very demanding industry. They offer ATM processing services with a variety of the top ATM processing organizations in the US today. 

As one of our fastest growing companies we are privileged to provided services for, Prineta has also show their sincere interest in the ATM community with personal involvement and continued education. As attendees to each of the two National Trade Conferences annually, ATMIA and The National ATM Council are very pleased to have this organization as members. 

By attending these important annual events and workshops, Prineta's organization continues to expand their knowledge of our industry with networking opportunities and keeps abreast of the newest manufacture technologies and card holder end user technologies as these develop. 
I highly recommend Prineta for professional services in a very demanding industry and as a team of dedicated industry professionals. "