Are you a small business owner that's getting tired of the endless fees from credit card processing and thinking about transitioning into a cash-only business? You're not alone – here at Prineta we receive calls and inquiries almost daily from merchants just like you looking to ditch their merchant account and go cash-only with an ATM on-site.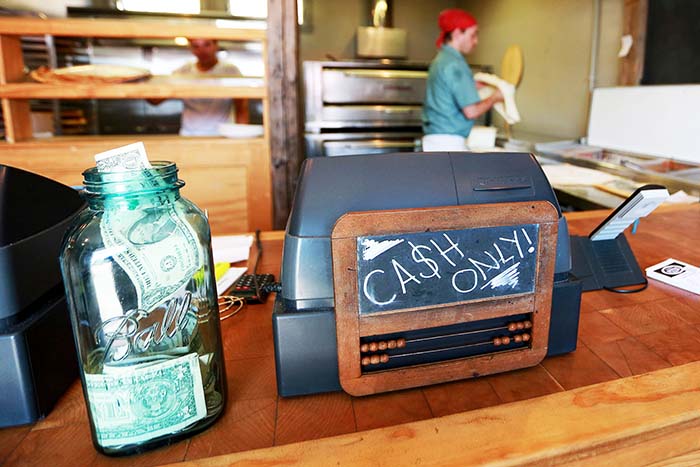 You're Not Alone
Many think that cash-only businesses are uncommon. In fact, research by Intuit GoPayment Survey shows that approximately 55% of US small businesses do not accept credit cards.

You may know of some businesses that are cash-only, you may even be a customer. With some types of businesses it is more common than others to be cash-only.
Some businesses that are commonly cash-only:
Barbershops & Hair Salons

Nail salons

Spas & Massage Places

Bars, Taverns, Pubs

Dispensaries

Tattoo Studios

Laundromats

Strip Clubs

Nightclubs

Small Restaurants

Pizzerias

Donut Shops

Coffee Shops & Cafes

Vietnamese & Chinese Restaurants

Ice Cream Shops
Endless Credit Card Processing Fees
Accepting credit cards usually costs the merchant around 3% of the purchase and can often come with all kinds of other fees. Depending on the merchant account provider you've chosen, you may recognize some of the following:
Setup Fees

Interchange Reimbursement Fees

Terminal Fees

Payment Gateway Fees

PCI Fees

Annual Fees

Early Termination Fees

Monthly Fees

Monthly Minimum Fees

Statement Fees

IRS Report Fees

Online Reporting Fee

Network Fees

Incidental Fees

Address Verification Service (AVS) Fees

Voice Authorization Fees

Retrieval Request Fees

Chargeback Fee

Fraud Accountability Fees

Batch Fees

NSF Fees
The list goes on and on…
For some merchants this is a big decision. For others who are drowning in fees it's a no-brainer. Some business owners just look at it as the cost of doing business, but others seek to find another way.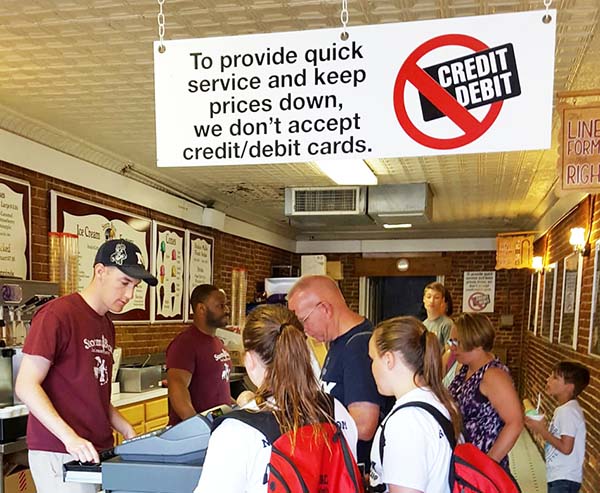 Won't I Lose Business If We're Cash-Only?
The truth is that it's a cost-benefit analysis – You may lose some customers at the beginning, the "if you don't like it go somewhere else" types. If you calculate how much you would be paying in yearly card processing fees compared to the amount of yearly revenue you missed out on from a few disappointed customers then you'll have your answer. Most businesses will retain the majority of their loyal customer base. These customers who enjoy the products or services will be there to stay, regardless of payment types accepted. 
Get an ATM Installed On-Site
The best way to offset any customer loss due to a cash-only transition is to ensure customers have quick access to cash via an ATM. Since many people nowadays don't carry cash, when people need cash they almost never have it. Having access to an ATM solves this issue. Almost every customer who wants to pay with credit card will also have a debit card and can use the ATM to get cash. Sending them down the street to the gas station or bank branch to use the ATM often results in them leaving and never coming back. Getting an ATM installed on-site ensures that the customers always have quick access to cash when they need it.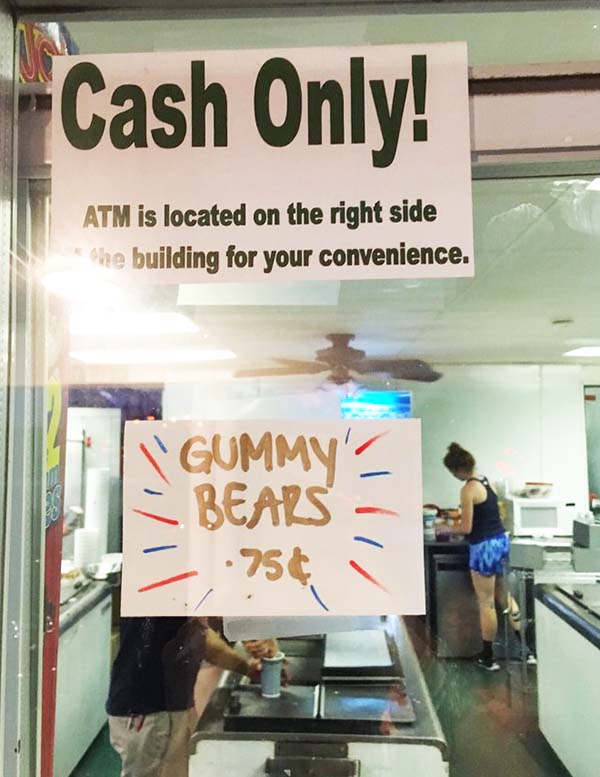 Free Full-Service ATM Placement
Almost all cash-only businesses qualify for our Free Full-Service ATM Placement program. With this program, Prineta will place and operate an ATM we own at your business, entirely for free! There is no cost at any time. All we need is an electrical outlet and about 2 square feet of floor space. In many cases we can place the ATM for you before you eliminate the card terminal so everything goes as smoothly as possible when you do switch.  
Call Prineta today at 1-800-951-9533 to speak with a representative about getting an ATM placed.
Buy and Operate an ATM Yourself
The other alternative is to buy an ATM and operate it yourself. With ATM purchase you keep 100% of the revenue generated from when people pay to use the ATM. If you own and operate the ATM yourself you have more flexibility, for example, you can set a $0.00 surcharge fee so customers will not have to pay to get cash. You can also set a high withdrawal limit per transaction, so customers can take out up to $600 instead of the normal $200 per transaction amount.
Cash-Preferred and Semi-Cash-Only Businesses
Give Cash Discounts or Charge Extra for Card Purchases
Some stores aren't willing to eliminate credit card payments entirely, but are still tired of the fees and want to reduce the amount customers paying with cards. Some merchants add an extra 3% to the price for card payments. Others make the customers aware that you prefer cash payments by putting up a sign offering a discount for cash payments. Another option is to have a minimum purchase requirement for credit card payments – any purchases under $20 must be paid with cash. Full-service ATM placement are also usually available to these businesses, but it will largely depend on foot traffic. Let customers know that using the ATM supports your business.
Semi-Cash-Only Businesses
Some businesses have select products or services that can only be paid for with cash, while the majority of the other products/services can be paid for with credit cards. One example is a business who sells lotto and regulations require they can't be paid for with card. Another example is how many salons, spas, and restaurants accept card payments for the main purchase but require cash payments for tips.  This simplifies the accounting since often the waiter or stylist will be the one who has to take a cut if tips are paid with card.