If you are looking for a full-service ATM company in the greater Orlando-Kissimmee-Sanford metropolitan area, then you have come to the right place.
This is the page on Prineta's website dedicated to 'The City Beautiful' and surrounding communities.
Our ATM Services
We are a full-service ATM company in Orlando with statewide services including: ATM placement, ATM maintenance and repair, ATM installation, ATM sales with processing, armored carrier cash loading
electronic contract signing, 24/7 toll-free phone support and more.
You can get an ATM machine for your business in Orlando for FREE by taking advantage of our Free ATM placement program: we will place an ATM in your business, take care of everything, and pay you for it. For qualified locations only.
For more information about our ATM services visit our site's main ATM page at:
https://prineta.com/atms/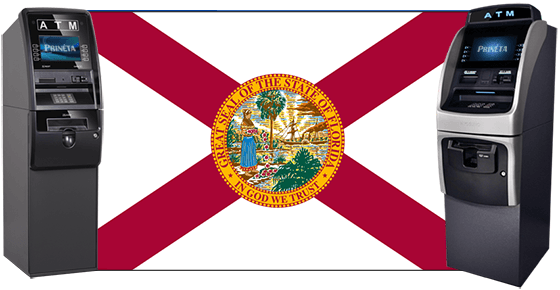 Locations We Service
We specialize in ATM placements for hotels and but we also service many other types of businesses  such as:  truck stops, airports, nightclubs, pool halls, liquor stores, shopping malls, event facilities, restaurants, movie theaters, bars, zoos, convention centers,stadiums, aquariums, speedways, university dorms, resorts, laundromats, convenience stores, retail stores, gentlemen's clubs, supermarkets, bowling alleys, amusement parks, hospitals, country clubs, lounges, casinos, gas stations, high-rise condos, grocery stores and many more.
We service the following areas:
Orlando Metro Area
Walt Disney World Main Gates – We provide services for businesses located just outside the 3 main gates to the attraction.
International Drive – We manage ATMs along the 3-mile strip between Lake Buena Vista and downtown Orlando, near the Orlando Convention Center and Universal Studios.
Orlando Airport / Florida Mall – ATM placements for locations on the east end of downtown Orlando, around the Orlando International Airport (MCO) and the Florida Mall in Sky Lake.
Kissimmee / St. Cloud – Prineta installs ATMs for Florida's largest resorts and theme parks just to the southeast of the Disney resort area.
University of Central Florida – We manage ATMs for establishments north of Union Park and south of Oviedo near the University of Central Florida (UCF) campus and the east side of town.
Greater Orlando – Our ATM service area includes downtown and the metropolitan Orlando area including Lake Buena Vista and the surrounding communities of Apopka, Clermont, Leesburg, Mount Dora and Wildwood.
North Orlando – We also provide ATMs for businesses in the towns north of metropolitan Orlando including Winter Park, Maitland, Altamonte Springs and others.
Winter Haven – Our ATM Service area also includes locations all along the I-4 corridor southwest of Orlando and east of Tampa.
Our Orlando ATM service area covers approximately 8,300 square miles.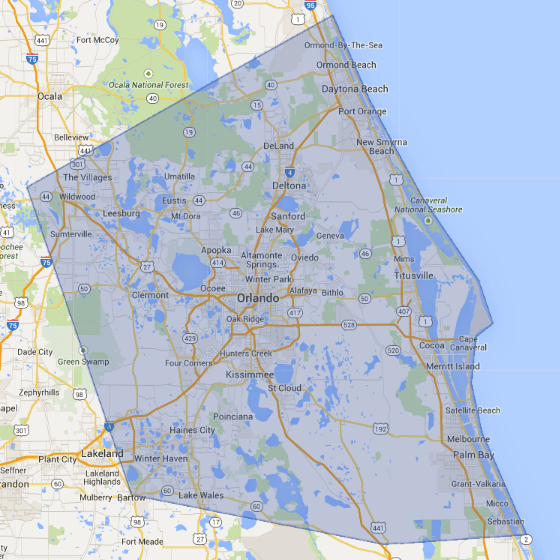 If your location is outside of this area shown please don't hesitate to contact us, we still may be able to assist!
Space Coast
North Brevard – We place ATMs for businesses in the northern part of Brevard County, including Cocoa, Titusville and Mims.
Cocoa Beach – We manage ATMs for oceanfront hotels in this area just south of Cape Canaveral.
Melbourne – We install ATMs in Melbourne, Palm Bay, Sebastian, and near the Airport (MLB).
Melbourne Beach – We deploy ATMs all along the beach in Indialantic, Melbourne Beach and Satellite Beach.
Daytona Beach
Daytona Beach – We provide ATM services for hotels concentrated on the narrow Daytona Beach island across the intracoastal waterway.
Daytona Beach Shores – Our company also installs ATMs for the hotels and other establishments located on the ocean in the southern part of the Daytona Beach area.
New Smyrna Beach – We manage ATMs for establishments in New Smyrna Beach, 13 miles south of Daytona Beach.
Speedway – Daytona Beach Airport – We  place ATMs for hotels and other businesses located near the speedway and the Daytona Beach International Airport (DAB).
Ormond Beach – We also service locations just to the north of Daytona Beach.
Surrounding Communities – Prineta's ATM service area includes communities surrounding Daytona Beach, such as Deland and Orange City.
Request a Proposal or Site Visit
We have an office in the Heritage Park center area of Winter Park on West Morse Boulevard. If you are interested in the full-service free ATM Placement option in Orlando we can have a local ATM technician stop by and speak with you about this service option!
Contact us through the form below and tell us about your location and what you need to get started today!