If you are looking for a full-service ATM company in the greater Denver-Aurora-Lakewood metropolitan area, then you have come to the right place.
This is the page on Prineta's website dedicated to the Mile High City and other communities of the Colorado Front Range.
Our ATM Services
We are a full-service ATM company in Denver with statewide services including: ATM placement, ATM maintenance and repair, ATM installation, ATM transaction processing, ATM Sales, armored carrier cash loading, electronic contract signing, toll-free phone support, and more.
Get an ATM machine for your business anywhere in the Denver area by taking advantage of our Free ATM placement program: we place an ATM in your business, take care of everything, and pay you for it.
Locations we Service
We specialize in ATM placements for hotels in Denver, but we also service many other businesses and establishments such as: truck stops, airports, high-rise condos, liquor stores, stadiums, speedways, convention centers, lounges, laundromats, hospitals, event facilities, gentlemen's clubs, nightclubs, restaurants, university dorms, resorts, amusement parks, country clubs, gas stations, retail stores, grocery stores, zoos, pool halls, movie theaters, casinos, bars, aquariums, supermarkets, convenience stores, shopping malls, bowling alleys and many more.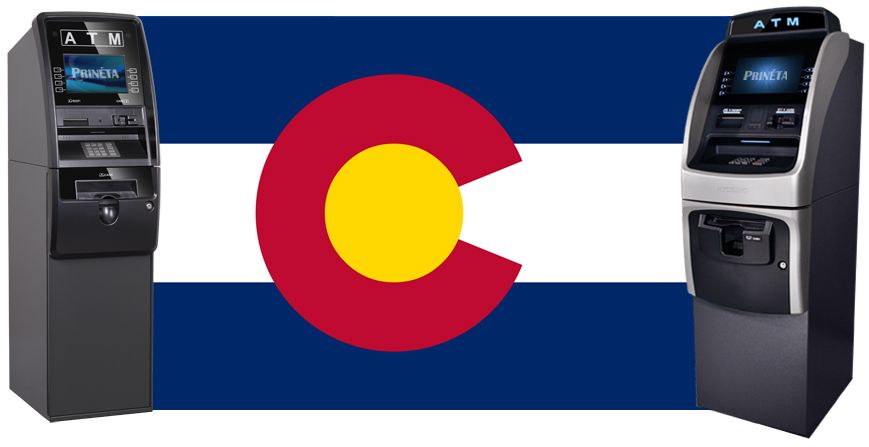 Our Denver ATM Service Area
We service the following areas:
Downtown Denver – We proivde ATMs for  high traffic businesses in the downtown area, near Mile-High Stadium, Coors Field, LoDo District and the Colorado Convention Center.
Denver Airport – We have placed ATMs for hotels in the busy hospitality industry near the Denver International Airport (DIA) and offer ATM services for  businesses in the neighboring communities of Aurora, Brighton and Commerce City.
South Denver – Our company operates ATMs in the south Denver metro area, near the Denver Tech Center (DTC) and communities of Englewood, Littleton and for the retail shops and restaurants of Greenwood Village in Denver's southern suburbs.
West Denver – Prineta manages ATMs for businesses in Denver's western suburbs including places such as Wheat Ridge, Golden, Lakewood, Evergreen and more.
Boulder – Our Denver market extends to the northwest in Boulder, near the University of Colorado at Boulder.
Surrounding Communities – Our service area also includes the outskirts of Denver, and in surrounding communities, such as Broomfield, Glendale and more.
Fort Collins – Prineta provides ATM services for the greater Fort Collins area.
Greeley – Our service area also includes businesses located east of Fort Collins in the cities of Greeley, Windsor and Evans.
Loveland – We provide ATMs for the businesses in the area between Fort Collins and Boulder in the cities of Loveland and Longmont.
Estes Park  – We can provide ATMs for the village of Estes Park.
Colorado Springs – We are also a major ATM company in the Colorado Springs metropolitan area, including any business along the I-25 highway to the south.
Colorado Springs Airport – We handle ATMs for hotels near Colorado Springs Muni Airport (COS) and in the downtown area of Colorado Springs
Pueblo – Depending on the location, we can provide ATM services for a business in Pueblo, Canon City and Florence as well.
Our Denver—Fort Collins—Colorado Springs ATM Service area covers approximately 4,300 square miles on the Colorado Front Range.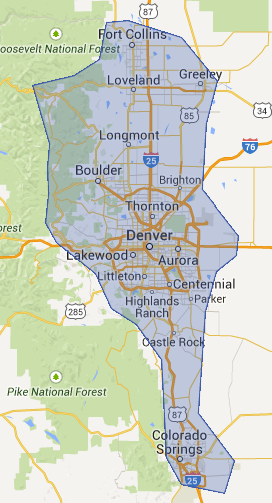 If your business is not located in the area shown above, we still may be able to help! Please don't hesitate to reach out and ask!
Request a Proposal or Local Site Visit
If you are interested in getting an ATM please contact us through the form below and tell us about your location and what you need. If you prefer you can call us toll-free at 1-800-951-9533.
We have an office in the Cherry Creek / Glendale area of southeast Denver on Colorado Blvd. If you're interested in the full-service ATM placement option we'd be more than happy to have our local ATM technician in Denver come meet you at your establishment in person.