ATM Services Company in Oklahoma
If you're looking for a local ATM services company in the Oklahoma City–Tulsa, OK metropolitan areas and surrounding region, then you have come to the right place.
This is the page on Prineta.com dedicated to our ATM services in Oklahoma.
To request a proposal for ATM services anywhere in Oklahoma, please fill out the form at the bottom of the page, or call us.
---
Our ATM Services in Oklahoma
Get an ATM Machine in Oklahoma
Get an ATM machine for your business in Oklahoma by taking advantage of our free ATM placement program: we will place an ATM in your business, load it with cash, take care of everything, and pay you a commission on every surcharged cash withdrawal.
More info: prineta.com/atm-placement
Oklahoma ATM Partnership
If you'd like to use the ATM in your business as a source of additional revenue for your business then we suggest our merchant-loaded ATM partnership. With this program we will supply the ATM, take care of network connections, installation and maintenance, and you just load the cash. If you load the cash we'll split the surcharge with you 50/50!
More info: prineta.com/atm-partnership
Buy an ATM in Oklahoma
If you'd like to buy an ATM in Oklahoma you've come to the right place. We have new ATMs for sale with free shipping delivered anywhere in the state of Oklahoma. We'll help you get set up as an ATM operator AT NO COST. We sell our ATMs at wholesale price and have local ATM technicians who can help if you ever have a problem.
More info: prineta.com/atm-purchase
Oklahoma ATM Cash Loading
If you already have an ATM but just need someone to load it, we can help. We can provide private local courier cash delivery in Oklahoma City and Tulsa or armored car vault cash loading for locations that are very busy anywhere in the state of Oklahoma. If you're tired of loading the cash or your ATM company isn't keeping the ATM full, call Prineta.
More info: prineta.com/cash-loading
For more information and a comparison of these four ATM service programs, please see here.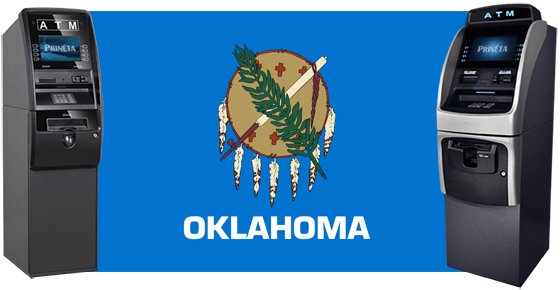 Establishments we Service
We provide ATM services for many large hotels and convenience stores in Oklahoma but also service a wide variety of other establishments, including: casinos, lounges, hospitals, resorts, restaurants, amusement parks, gentlemen's clubs, grocery stores, shopping malls, high-rise condos, supermarkets, retail stores, airports, bowling alleys, zoos, convention centers, university dorms, nightclubs, aquariums,stadiums, truck stops, country clubs, pool halls, movie theaters, pawn shops, speedways, convenience stores, laundromats, bars, event facilities, liquor stores, gas stations, and many others.

---
We provide ATM services for the following Oklahoma areas:
Oklahoma City ATM Service Area
Oklahoma City Airport – Prineta manages ATM machines for hotels and businesses surrounding the the Will Rogers World Airport (OKC).
Downtown Oklahoma City – Prineta is a major ATM vendor for businesses located in the downtown area and near the Myriad Convention Center and Bricktown
Northern Oklahoma City – We install ATMs for locations in northern Oklahoma cities including Yukon, El Reno, Edmond and others.
Shawnee – Prineta deploys ATMs for businesses located on I-40 in Oklahoma's Frontier County, to the east of Oklahoma City.
Midwest City – We place and manage ATMs in towns southeast of the city center including Midwest City and Del City.
Southern Oklahoma City – We are an ATM deployer servicing southern Oklahoma cities including Norman, Moore, Purcell and others.
Surrounding Communities – Our OKC ATM service area includes locations in outlying communities such as Chickasha, Clinton, Perry, Pauls Valley, and others.
Tulsa ATM Service Area
Greater Tulsa – Prineta is also an ATM company in Tulsa servicing businesses in the metropolitan Tulsa area near commercial shopping centers, and the University of Tulsa.
Tulsa Airport – We service hotels and other locations near the Tulsa International Airport (TUL).
Surrounding Communities – We place and manage ATM machines in communities surrounding Tulsa such as Broken Arrow, Muskogee and Claremore, Bartlesville and more.

Our Oklahoma City-Tulsa ATM service area covers approximately 33,000 square miles in Oklahoma
If your location is not within the service area shown above, we may still be able to help,
please just contact us and ask
!
---
Local ATM Company in Oklahoma City.
We are an ATM company with a local ATM service presence in Oklahoma City and Tulsa. We have local ATM technicians and cash loaders in Oklahoma that can come meet you at your establishment in person and talk to you about making a deal.
Request a Proposal
If you are interested in getting an ATM for your business(es) in Oklahoma, please contact us by filling out the form below and tell us what exactly you are looking for or just call our office at 1-800-951-9533 for more information.