Prineta is the premier ATM placement company for the hospitality industry in the United States.
Every company has their niche market, and for Prineta it is hotels. We understand the hospitality industry unlike any other ATM company out there.  Contact us and tell us what you're looking for, we are likely familiar with your brand standards and preferences without you even having to tell us. 
Types of hospitality establishments we service
Prineta provides ATM services to various sectors in the hospitality industry, including: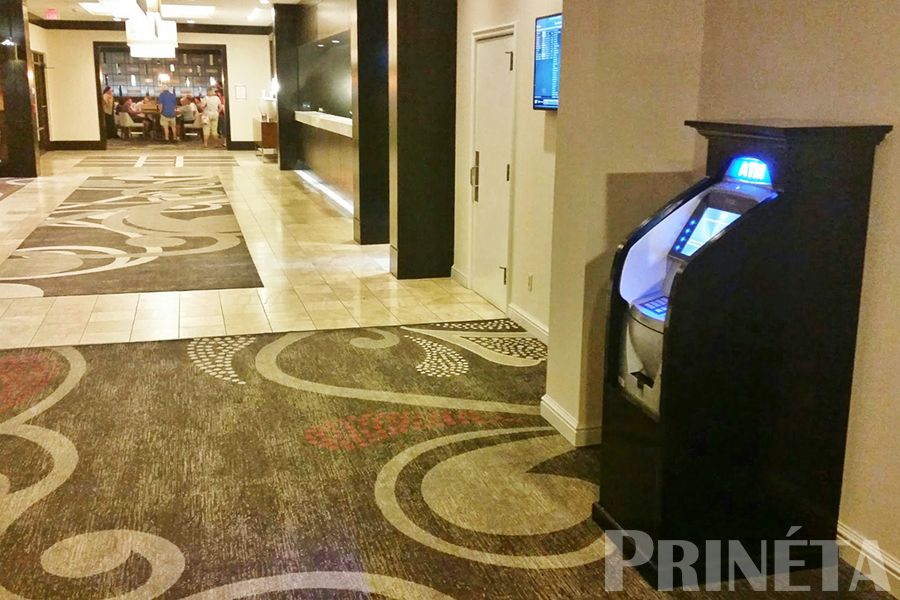 Providing ATM services in all 50 states.
Whether your hotel is a single, independently-owned franchise location or a corporate chain with hundreds of locations in multiple states, we can help. We have the largest extended network of independent ATM service operators of any company out there. We have experience negotiating ATM service agreements with large hotel management companies and corporate purchasing sectors. We respond to corporate RFPs in a timely manner, just contact us below.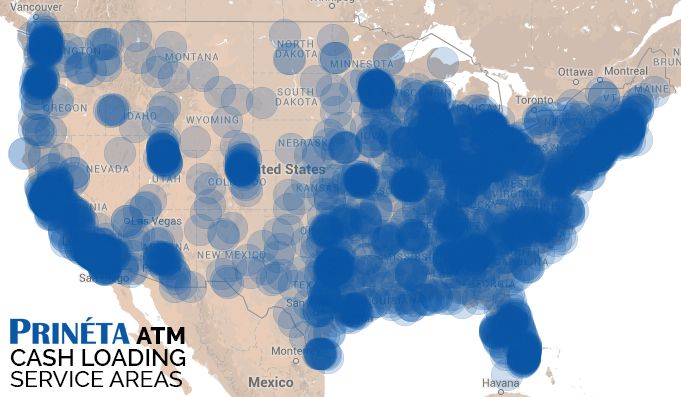 Why place an ATM machine inside your hotel?
So you're not entirely convinced an ATM is a good idea, or you're not sure if it's the right step for your hotel. Many hotel General Managers or Owners don't realize the benefits placing an ATM can have. Here are a few important reasons having an ATM can benefit your hotel. 
Reason #1:
Guests appreciate the convenience and ease of having access cash when they need it.
The truth is that ATMs have become a standard amenity at all hotels. Nowadays hotel guests expect to have access to their cash on-premises at their hotel. Guests may need to get cash for unexpected reasons and may feel irritated when they find out they have to walk or drive out of their way to get cash. If they need it during the evening hours, the problem gets even worse; some guests feel unsafe using ATMs in public places at night. Having an ATM machine in your hotel which is accessible to your guests 24 hours a day is a guest convenience that will be appreciated and respected.
Reason #2:
A lot of the time, the cash withdrawn from an ATM will be spent on-site.
Statistics show that approximately 25% of the cash taken out from ATMs is spend on premises. This number can often go up if you offer guest services that require cash such as: bars, restaurant, nightlife, gift shops, concierge, vending machine, laundry or room service. Even hotel employees may use the ATM to buy concessions and necessities.
Reason #3:
It's a free service, and you get paid commission!
Some hotel owners or general managers think that having an ATM is a service that costs them money. We often hear "how much does it cost?" The reality is that it is 100% free service, and we actually pay the hotel a quarterly commission based on how many transactions the does. "Nothing is free" they say, "What's the catch?". There is no catch. There are no hidden terms or problems that await. Here at Prineta we are 100% transparent and honest about what we do.
Where should I place the ATM in my hotel?
Want an ATM for your hotel, but not sure where you should put it? It's a common dilemma. Here are some of spots we typically place the ATM at:
Lobby

– The most common spot for an ATM machine is right in the hotel lobby. The lobby is a great spot for the ATM because guests will see it when they come and go, reminding them to take out some cash before they go out for the day or night. If you have a big lobby area there are many options on where to put it in the lobby. Some locations put the ATM right next to the front desk, other locations prefer the ATM in the back corner, others place the machine near the seating area. It really just depends on your personal preference.  

Sundry Shop or Gift Shop

– If your hotel has a separate sundries area or gift shop it might be the perfect spot for an ATM. Let your guests get cash while they shop for snacks or souvenirs.

Business/Computer Center

– Offering privacy for ATM users, the business center can often make a great spot for the machine.

Restaurant or Bar

– If your hotel has a restaurant or a bar, having an ATM nearby is crucial. Patrons often only want to their servers or bartenders with cash as that is still the most common tipping method.

Hallway Vending Area

– Sometimes hotels place the ATM machine next to all the other "machines" such as the as the vending machine, ice machine, soda machine in the ground floor hallway.

Elevator Area

– Having an ATM placed next to the elevators is a great choice because many people will realize they might need cash for the night while they're waiting in the small hallways elevator.

Entranceway

– If your hotel or condominium has a valet service often times it's best to have an ATM in the hotel entrance area in case guests would like to provide a tip.
Need multiple ATMs in a single hotel?
For large hotel properties we can provide and manage multiple ATMs within the hotel property so you can guarantee your guests can quickly and easily locate one when they need it. With multiple ATMs in operation on the property there will never be a queue at the ATM. If for any reason one ATM goes down you can guarantee your guests will not be inconvenienced as there will be another one on property.

Wireless ATMs
If you don't have any kind of  internet line or phone line available nearby we can connect the ATM wirelessly using a special modem that connects to the Verizon cellular network. There's no need to have your maintenance personnel run wires all over the place, all we need is one standard electrical outlet.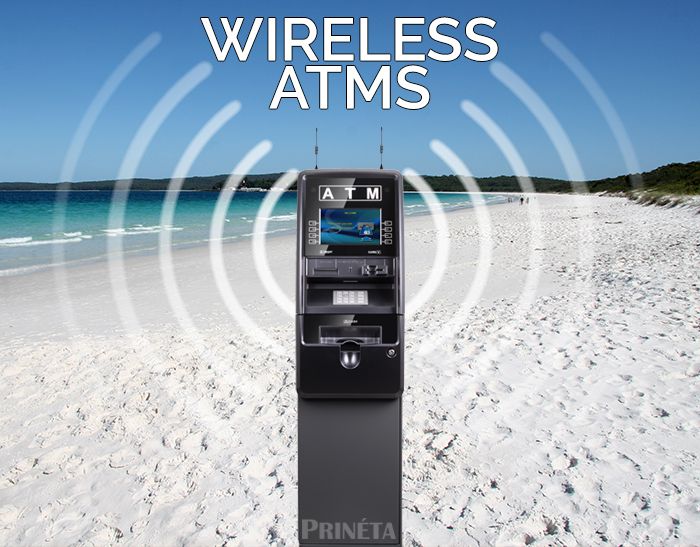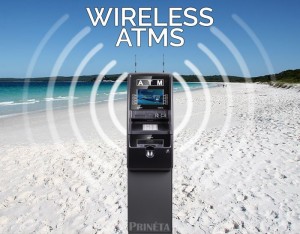 Nice-Looking ATMs
Think an ATM just doesn't fit in with your interior decor? 
While we're not interior designers, we still do an excellent job of helping you find an ATM that fits seamlessly with the interior decor of your hotel.  We have twelve of the latest ATM models available so you can get the exact style you're looking for. You tell us which ATM you want and that's the one we will install.
Small ATMs for Limited Space
Small Standalone ATMs
People often overestimate the size of an ATMs. Our standalone ATM machines require minimal space, only 2 square feet! To give you an example, here are the dimensions of a Hyosung 2700, one of our most popular ATMs:
Width: 15.7″

Depth: 18.4″

Height: 52.3″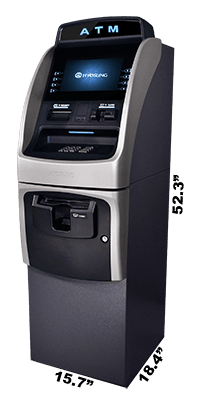 Compact Wall-Mounted ATMs
If you're certain that a regular, standalone ATM is too big, we have other options available. Our GenMega Onyx-W, wall-mounted or counter-mounted ATM is perfect for locations with limited space. This is one of the most compact ATMs we have available. The Onyx-W can easily be mounted to any wall or countertop.
Height = 19.7"

Width = 26.8"

Depth = 10.4"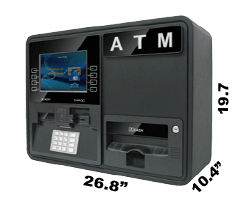 Custom Wooden ATM Cabinets
If your brand-standards require a wooden cabinet to go with the ATM, we can handle that also. We offer a wide variety of custom cabinetry to match the decor of any location. We have cabinets available for most ATM models with a large options of stains and colors available. Prineta can also offer custom vinyl wraps which give the ATM a nice, unique look.
Dynamic Currency Conversion (DCC)
Does your hotel have a lot of international guests?
If your hotel is frequented by international travelers, we recommend having an ATM with Dynamic Currency Conversion (DCC) technology. This feature enables foreign cardholders to process ATM transactions in their home country's currency, thereby allowing them to see transaction amounts in a currency they know and understand.
The following cities are popular places where we enable DCC features, because the large number of international visitors: New York City, Miami (including all of South Florida), Los Angeles, San Francisco, Honolulu, Washington D.C., Las Vegas, Orlando, Boston, San Diego, Houston, Philadelphia and Seattle.
We provide ATM services for many large, chained-brand hotels
Prineta has experience servicing hotels from many of the major hotel chains such as: Marriott, La Quinta, InterContinental Hotels Group (IHG), Hyatt, Hilton, Choice Hotels, Best Western and others. We provide ATM machines for hotels from many different class categories:
Luxury and Upper Upscale Hotels: 
Hilton Hotels & Resorts, DoubleTree, Marriott, Westin, Sheraton Hotels and Resorts, Wyndham Grand Collection, Kimpton Hotels & Restaurants, Crowne Plaza, Renaissance, Radisson Blu, Andaz, Hyatt, Omni Hotels & Resorts, Loews Hotels, Ritz-Carlton, Sofitel, Grand Hyatt
Upscale Class Hotels: 
Wyndham Hotels & Resorts, Ascend Collection, Cambria Suites, Clarion Hotel, Embassy Suites, Hilton Garden Inn, Homewood Suites, Home2 Suites, Park Plaza, Radisson, Aloft Hotels, Hyatt House, Hyatt Place,
Upper Midscale Class Hotels: 
Wyndham Garden Hotels, Comfort Inn, Comfort Suites, Staybridge Suites, Holiday Inn, Hampton Inn, Hampton Inn & Suites, Courtyard by Marriott, Springhill Suites, Residence Inn by Marriott, Best Western Premier, Country Inns & Suites, element by Westin, Clarion Inn, Four Points.
Midscale Class Hotels: 
Holiday Inn Express, Ramada, Wingate By Wyndham, Best Western Plus, Baymont Inn & Suites, Howard Johnson (HoJo), Hawthorn Suites, Mainstay Suites, Quality Inn, Sleep Inn, Fairfield Inn, TownePlace Suites,
Economy Class Hotels:
Days Inn, Howard Johnson Express, Knights Inn, Microtel Inn & Suites by Wyndham, Super 8, Travelodge, EconoLodge, Rodeway Inn, Suburban Extended Stay Hotel, Candlewood Suites, Best Western, Motel 6, Studio 6, America's Best Value Inn, La Quinta Inns, Red Roof Inn, Americinn, InTown Suites
Get a brand new ATM in your Hotel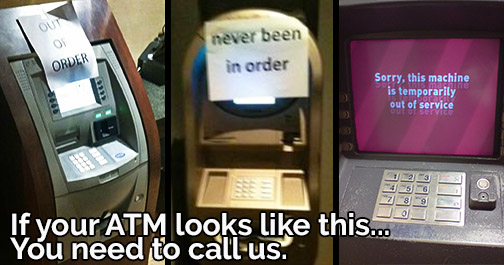 Do you have an old, junky ATM in your nice hotel?
It pains us to see it; a nice hotel with a junky, 15 year old ATM inside. While many guests won't be bothered by older ATMs, some will see it as a sign of your low standards. Choose Prineta as your ATM services provider and we guarantee that your hotel will be treated with the utmost respect by placing one of our new, nice looking ATMs at your hotel.
Is your ATM always out of service?
If your ATM is regularly out of service and you don't really know why, that's a sign that the ATM company is letting it run out of cash. If your ATM company isn't keeping your machine full, it can be a major inconvenience to your guests. We understand how important it is that the ATM runs with maximum uptime. Prineta uses online web-reporting that gives us real-time access to view the cash levels of the machine as well as low-cash notifications. No matter where we are, we will always be keeping an eye on your machine, making sure that everything is running properly.
We look forward to speaking with you.
If you want a new ATM for your hotel(s), just call us, or contact us through our contact form, let us know what you're looking for and when you'll be needing it. If you are opening a brand new hotel in the future, or currently renovating your hotel and would like to install an ATM in the future, do not hesitate to contact us. We will mark our calendars, and call you the exact day of your request and remind you that we are still interested in your business. We take our hotel clients seriously.