If you're looking to get an ATM in the Washington DC – Baltimore – Arington metro area, you've come to the right place!
To request ATM services for your business in DC/Baltimore, please just fill out the contact form below
Our ATM Services
ATM Placement
Our most popular option is our free, full-service ATM placement program. We provide an ATM and do everything at no cost to you and you still get paid a commission!
ATM Purchase with Processing
If you'd like to do it all yourself, we can do that too! You can buy the ATM and we'll set you up as the ATM operator on our processor. You keep 100% of the surcharge revenue. 
ATM Cash Loading & More
If you'd like us to load the cash in the ATM you own, we can assist with that. If you're also interested in any other type of service we may be able to help. We sometimes do events, service work, partnerships where we provide the ATM and you load, and much more!
Washington DC ATM Service Area
District of Columbia –

We service the 69 square mile area of central Washington, D.C. including Capitol Hill, Georgetown, Chinatown, the Convention Center and other areas.

Washington Airport – Arlington

– We provide ATMs for hotels and other establishments near the Ronald Reagan Washington National Airport and the Arlington area, just across the Potomac from downtown.

Northeast Virginia

– We place and install ATMs just to the west of the district, in Fairfax County, including locations such as Tyson's Corner, McLean, Falls Church, and Springfield.

Southwest Maryland

– Our ATM technicians service the area generally to the east of the district, in Maryland cities such as Silver Spring, Cheverly, Rockville, Bethesda and others.

Alexandria

– We install ATMs in Alexandria Virginia, 6 miles to the south of the district.
Baltimore ATM Service Area
Downtown Baltimore

– We're an ATM company in central Baltimore servicing locations outside the Inner Harbor vicinity, including the Mount Vernon neighborhood.

Inner Harbor

– We provide ATM placements in the diverse shops, eateries and attractions of the renowned Inner Harbor.

Baltimore Airport

– We provide ATM services for hotels and other establishments near the Baltimore – Washington International Airport (BWI), 9 miles south of downtown.

Greater Baltimore

– Our ATM service area extends out of the Baltimore metropolitan area, in cities such as Aberdeen, Columbia, Towson and others.

Annapolis

– We place and install ATMs in the state capital, located about 25 miles southeast of Baltimore, including the areas near the U.S. Naval Academy.
Surrounding Areas
Hagerstown

– Our Baltimore ATM service area extends to the towns of Hagerstown, Thurmont, Williamsport and Waynesboro including the area near the Hagerstown Regional Airport (HGR).

Martinsburg, WV

– We also place ATMs in Martinsburg, WV and the surrounding cities including Charles Town and Shepherdstown.

Frederick MD

– Our ATM technicians travel to Frederick and Westminster, southeast of Hagerstown, including the area near Baltimore/Washington International Airport (BWI).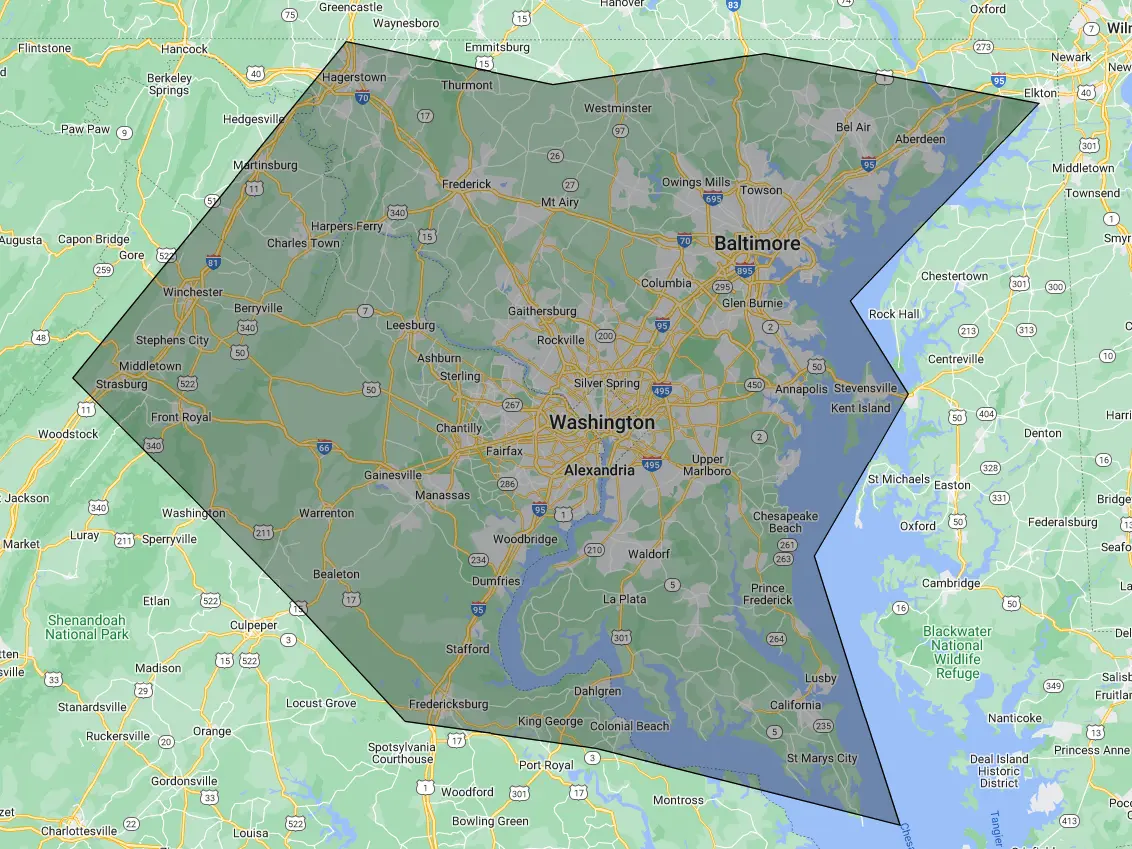 Establishments we service
We specialize in ATMs for hotels and convenience stores, but we also provide services for a wide range of locations, including:  movie theaters, bowling alleys, restaurants, event facilities, truck stops, stadiums, amusement parks, pawn shops, spas, bars, convention centers, supermarkets, grocery stores, high-rise condos, retail stores, barbershops, salons, zoos, university dorms, laundromats, airports, liquor stores, convenience stores, , strip clubs, lounges, country clubs, casinos, pool halls, shopping malls, hospitals, gas stations, nightclubs, massage places, and much more!