If you are looking for a local ATM services company in the Houston–The Woodlands–Sugar Land, TX metropolitan area, then you have come to the right place. We service Houston, The Woodlands, Sugar Land, Baytown, Conroe, Bryan, College Station, Galveston and much more
This is the page on our website dedicated to our ATM services in 'Space City' and surrounding communities.
Our ATM Services in Houston
Free ATM Placement – Get an ATM machine for your business in Houston by taking advantage of our Free ATM placement program: we place an ATM in your business, take care of everything, and pay you for it.
ATM Transaction Processing – Do you own an ATM in Houston but you don't get 100% of the surcharge? We can get your ATM reprogrammed for free and process your transactions. If you own and load your ATM, you keep the full surcharge. No contract required.
ATM Sales with Installation – If you want to buy an ATM in Houston we can help. We have new ATMs for sale that ship to your business, fully programmed after which our local ATM technician can come bolt the ATM down for you.
Local Courier Cash Loading – For busy ATM locations we can assign our local cash loaders to provide and load cash for your ATM, anywhere in Houston
Establishments we Service
We specialize in ATM placements for hotels in Houston, but we also service many other businesses and establishments, including, but not limited to the following: zoos, supermarkets, hospitals, event facilities, convention centers, stadiums, bars, restaurants, casinos, high-rise condos, gentlemen's clubs, laundromats, retail stores, liquor stores, aquariums, convenience stores, amusement parks, grocery stores, , lounges, bowling alleys, airports, pool halls, movie theaters, nightclubs, resorts, university dorms, shopping malls, country clubs, speedways, gas stations, truck stops, and many more!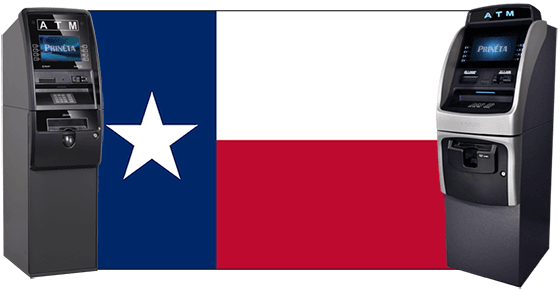 Servicing ATMs in All Areas of Houston Metro
Downtown Houston – We provide ATM services for businesses in the Houston city center including the areas near the George Brown Convention Center and the University of Houston. We install ATMs for all types of businesses in downtown Houston including department stores and restaurants, major sports stadiums, medical facilities, entertainment venues and many more.
Houston – Get an ATM for your business in Houston outside of the downtown area but within the Houston city limits including the areas around the Port of Houston on the eastern edge of town, Rice University in the southwest part of town, and around Texas Southern University and the University of Houston just south of downtown.
Galveston – Prineta places ATM machines southeast of downtown Houston in the historic Galveston Island area for establishments such as hotels, tourist establishments, resorts, live music venues and more.
North Houston – Our company manages ATMs for locations in the areas to the north of the Houston city center, such as Greenspoint, Northline, Spring, Conroe, and any of the other communities north of the Houston airport, surrounding North Houston.
Houston Airport – We operate ATMs for hotels and the hospitality industry around the George Bush Intercontinental – Houston Airport (IAH), located just west of the city of Humble, TX.
The Galleria Area – Prineta supplies ATMs and ATM services for hotels, retail locaitons and other establishments concentrated in and near the luxury shopping complexes of the Houston Galleria, west of downtown Houston.
Astrodome – We deploy ATMs for locations in and around the Reliant Park complex just at the southern edge of metropolitan Houston including the areas near near the Houston Astrodome, AstroWorld and Six Flags.
Surrounding Communities – Prineta also installs ATMs in the communities surrounding the Greater Houston area including Stafford, Pasadena, Deer Park, The Woodlands, Sugar Land, Texas City, Baytown, the area around NASA's Lyndon B. Johnson Space Center in the Clear Lake neighborhood around the town of Nassau Bay, and many others.
Bryan – College Station Metro – Our ATM service area extends northwest of Houston into "the heart of Central Texas", the Greater Bryan – College Station metro area.  We provide ATMs for the hotel industry in College Station including the area around Easterwood Field Airport (CLL),  the areas around the Texas A&M University Fightin' Aggies, and the George (H.W.) Bush Presidential Library. We also manage ATMs for the hospitality industry in Bryan neare the Coulter Field Airport (CFD) and other locations including the surrounding communities of Huntsville, Giddings, Hearne and Navasota.
Our Houston ATM service area covers approximately 20,000 square miles.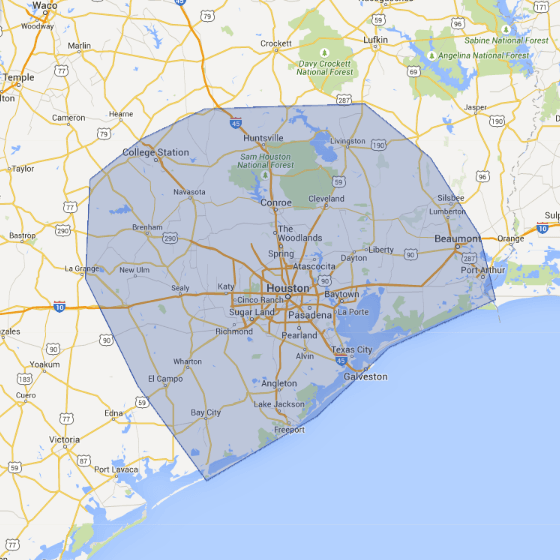 Request a Site Visit
We have local ATM technicians in Houston and can come meet you at your establishment in person and talk to you about making a deal.