ATM Machine Company in Sacramento, CA
If you are looking for a local ATM services company in the Sacramento, CA metropolitan area and surrounding region, then you have come to the right place.
This is the page on Prineta.com dedicated to our ATM services in the City of Trees.
To request a proposal for ATM services, please fill out the form at the bottom of the page, or call us.
---
Our ATM Services in Sacramento Metropolitan area
We are a full-service ATM company in the Sacramento metropolitan area, the sixth largest city in California, with a range of services as below:
ATM Placement
Get an ATM machine for your business in Sacramento by taking advantage of our Free ATM placement program: we place an ATM in your business, take care of everything, and pay you for it.
Read more about ATM Placement
ATM Partnership
If you are thinking about doing the cash loading by yourself then we split the profits from the ATM surcharge revenue with you 50/50 .
Read more about ATM Partnership
ATM Purchase
We sell new ATM machines in Sacramento area and nearby cities. Besides selling the machine, we help you install it, teach you how to use it, program the machine and handle the transaction processing.
Read more about buying an ATM from Prienta.
ATM Cash Loading
In case you already have an ATM machine and are looking for someone to load the cash then you have found the solution with us. We have our own local courier that can provide the cash loading, available in the entire area of Sacramento Metropolitan area. For busy locations or crowded events we can provide armored truck cash loading service as well.
Read more about our ATM cash loading services.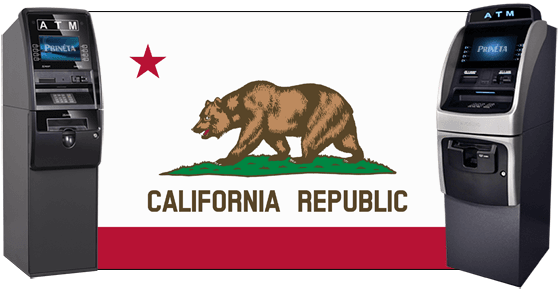 Establishments we Service
Prineta places ATM machines for hotels, gas stations, nightclubs, convenience stores, lounges, restaurants, pool halls, pawn shops, speedways, event facilities, laundromats, casinos, supermarkets, shopping malls, convention centers, university dorms, movie theaters, bowling alleys, aquariums, high-rise condos,stadiums, airports, amusement parks, gentlemen's clubs, grocery stores, liquor stores, country clubs, hospitals, resorts, bars, truck stops, zoos, retail stores and many others.

---
We service the following areas:
Sacramento ATM Service Area
Downtown Sacramento – We place ATMs for businesses located in the downtown area near the Convention Center, Capital Building and City Hall
Greater Sacramento – Prineta operates ATM machines in the greater Sacramento area including the towns Folsom and Davis.
Sacramento Valley Metro – We handle ATMs in vicinity of Chico Municipal Airport (CIC) and Sacramento Valley including the communities of Redding, Chico, Red Bluff and Yuba City.
Discovery park – Prineta's service area extends around the Discovery park and near the Sacramento Exposition center.
Northern Sacramento – Prineta is an ATM vendor servicing the Northern Sacramento area including Rocklin, Citrus Heights, Roseville and the area near the Sacramento International Airport Area (SMF).
Lake Tahoe – Prineta's reach extends out to the areas near Lake Tahoe.
Surrounding Areas – Prineta's ATM service area extends anywhere within 60-70 miles of the downtown Sacramento area. We
Stockton ATM Service Area
Stockton Metro – Our business deploys ATMs in between Sacramento to the north and Fresno to the south. We serve the cities of Manteca and Lodi.
Modesto – We manage ATMs in the communities around Modesto, including: Turlock, Tracy and Oakdale.
Fresno – Prineta installs ATMs for businesses in Fresno and as far south as the Squaw Valley area.
San Francisco Bay Area
East Bay Area – We are also an ATM company servicing the San Francisco metropolitan area, including the nearby cities of Oakland, Berekely, Hayward, Pleasanton, Vallejo, Fremont and more.
Our Sacramento ATM service area covers approximately 32,000 square miles in Northern California
If your location is not within the service area shown above, we may still be able to help,
please just contact us and ask
!
---
Local ATM Provider in Sacramento
Prineta has local ATM service representatives in Sacramento who can come visit you in person if you are thinking about having an ATM placed at your location.
Request a Proposal
If you are interested in getting an ATM for your location in Sacramento please contact us by filling out the form below and tell us what exactly you are looking for or just call our office at 1-800-951-9533 for more information.