If you are looking for a local ATM company or in the San Francisco Bay Area and surrounding regions, then you have come to the right place.
This is the page on Prineta.com dedicated to our ATM services in The San Francisco Bay Area.
Types of Establishments we Service
We specialize in ATM placements for hotels in San Francisco but we also service many other businesses and establishments such as: resorts, lounges, bars, amusement parks, shopping malls, grocery stores, event facilities, liquor stores, high-rise condos, convention centers, university dorms, laundromats, country clubs, pool halls, hospitals, nightclubs, retail stores, gentlemen's clubs, airports, restaurants, truck stops, casinos, supermarkets, bowling alleys, movie theaters, aquariums, zoos, convenience stores, speedways,stadiums, gas stations, and many more.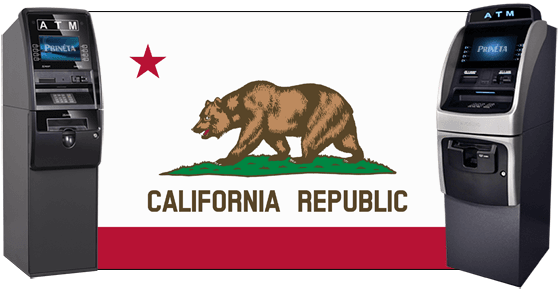 Our ATM Services in San Francisco & San Jose
We are a full-service ATM company in San Francisco California with a wide variety of ATM services including:
ATM Placement
We have a free, full-service ATM placement program available for qualifying locations in the San Francisco area. If you have a busy, high-traffic location, we will place one of our ATM machines for free and take care of everything, and pay you.
ATM Partnership
If you would like to help load the ATM cash, We will place one of our ATMs and we will split the profits from the ATM surcharge revenue with you 50/50.
ATM Purchase
We have new ATM machines for sale in San Francisco and surrounding cities. We can sell you a new ATM and help you install it, teach you how to use it, program it for you and handle the transaction processing.
ATM Maintenance and Repair
Have an ATM that needs repaired? Our ATM technicians can come visit your location for an hourly rate. If you switch processing and go with Prineta we offer discounts.

ATM Transaction Processing
Have an ATM and need to switch the processing? Do you manage your own ATM and don't get 100% of the surcharge revenue? We can help.

ATM Installation
Trying to figure out how to get an ATM installed in your business in San Francisco? We regularly install ATM machines all around San Francisco and surrounding cities. If you have any questions, just call us!

ATM Cash Loading
If you have an ATM already and need someone to load the cash, we can help. We can have one of our ATM technicians regularly refill the ATM or if your location is very busy we offer armored carrier truck cash loading services.
OUR BAY AREA SERVICE AREA
San Francisco Metro ATM
Downtown San Francisco – We prove ATM services for upscale nightclubs, theaters hotels and many other businesses in San Francisco's central downtown area near The Moscone Convention Center and Yerba Buena Gardens areas among others.
Civic Center – Prineta places ATMs in this area southwest of central downtown, in and around the neighborhood of San Francisco's City Hall plaza, bordered by Van Ness, McAllister, Goodlett Place and Grove.
Fisherman's Wharf – Our company services events, hotels and other places near the ferry to Alcatraz and Ghirardelli Square, including locations along the Northern Waterfront.
The Castro – Prineta installs ATM machines south of downtown in The Castro district (Eureka Valley) including the communities of Haight-Ashbury, Noe Valley, the Mission District and Twin Peaks.
San Francisco Airport – We work with hotels and place ATMs for the hospitality industry and other businesses near the San Francisco International Airport (SFO), and in the communities south of San Francisco, including Millbrae, Burlingame, San Bruno, Daly City and others.
Menlo Park – Prineta also manages ATM machines for locations further south of the airport area, in the communities of Menlo Park, Redwood City, around Stanford University in Palo Alto, Atherton and others
Marin County – Our ATM service area includes locations north of San Francisco, across the Golden Gate Bridge in Marin County, including the communities of Sausalito, San Rafael, Mill Valley and others.
Financial District – We provide ATM services for hotels, high-rise condos, elegant restaurants and many other businesses just north of central downtown, in San Francisco's financial center, including the neighborhoods of Chinatown, Japantown, South of Market, The Embarcadero and the offshore communities of Treasure Island and Yerba Buena Island.
Union Square – We deploy ATM machines for shopping centers, retail stores, restaurants and hotels around Union Square and the Theater District.
Marina District – We put ATMs in the area west of Fisherman's Wharf, in the Marina District neighborhood, including businesses along the scenic Lombard Street and in Cow Hollow.
Nob Hill – Prineta operates ATMs for businesses northwest of the downtown area, in and around Nob Hill, including the neighborhoods of Pacific Heights and the Western Addition..
Mission District – Our ATM service area includes the Mission, and the area south of the downtown area, in and around the Mission District neighborhood, including the nearby community of Haight-Ashbury.
San Mateo / San Carlos – We place ATMs south of the airport area, in the communities of San Mateo, San Carlos, Belmont, Foster City and others.
Pacifica / Half Moon Bay – We are an ATM operator north of Monterey Bay, southwest of San Francisco, in and around Pacifica, Moss Beach, Half Moon Bay and other communities.


Our San Francisco Bay Area ATM service area covers approximately 15,000 square miles.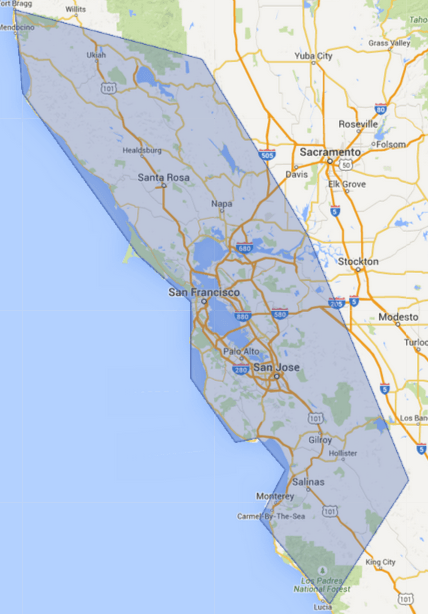 Oakland Metro ATM
Oakland – We are also a major ATM company in the Oakland CA metro area. We provide ATM services for businesses in the greater Oakland area including the cities of Emeryville and Alameda.
Oakland Airport – We handle ATMs in the area south of the city center near Metropolitan Oakland International Airport (OAK).
Berkeley – Prineta manages ATMs for the establishments northeast of Oakland in the Berkeley and Lafayette areas.
Pleasanton – We install ATMs in the areas southeast of Oakland including Pleasanton and Livermore.
Hayward – Our ATM service area includes the area south of Oakland in the area of Hayward, Castro Valley and Union City.
Surrounding Communities – Our Oakland service area includes the communities surrounding Oakland including Vallejo, Walnut Creek and San Ramon.
San Jose, California / Silicon Valley Metro ATM
San Jose – Prineta is also a major ATM company and operator San Jose, the self-proclaimed capital of Silicon Valley.
Santa Clara County – We provide ATM services for businesses in the Silicon Valley area outside of San Jose, including Milpitas, Santa Clara, Cupertino and more.
South Valley – Prineta operates ATMs for locations in areas to the south of San Jose, extending to the seaside community of Santa Cruz.
Bayshore – Our local ATM technicians visit the cities near the southwest corner of the Bay, along the Bayshore Freeway, including Palo Alto, Mountain View and others.
Alameda County – We put ATMs in businesses in Newark, Fremont and others.
Napa Valley Metro ATM
We are also an ATM company in Napa Valley including the following counties:
Napa County – including the areas in and around Calistoga, Napa, Rutherford, St. Helena, and Yountville.
Solano County – including the areas in and around Fairfield and Vacaville.
Mendocino County – including the areas in and around Albion, Gualala, Hopland, Leggett, Little River, Mendocino, Point Arena, Ukiah, Westport and Willits.
Lake County – including the areas around Clearlake, Clearlake Oaks, Kelseyville, Lakeport, Middletown, Nice, and Upper Lake
Sonoma County – including the areas in and around Bodega Bay, Boyes Hot Springs, Cazadero, Cloverdale, Forestville, Geyserville, Glen Ellen, Guerneville, Healdsburg, Jenner, Kenwood, Monte Rio, Occidental, Petaluma, Rohnert Park, Russian River Valley, Santa Rosa, Sebastopol, Sea Ranch, Sonoma and others.
We have a local office south of San Francisco's Market Street corridor on Folsom Street.
We have local ATM technicians in San Francisco and can come meet you at your establishment in person and talk to you about making a deal.
Request a Proposal
If you are interested in getting an ATM for your business in the San Francisco area please contact us by filling out the form below and tell us what exactly you are looking for or just call our office at 800-951-9533 for more information.