ATM Services Company in Naples and Fort Myers
If you are looking for a local ATM services company in the Cape Coral-Fort Myers-Naples, FL metropolitan area, then you have come to the right place.
To request a proposal for ATM services, please fill out the form at the bottom of the page, or call us.
---
Our ATM Services in Naples-Fort Myers
ATM Placement
If you have a busy, high-traffic location, Prineta will place an ATM we own and manage the cash in it for you, all for free. There's no cost at any time for the full-service ATM placement. We'll even share with you a portion of the surcharge on each transaction.
prineta.com/atm-placement
ATM Partnership
if you want a free placement, but want to earn a bigger portion of the surcharge, we recommend the ATM Partnership Program. With this option, Prineta provides an ATM at your location, and you provide and load the cash in the ATM. With this option, you receive 50% of the surcharge revenue.
ATM Purchase
We can also sell you an ATM, and set you up to operate it yourself. With this option you keep all of the surcharge and we just do the processing. Our ATMs come pre-programmed straight from the factory, the ATM is ready for operation upon arrival.
prineta.com/atm-purchase
ATM Cash Loading
If you have an ATM already, but need someone to load it, we can do that too. We usually split the surcharge 50/50 for cash loading services, just the opposite of the ATM Partnership Program.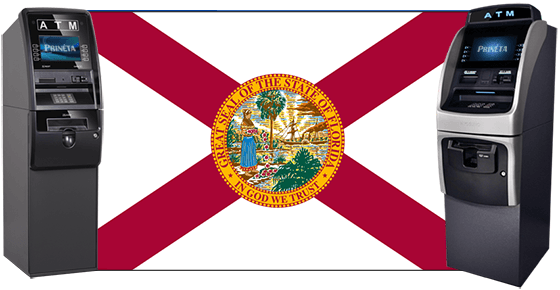 Establishments we Service
We provide ATM services for many hotels and condominiums, but also many other business types, including:  nightclubs, pawn shops, liquor stores, retail stores, lounges, shopping malls, movie theaters, convention centers, resorts, speedways, pool halls, airports, amusement parks, gentlemen's clubs,stadiums, bars, country clubs, convenience stores, high-rise condos, restaurants, bowling alleys, zoos, truck stops, casinos, aquariums, university dorms, grocery stores, hospitals, supermarkets, laundromats, gas stations, event facilities, and many others.

---
ATM Service Areas
Naples
Naples – We provide ATMs for businesses in the greater Naples area, including all of Collier County.
North Naples – We provide ATM services for many locations in Vanderbilt Beach and Naples Park.
Downtown Naples – Prineta services businesses in the downtown and Historic District.
Marco Island – Our service area includes the area to the south of Naples, including Marco Island
Fort Myers and Cape Coral
Fort Myers – We provide ATM management for locations in the central Fort Myers and downtown areas, on the banks of the Caloosahatchee River.
Cape Coral – Our service area includes all of Cape Coral
Fort Myers Beach – We provide ATM placement and management for hotels, condos and many other business types in and around the Fort Myers Beach area.
Islands – We can provide ATM placement for businesses on the islands in Lee County, including Sanibel and Captiva
Surrounding Communities – Our ATM service area expands to nearby towns in Lee and Charlotte Counties, such as Lehigh Acres, Punta Gordal and the area around the Southwest Florida International Airport (RSW).
Our Naples/Fort Myers service area covers approximately 2700 square miles in Southwestern Florida.
If your location is not within the service area shown above, we may still be able to help,
please just contact us and ask
!
---
Local ATM Operators in Naples
We have local ATM technicians who can come meet you at your establishment in person and talk to you about our services.
Request a Proposal
If you are interested in getting an ATM for your business(es) in Naples or Fort Myers, please contact us by filling out the form below and tell us what exactly you are looking for or just call our office at 1-800-951-9533 for more information.