ATM Company in Chicago
If you are looking for a local ATM services company in the Chicago metropolitan area and surrounding region, then you have come to the right place.
This is the page on our website dedicated to our ATM services in The Windy City.
To request a proposal for ATM services, please fill out the form at the bottom of the page, or call us.
---
Our ATM Services in Chicago
Free Full-Service ATM Placement
If you have a busy, high-traffic establishment, we will put one of our ATMs in your location, continuously load it with cash, do eveyrthing involved with maintaining the ATM and pay you a commission from $0.50 to $1.00 every time someone uses the ATM.
prineta.com/atm-placement
ATM Partnership
If you want to get paid more commission then we have a partnerhsip deal available where the merchant can load the cash. In exchange for cash loading we will pay you 50% of the surcharge.. or a higher flat-fee, depending on the agreement you choose. 
prineta.com/atm-partnership
Buy an ATM Machine in Chicago
If you want to own and operate an ATM yourself, we can help you do that also. We have new ATMs for sale in chicago at very competitive prices. We can sell you an ATM at wholesale cost as long as Prineta does the transaction processing for your ATM. Contact us for a price quote on the machine you're interested in buying.
prineta.com/atm-purchase
ATM Cash Loading
We can refill your ATM machine in Chicago, or anywhere in Illinois for that matter, if you share some of the surcharge with us for doing so. We have local courier cash loading or armored truck delivery available if you have a very high-volume location.
prineta.com/cash-loading/
Mobile ATM for Events
[NEW!] Prineta now has a fleet of ATMs available for use at mobile events all around the Chicagoland area. We have several standalone machines that can be covered by tents, or a mobile trailer with machines inside that can be parked outside your event for customers convenience.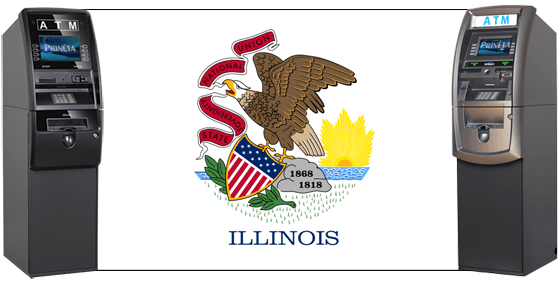 Types of Chicago Establishments we Service
We mostly provide ATM services for hotels in Chicago, but we can also manage ATMs for a large variety of other establishments, such as: restaurants, hospitals, resorts, grocery stores, supermarkets, gentlemen's clubs, airports, lounges,stadiums, bowling alleys, country clubs, convention centers, university dorms, casinos, aquariums, truck stops, laundromats, high-rise condos, pool halls, shopping malls, liquor stores, gas stations, convenience stores, pawn shops, speedways, zoos, movie theaters, night clubs, bars, retail stores, amusement parks, event facilities, and many others.

---
Chicago ATM Service Areas
Downtown Chicago – Prineta is an ATM company in Chicago servicing businesses in Chicago's downtown "Loop" and businesses/financial districts.
Chicago Airport (O'Hare) – We provide ATM services for hotels and the hospitality industry near the O'Hare International Airport (ORD) and the Rosemont Convention Center.
Magnificent Mile – We place ATM machines for restaurants, shops, and other establishments in the heart Chicago's entertainment and shopping district.
Chicago Airport (Midway) – We also place ATMs for hotels and other establishments around the Chicago Midway Airport (MDW), southwest of the loop.
East Chicago – Our Chicago ATM service area includes locations east of Chicago, across the Indiana state line.
South Chicago – Prineta places and manages ATMs for locations Chicago's southern neighborhoods, and in nearby communities south of metropolitan Chicago.
Greater Chicago – Prineta is an ATM vendor servicing the greater Chicago metropolitan area, including many of the urban neighborhoods  which extend for miles beyond the downtown area.
Chicago Suburbs – We deploy ATM machines in the surrounding cities and suburbs such as Geneva, Aurora, Joliet and more. Our service area even includes some rural areas of Illinois, outside of the big city.
Rockford Metro – We are also an ATM vendor servicing the Greater Rockford area, northwest of Chicago, including the Rockford Airport (RFD) and communities surrounding Rockford including Freeport, Rock Falls, Rochelle, Dekalb and others.

Our Chicago ATM service area covers approximately 9,300 square miles in Northeastern Illinois and Northwestern Indiana. 
If your location is not within the service area shown above, we may still be able to help,
please just contact us and ask
!
---
Local ATM Company in Chicago.
We have a local office for our ATM market in Chicago. We have knowledgeable ATM technicians and service representatives that live in Chicago and can come meet you at your establishment in person and talk to you about making a deal.
Request a Proposal
If you are interested in getting an ATM for your business(es) in Chicago, please contact us by filling out the form below and tell us what exactly you are looking for or just call our office at 1-800-951-9533 for more information.