ATM Placement
Get an ATM machine for your business in Louisville KY for free by taking advantage of our Free ATM placement program: we place an ATM in your business, take care of everything, and pay you for it.
prineta.com/free-atm-placement/
ATM Partnership
Similar to the free ATM placement, we'll install on of our ATM for free anywhere near Louisville.If you can load the cash instead of having us do it, we'll pay you HALF of the profits from the ATM's surcharge revenue.
prineta.com/atm-partnership
ATM Purchase
Want to buy, own, and operate the ATM entirely by yourself? No problem. We are an authorized dealer of Triton, GenMega, Hyosung and Hantle ATM machines in Louisville. We'll sell you an ATM, and help you learn how to operate it. You keep 100% of the profits.
prineta.com/atm-purchase/
ATM Maintenance and Repair
Have an ATM already but something is wrong with it? We have ATM technicians in and around Louisville who can help you fix your ATM. We offer special ATM maintenance discounts for merchants looking to switch processing to Prineta.
ATM Transaction Processing
Need to switch processing for the ATM you currently own? We can help reprogram the ATM for you for free.
ATM Cash Loading
Already own an ATM but need someone to refill the cash? We offer ATM cash replenishment in Louisville, with armored carrier services for busy locations.
ATM Installation
We are an experienced ATM installation company in Kentucky. If you need an ATM installed just call us at 1-800-951-9533 and we'll tell you how we can help.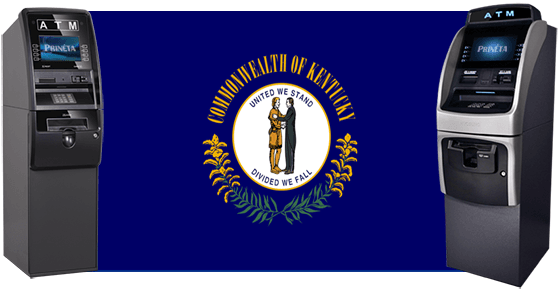 Types of Establishments we place ATMs at:
We specialize in ATM placements for hotels and but we also service many other businesses and establishments such as: country clubs, convenience stores, university dorms, event facilities, convention centers, casinos, restaurants, retail stores, supermarkets, laundromats, grocery stores,stadiums, gas stations, lounges, bowling alleys, airports, pool halls, zoos, shopping malls, gentlemen's clubs, aquariums, liquor stores, hospitals, truck stops, high-rise condos, amusement parks, speedways, bars, nightclubs, resorts, movie theaters, and many more.
We install ATMs in the following areas:
Louisville – We install ATMs for businesses in the Greater Louisville area near The Kentucky Fair, the University of Louisville,  and Exposition Center and just a short drive to the Churchill Downs Racetrack.
Central Louisville – We provide ATM services for businesses located in or near the downtown area, close to the Louisville International Airport (SDF) and Churchill Downs Racetrack and also the following areas: Old Louisville, Germantown, Butchertown, NuLu (East Market District), Schnitzelburg, Belknap, and Smoketown.
Eastern Louisville – Prineta manages ATM machines in the entire Eastern Louisville area including: The Highlands, Clifton, St. Matthews, Crescent Hill, Hikes Point, Buechel, J-Town, Middletown, Lyndon, Anchorage, and Prospect.
Southeast Indiana – Our organization installs ATMs for establishments located in Southeastern Indiana, just across the Ohio River, including New Albany, Scottsburg, Seymour, Corydon, Clarksville, and Jeffersonville.
Bardstown – Prineta's Louisville ATM service area also includes establishments located South of Louisville in the city of Bardstown near My Old Kentucky Home State Park.
Elizabethtown – We are also a major ATM company in Elizabethtown KY and surrounding areas including Radcliff.
Surrounding Communities – We deploy ATMs for locations in nearby cities within 100 miles of Louisville Kentucky including Shepherdsville, Shelbyville, La Grange, and Carrollton, Cave City, Owensboro and Lexington.
Lexington Metro – We are also a major ATM company in the greater Lexington area.
Lexington Airport – We manage ATMs for hotels and the hospitality around the Blue Grass Airport (LEX).
Mount Sterling – We manage ATM machines for establishments to the east of Lexington, in the Mount Sterling area, including the cities of Morehead and Winchester.
Richmond – We provide ATM services for businesses south of Lexington in the Richmond area including the city of Berea.
Georgetown – Our ATM service area includes Georgetown, Frankfort, Paris and Versailles.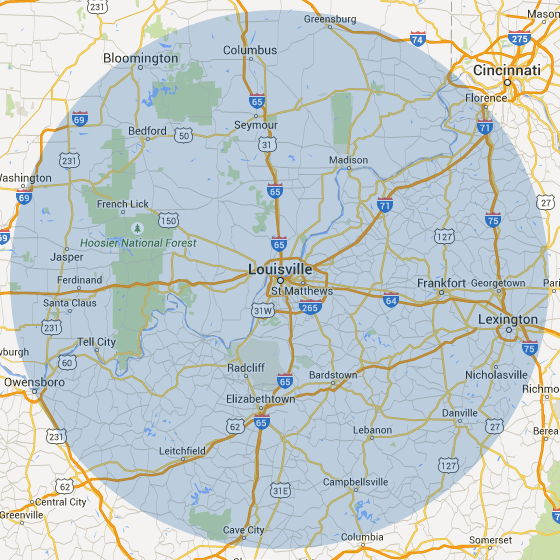 Request a Proposal or Local Site Visit
If you are interested in getting an ATM in Kentucky or ATM services, please contact us through the form below and tell us about your establishment and what you're looking for.
We have an office located in the east end business district on Forest Green Blvd. If you are interested in the full-service free ATM placement option, we can have one of our local ATM technicians come check out your place and talk to you in person about making a deal.