If you're looking for a local ATM services company in the New York City–Newark metropolitan area then you have come to the right place.
This is the page on Prineta.com dedicated to our local ATM services in The Big Apple.
To request a proposal for ATM services, please fill out the form at the bottom of the page, or call us.
Our ATM Services in NYC
ATM Placement
Get an ATM machine for your business in NYC by taking advantage of our Free ATM Placement Program: If you have qualifying location, we'll place an ATM in your business, take care of everything, and pay you a portion of the surcharge from every transaction. This is our most popular ATM service option.
prineta.com/atm-placement
ATM Partnership
We can place an ATM for free and pay you a bigger chunk of the surcharge if you are willing to load the ATM yourself. We'll buy, maintain and do the processing for the ATM, you just load the cash. With this model the surcharge is usually split 50/50.
prineta.com/atm-partnership
ATM Purchase
If you want to buy and operate your own ATM we can do that also. We'll help you get set up with a new ATM and we'll also do the processing. With this model you get to keep 100% of the money you make from the surcharge. Prineta will only keep a few cents per transaction from the processing.
prineta.com/atm-purchase
ATM Cash Loading
If you already have an ATM and need someone to load the cash, we can do that too. We have local ATM cash couriers and armored truck cash delivery and loading available for qualifying locations.
prineta.com/cash-loading
ATM Processing
If you have an ATM in your location already but just need someone to do the processing, just call Prineta. We can usually reprogram the ATM and have it up and running in a couple days.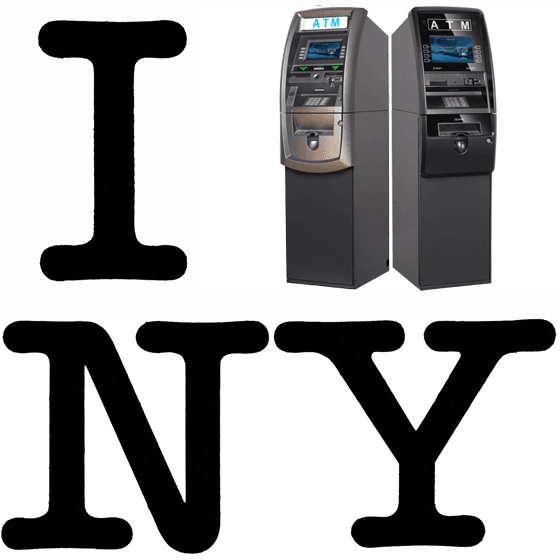 ---
We provide ATM services for the following areas of NYC:
NEW YORK CITY ATM Service Area
Downtown Manhattan – We install ATM machines in the Downtown Manhattan, aka Lower Manhattan, area including the Financial District and new World Trade Center, Little Italy and Chinatown, Greenwich Village and SoHo and others.
Midtown Manhattan – Prineta operates ATMs for businesses for hotels, restaurants and other businesses in the central Manhattan area including locations around Garment District, Sutton Place, Murray Hill, Gramercy Park, the Theater District and the area around Times Square.
New York JFK Airport Area – We place and manage ATMs on the south shore of Long Island for hotels, shops, and other businesses near the John F. Kennedy International Airport.
New York LaGuardia Airport Area – Prineta operates ATMs for the hospitality industry near the LaGuardia Airport (LGA) and the area northeast of Manhattan in Queens.
Central Park – We provide ATM services for the most exclusive hotels, shopping venues and dining establishments in midtown and uptown Manhattan around Central Park.
Staten Island – We place ATMs for businesses in the Borough of Staten Island, west of Brooklyn.
Uptown Manhattan – businesses on the Upper Eastside and the Upper West Side around Central Park, and north of Central Park in Harlem, Spanish Harlem, Manhattan Valley, Manhattanville, Washington Heights, Hudson Heights,Marble Hill Morningside Heights and Inwood.
Hudson Valley – Prineta manages ATM machines for locations north of metropolitan New York City, in Hudson Valley communities such as Tarrytown, White Plains, Mount Kisco and more.
Poughkeepsie – We install and operate ATMs for businesses located further north along the Hudson River, in communities such as Highland Falls, Poughkeepsie, Hyde Park and others.
LONG ISLAND ATM SERVICE AREA
Hampton Bays – We deploy ATMs in the eastern half of Long Island, including communities in the North Fork, and the Hamptons in the South Fork including East Hampton, Southampton, Montauk, Bridgehampton and others.
Plainview – We supply ATM services for locations in Nassau County near the cities of Garden City, Plainview, Great Neck and more.
Islip – Prieta manages ATM machines for establishments in the central area of Long Island and the communities surrounding Islip at the west end of Suffolk County.
NEWARK NEW JERSEY ATM SERVICE AREA
Greater Newark – Prineta is an ATM company servicing the greater Newark area including Secaucus, Fairfield, Jersey City and more.
Newark Airport – We manage ATMs for hotels and other locations in Newark and Elizabeth near the Newark International Airport (EWR).
Edison – Prineta works with companies to the southwest of Newark, in the cities of Iselin, New Brunswick, Bridgewater and more.
Princeton – We operate ATMs for businesses near Princeton University.
Parsippany – Our ATM service area includes locations northwest of Newark in the cities of Whippany and Parsippany.
Neptune – We install ATM machines for places south of Newark, including the cities of Tinton Falls and Spring Lake.
Paterson – Prineta deploys and manages ATM machines north of Newark in the cities of East Rutherford, Teaneck, Fort Lee and more.
Surrounding Communities – Our service area includes the communities such as Red Bank, Middleton, Ramsey and many other places surrounding Newark.

Our NYC ATM service area covers approximately 10,000 square miles in New York, New Jersey, Connecticut and Pennsylvania.

If your location is not within the service area shown above, we may still be able to help, please just contact us and ask!
Establishments we Service
We specialize in premier ATM placement services for hotels and high-rise condos in NYC, but we also service a wide variety of establishments, including: university dorms, gas stations, retail stores, pool halls, bowling alleys, stadiums, aquariums, convention centers, laundromats, gentlemen's clubs, bars, nightclubs, restaurants, casinos, liquor stores, airports, resorts, shopping malls, country clubs, speedways, pawn shops, convenience stores, hospitals, lounges, supermarkets, movie theaters, zoos, amusement parks, event facilities, grocery stores and many others.
Request a Proposal
If you are interested in getting an ATM for your location(s) in NYC, please contact us by filling out the form below and tell us what it is you need, or just call our office at 1-800-951-9533 for more information.
Local ATM Company in NYC
Prineta has local ATM cash loaders and technicians in NYC who can respond to service calls within a few hours.
Contact Prineta and we can have one of our local ATM agents come visit you at your location in person and talk to you more about our ATM services.