Prineta introduces PIN debit, our latest debit payment solution for high-risk retail businesses which are unable to obtain a high-risk merchant account and get approved to process credit cards.
Unlike the popular Point of Banking (POB) aka "cashless ATM" solution, with PIN debit there are no monthly fees, no setup fees, no discount rates or transaction fees to merchant, no cash back after purchase required and no $5.00 increments required.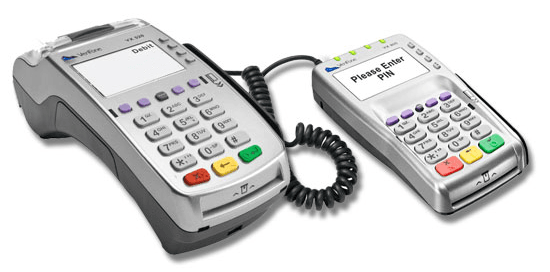 How does it work?
Just like a normal debit card purchase, only an additional $3.00 is added
Cardholder swipes card or inserts chip card

Enters PIN, acknowledges they will be charged a $3.00 fee,

Signs the receipt and away they go! It's that easy.
Example: $100 sale processed would = $103 total sale.
How much does it cost?
You pay $350 upfront for each terminal/pinpad bundle.
Vx520 Terminal ($185.00 per unit) + Vx805 Pin Pad ($165.00 per unit)
Terminals are EMV, PCI, & NFC capable, High-speed Cat6 Ethernet cable required.
Prineta ships you the terminal pre-programmed and configured..
How much can I make?
You receive $0.50 per transaction.
Funding is typically 24-48 hours until ACH is sent for each day's settlement.
Web based reporting and reconciliation for daily, weekly, monthly and yearly.