We have ATM divisions in several major cities nationwide and offer ATM services in every metropolitan area in all 50 states and Puerto Rico.
Prineta's pages dedicated to our biggest ATM service area markets:
---
We have local ATM technicians and cash logistics relationships with armored carrier cash loaders that form a nationwide footprint.
If you have a corporate chain such as a hotel management company with properties in multiple states, we can handle it. We respond to corporate RFPs all the time. No deal is too big.
If you have a business in a very rural area, we can still have an ATM shipped and installed, but unless your location has a large amount of traffic (for example: a busy truck stop/plaza in a rural area along a major highway), it is likely you'll have to buy and operate your own ATM.
Each blue circle on the map represents a US city where a local Prineta ATM technician/representative lives.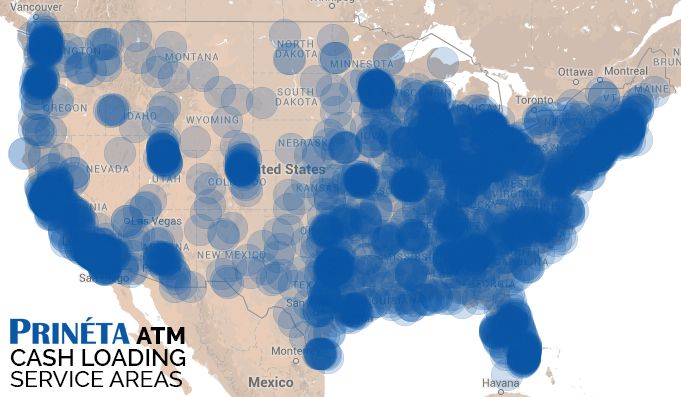 Each location has a service area with a 50-mile radius, though many technicians will drive further, this is a general rule of thumb. As you can see our coverage is very thick in every urban area of the country.