Looking for cheaper rates on a Quickbooks merchant account?  You've come to the right place.  We help merchants with a lower cost credit card processing option using a software plugin and a merchant account with lower fees.
With our merchant account processing service, we offer Quickbooks software plug-ins through gateway providers. It is just as easy to accept credit cards in Quickbooks with an integrated user experience but the rates are significantly less expensive.
For larger merchants with decent credit card volume, half-a-percent savings can equal hundreds of dollars saved every month.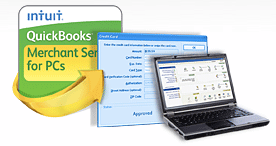 We can set you up a merchant account and provide software that integrates into Quickbooks so you can accept credit cards right inside Quickbooks for significantly cheaper rates than Intuit.