Heard that rumor about next day deposits for American Express merchant services?  It is true.  With a next day funding merchant account, all card types, including American Express can be deposited into your account in as little as 12 hours.  That's right.  You read that correctly.  If you batch out before 7 PM EST then you can have the money in your account by the next morning!  Even on Saturdays; batch before 7 PM EST and receive the deposits Monday morning. Why wait 3-5 days to receive your money when you can get it the next day?
Prineta Next Day Funding Chart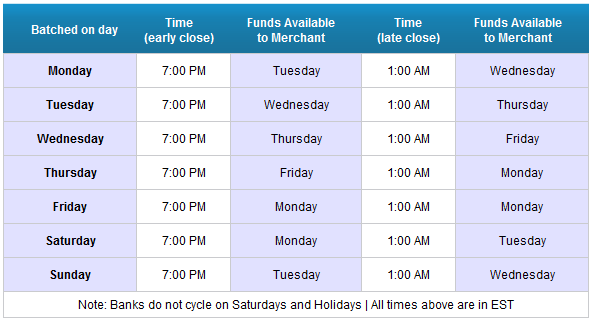 We take great pride in listening to our customers and providing solutions.  In response to numerous inquiries for next day funding, we are proud to announce the availability of next day funding for AMEX.  As an experienced payment consultant with an unmatched portfolio of leading processing bank partners and access to nearly any payment product in the industry, we are honored to be part of the elite list of independent bankcard agents that offer next day funding for American Express.
There is no reason to let banks and processors hold your money.  Get faster deposits with a next day funding merchant account.  There is no extra costs for a next day funding merchant account.  Merchants simply need to meet the criteria below.
Incremental Underwriting Guidelines
Next Day Funding is available for Retail and Restaurant merchants only
For product merchants, there cannot be any future service liability
Restricted or prohibited merchants will not be approved
The monthly Visa/Mastercard volume must be at least $20,000
The maximum high ticket is $1,000 but exceptions will be considered on a case-by-case basis
The merchant location must have been in business for at least three (3) years
The principal signer must have a FICO score of 650 or higher
The most recent three (3) months previous processing statements AND business checking statements must be provided with the merchant application
The need for additional financial documentation will be determined on a case-by-case basis
In order to receive funds the next day, merchants must batch out by 7:00pm EST (auto batch can be set up for 6:30pm EST in order to meet criteria).
Request a Proposal