Start Selling First Data
If you are a veteran ISO or Agent in the merchant services industry and tired of losing to First Data, then why not just join the First Data team?  You know the saying, "if you can't beat 'em, join 'em"?  Well when it comes to bankcard sales, it couldn't be more true.
If you are interested in the First Data ISO or Agent program, it can be difficult to get connected to the right place to even inquire; it's a huge corporation and there isn't even any contact information on the partnership page.  We understand and that's why we wrote this post – to help you get the First Data deal you are looking for.



Be able to set up accounts and bridge to all front end platforms North(Cardnet), South(Nabanco), Nashville(Envoy), Omaha and BuyPass(Concord/Atlanta).
Are you an ISO or an Agent?
If you are not ready to make a big minimum application volume commitment and invest $30K to "register" then you would be considered an "Independent Sales Agent".
For ISOs, there are options for both Retail and Wholesale programs depending on which party takes on the risk and underwriting responsibilities.
It's good to be on the winning team!
First Data ISOs and Agents can benefit from the global economies of scale associated with being the largest merchant acquirer in the world supporting 6 million merchant locations in 34 countries.  First Data is like the Walmart of the credit card processing industry.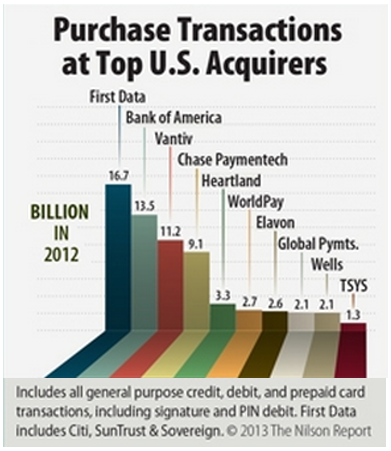 First Data Independent Sales Agents Enjoy
Great Buy Rates and True Splits

Next Day Funding for Retail & Restaurants

Sell to All Vertical Markets

Cash Out Options at Good Multiples
We can help you start selling First Data
New and Improved ISO Program; Larger Splits with better Overall Pricing
DPP "SCHEDULE A" – REVENUE SHARE PROGRAM:
Only available to experienced bankcard agents.
Most competitive Wholesales Pricing In The Industry

True Interchange Revenue Split – All Interchange levels

We share revenue on ALL revenue streams

70/30 Split (No application minimum required)

0.035cents – (IP Transactions)

0.045cents – (Dial Transactions)

$6.75 Statement Fee

No Exclusivity – we will earn your business day in and day out
No Unnecessary Fees Required: (pure profit opportunities since costs are $0.00)

No Monthly Minimums – $0.00
No Annual Fee – $0.00
No Set-Up Fee – $0.00
No Application Fee – $0.00
No Debit Access Fee – $0.00
No Batch Fee – $0.00
No Return Fee – $0.00
No Termination Fee – $0.00

Access To AMEX one point Program (25 Basis Points Revenue Share)
Next Day Funding Program
Underwriting With Same Day Approvals (Most Accounts Auto Approved within an Hour)
Exceptional Customer Service and Technical Support (24 x 7)
Residual Payments Paid Accurately with Full Transparency Through Online Sales Portal
Nice Merchant Welcome Kits
Excellent Agent Support Team that will Do Anything They Can to Help You Close Deals