Prineta recently attended the National ATM Council (NAC) 2015 Conference & Expo. The event took place from September 15-17, at Tropicana in Las Vegas, Nevada. Conferences such as the NAC2015 allow us to conveniently meet with many of our established market partners from various cities in the US. Prineta is a nationwide ATM services company and thus it is important for us to meet and partner with other leading independent ATM operators from across the nation. Forming new partnerships and continually building our network to expand our service area and reach more places is an essential part of our business strategy. Since attending the conference, we have strengthened our foothold in South Carolina, Ohio, and Washington.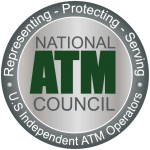 Prineta is a proud member of The National ATM Council and hence, committed to contributing to the overall welfare of the ATM industry.
"NAC represents the interests of independent (non-bank) providers of automated teller machines (ATMs) in the U.S. In addition to these primary service providers, NAC membership also encompasses the many manufacturing and service companies that supply and support this key industry sector."
National ATM Council – About Us
If you are interested in the National ATM Council, contact us and we can share our experiences and get you connected to the Executive Director.