So you are thinking you would like to get an ATM machine installed in your business but you don't know how to go about it?  Want to know what options are available and how to hire an ATM company?  If that is the type of information you are looking for, then you have definitely come to the right place.
This page is dedicated to helping businesses get an ATM machine installed in their location and includes a step-by-step instructional intended for a business owner who do not know anything about getting an ATM.  We break things down and keep things simple so you can easily access the information you need, all in one place.  Google knows which sites have good content and that's why you found us. We are glad you are here.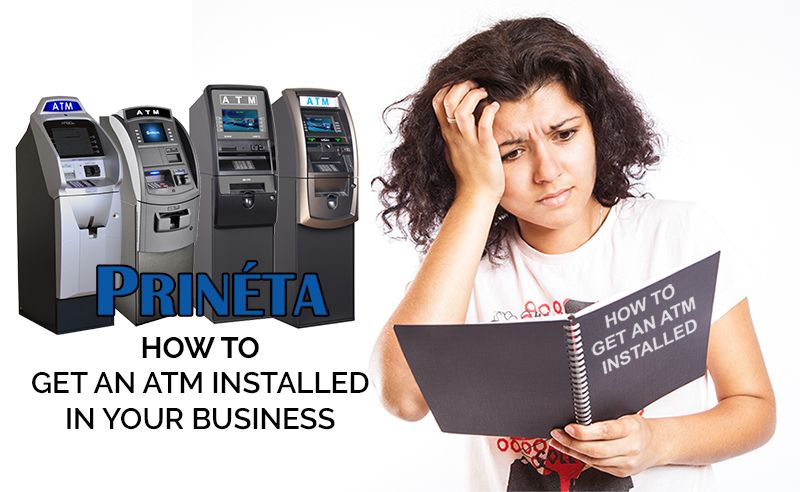 Let's get started with the basics…
Do you constantly have customers asking where the ATM is?  Sending them across the street or even worse to a competitors business is not cool. If you have people regularly asking for an ATM, then it might be a good idea to get your own ATM.  But where do you start?  Do you call the local bank?  Are there ATM companies in the phone book?  Keep reading and we will provide some advice.
Step 1 – Determine if your location really would be a good location for an ATM.
This is pretty simple. If your establishment has large numbers of people coming through the door every month AND there is a need for cash, then you probably have a good location for an ATM.  Convenience stores, hotels, and drinking establishments are examples of good locations. If you have a lot of customers asking about an ATM that is a good sign you might be a good location. If you are not that busy and there is no "need" for cash, then it is probably not a good location.
There are typically three Tiers of location classifications; Tier 1 locations are marquee locations like large crowd public venues, large hotels with more than 300 rooms, busy convenience store gas stations in metro areas, and similar. Tier 2 locations are medium-sized hotels, large AND busy drinking establishments, condo buildings, hospitals, and the like. Tier 3 locations are small hotels outside metro areas, bars and restaurants, and those places that will not do more than 50 transactions per month.
Step 2 – Understand your options.
This is based on what you determined in Step 1.  As you may expect, if you have a good Tier 1 or Tier 2 location then you have more options when it comes to getting an ATM.  ATM operators will make investments and offer placement programs for good or decent locations but won't for not as good locations.
Here is a summary of the options available:
ATM Placement – If you have a high-traffic location with a need for cash, an independent ATM operator that services your area may be willing to provide/supply an ATM machine, manage everything (including the cash loading), and cut you in on the profits. The operator essentially buys the ATM, installs it, loads it with cash, and does all the maintenance.  Full-service ATM placement is a completely hands-off, hassle-free program with no financial commitment, making it popular option when locations can qualify. This turnkey solution is only available to Tier 1 or Tier 2 locations.
More information on ATM Placement.
ATM Partnership – If you would like to earn more money from the ATM and are willing to load the ATM with cash when it needs it but don't want to pay the cost to buy an ATM, then the ATM Partnership model may be the best option.  With this model, an independent ATM operator may be willing to buy and manage/service the ATM then split the surcharge revenue with you.  50/50 split is common in the industry. Because there is typically no upfront financial commitment other than the cash necessary to load in the machine, this is often a popular option for new businesses/locations. Some ATM vendors will actually allow you to start with this option then if you want to buy it later, you can.
More information on ATM Partnership.
ATM Purchase – If you want to make all the surcharge revenue or you do not quality for placement or partnership, then the choice would be the ATM purchase program.  This is one pretty straight forward; you find an ATM to buy and manage everything yourself, including the cash loading.  If you own the ATM, supply the cash, and do all the maintenance then you should be entitled to 100% of the surcharge.  That's our point of view anyway.
Typically nicer and busier locations go for new ATMs and some Tier 3 locations prefer lower cost used ATMs.  New ATMs are in the $2K range plus or minus depending.  Used ATMs (that are still compliant), are less expensive but not always easy to find.  When looking for a place to buy your ATM, be sure to make sure you compare apples to apples and factor in the cash dispenser and the lock.  Digital locks are typically preferred over manual locks. Then ask yourself if you want to install it yourself or have someone else install it.  If you want it installed for you, then make sure the prospective vendor offers that service.  Some ATM companies will only install ATMs that they sell so ask about this up front before you buy. ATM installation typically involves drilling lag bolts into the floor and you can do it yourself if you have one of those big concrete drills (or you can rent one).  The other key thing you need when purchasing an ATM is ATM processing.  To simplify things, it is typically a good idea to buy the ATM from a company that can also offer processing.  You don't want to buy an ATM from one vendor and find another vendor for processing. So in summary, decide if you want new or used ATM, decide whether or not you want to have it installed or not, and make sure you line up the processing account.
More information on ATM Purchase.
Step 3 – Find an ATM company that services your area
Now that you know what classification of location you are and what options may be available, it is time to find an ATM company that can help with that you need.
If you are leaning towards the ATM placement or partnership program, then it will be important to find a vendor that services your area. This type of service obviously requires an ATM technician/loader within a reasonable driving distance or a nationwide ATM management company that subcontracts with national IT deployment technicians and armored carrier cash management companies (but this is only available for Tier 1 locations).  Outside of contacting us to see if we can earn your business, you could also ask others that have an ATM which vendor they use, look in the yellow pages, or search on Google for "ATM Company in Your City". Or you could look on the BBB website to see if there is an ATM company in your city listed.  As a large scale independent ATM operator, Prineta offers placement and partnership programs in most major cities across the country. To inquire, just complete our ATM Request Form.  If you would prefer to purchase an ATM from a company that can also offer installation and processing, we can help you with that as well.  When selecting an ATM vendor, be sure to do some due diligence and look at the ATM vendor's BBB rating, any reviews you can find online, and ask for a list of references if your area. Make sure the ATM vendor has insurance and offers a fair and simple contract.
Summary
With the information here and explanations provided, hopefully you have a better idea of what to do if you want to get an ATM at your business and you are no longer wondering how.
It is really quite simple,
Step 1 – Determine if your location really would be a good location for an ATM.
Step 2 – Understand your options (placement, partnership, or purchase).
Step 3 – Find an ATM company that services your area
If you have any questions not answered here, please use the contact form below.  Or if you would like to request a proposal from Prineta, use the contact form below. We would appreciate the opportunity to be of service. We want to be your ATM company.